Small caps, big moves
S&P index changes followed by big moves in three stocks
Additions to index bucked Monday's sell-off
Indexing effect can be brief, susceptible to reversal
Other than they're both small caps, SJW Group (SJW) and Agiliti (AGTI) don't have much in common. The former is a water utility that's been trading for decades, while the latter is a healthcare tech company that was listed just last year.
Both were in the red midday Tuesday, but given the US market was in its third day of a pullback, that was true of many stocks. On the other hand, they were two of the market's biggest gainers on Monday, with SJW (left) rallying 7% and AGTI (right) jumping 13.1% while the Russell 2000 (RUT) small-cap index fell 2.8%: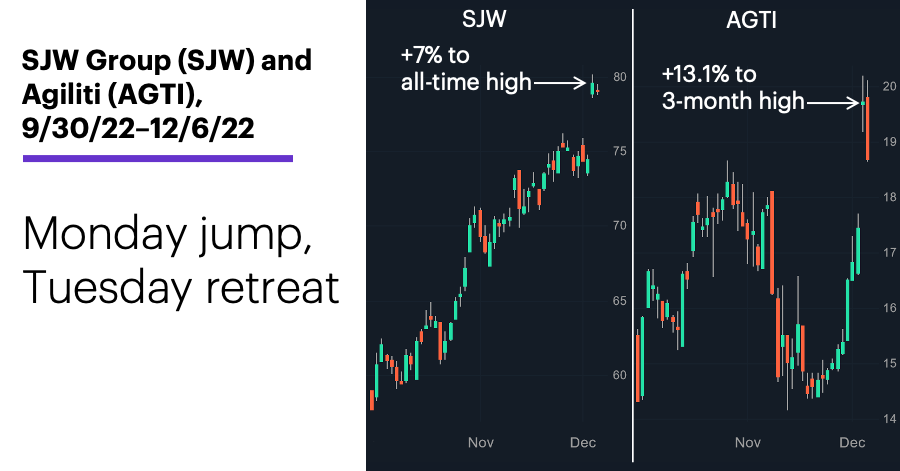 Source: Power E*TRADE. (For illustrative purposes. Not a recommendation.)
---
These moves were not a coincidence, though, as S&P Dow Jones Indices announced on Monday that SJW and AGTI, along with real estate services company Cushman & Wakefield (CWK), would be added to the S&P 600 (SML) small-cap index.
A stock that jumps when it's added to an index may seem mostly a matter of sentiment—it raises the profile of a company that may not have previously been on some traders' watchlists—but it has a much more practical component: Funds and money managers tracking that index have to add that stock to their holdings, while selling the stock that is being dropped from the index.
Take a look at the following table, which shows the Monday–Tuesday performance of AGTI, SJW, and CWK, along with the moves in the three stocks they replaced in the S&P 600: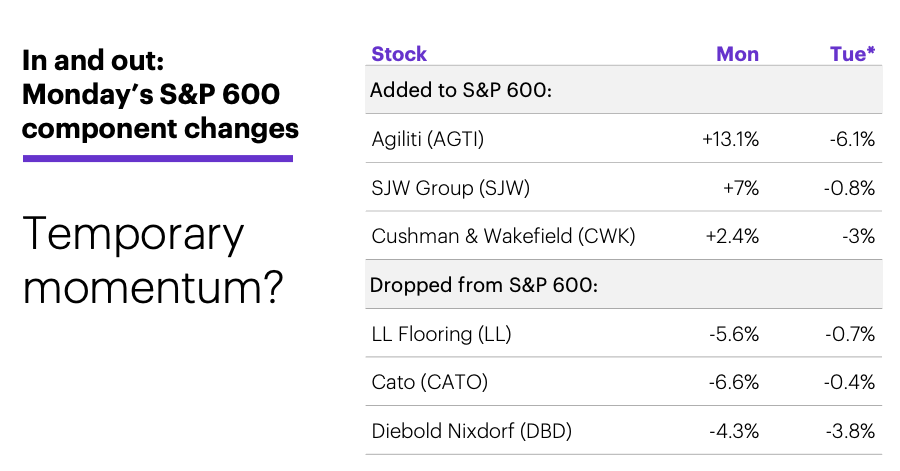 Source (data): Power E*TRADE. (For illustrative purposes. Not a recommendation.) *Tuesday, Dec. 6 return as of 1 p.m. ET.
---
When the S&P 600 was down around 1.4% at 1 p.m. ET on Tuesday, all three of the additions were in the red—two of them significantly more than the index. By contrast, two of the three deleted stocks fell much less than the index on Tuesday, despite their large losses on Monday.
Although this is just a snapshot of two days, it shows that the "indexing effect" can be short-lived—both for stocks that are added to an index and those that are removed. After all, index funds have to buy and sell these stocks at roughly the same time, and once they're done, they're done.
Also, in addition to the fact that individual performance can vary from stock to stock (as these examples show), after the initial index and portfolio adjustments have been made, the broad market trend and an individual stock's unique short-term catalysts may reassert themselves.
Market Mover Update: International Flavors and Fragrances (IFF) also pulled back with the broad market on Tuesday, and for the second day in a row open interest totals indicated a trader (or traders) had lightened positions in the December $105 calls and added to positions in the December $110 calls (see "Options churn as stock tests resistance").
Today's numbers include (all times ET): Mortgage applications (7 a.m.), Productivity and Costs (8:30 a.m.), EIA Petroleum Status Report (10:30 a.m.), Consumer Credit (3 p.m.).
Today's earnings include: Ollie's Bargain Outlet (OLLI), Campbell Soup (CPB), United Natural Foods (UNFI), Thor Industries (THO).
Click here to log on to your account or learn more about E*TRADE's trading platforms, or follow the Company on Twitter, @ETRADE, for useful trading and investing insights.
---
What to read next...
12/06/22
Find out how options traders were positioning as this chemical stock tested a former breakdown point.
---
12/05/22
Stocks swing as jobs surprise offsets welcome Fed news.
---
12/02/22
When reading the trade tape, you can't just skim the headlines—the fine print can make all the difference.
---