Fed pauses
Market Perspective: E*TRADE from Morgan Stanley
09/20/23
The Federal Reserve left the benchmark fed funds rate in its existing target range of 5.25%-5.5% after its latest policy meeting—the second time the central bank has hit the pause button this year: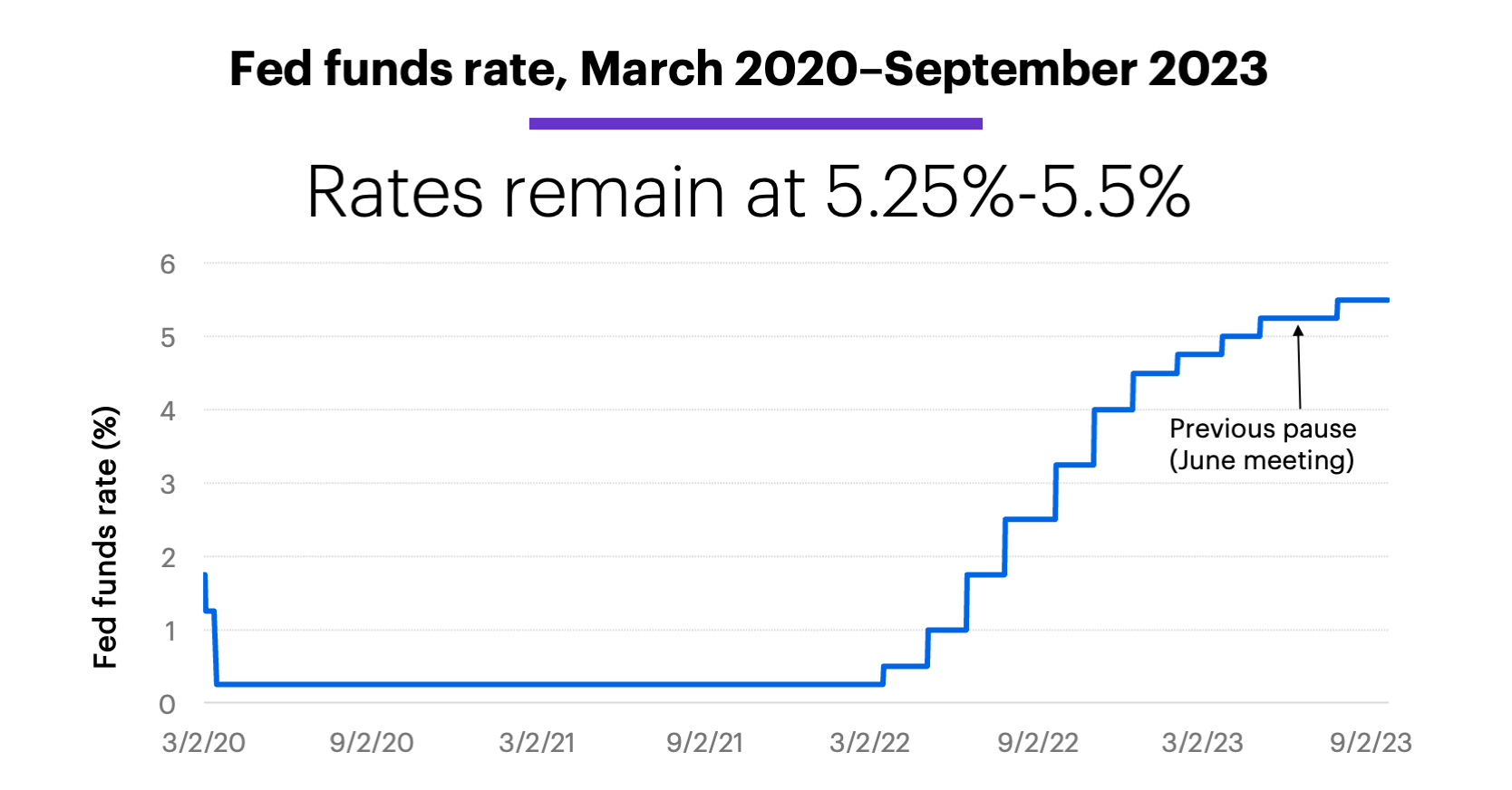 Source (data): Federal Reserve. Values represent upper end of Fed funds target range. (For illustrative purposes. Not a recommendation.)
---
While the pause was widely expected, the US economy's continued resilience and stubborn levels of inflation have increased speculation the Fed may hike rates again before the year is over.
When the Fed raises rates, auto loans, credit card rates, and mortgages become more expensive, while companies pay more to borrow money. That can make both consumers and businesses more conservative about spending—which may then cool the economy and, hopefully, drive down the prices of goods and services. The Fed's ongoing challenge is to accomplish this goal without tipping the economy into recession.
Regardless of whether another rate hike occurs this year, there is still no indication rate cuts are anywhere on the horizon. The Fed has consistently stressed it intends to play the long game in its inflation battle, which will require patience from investors anxious for lower interest rates. While inflation has fallen from last year's highs, it is still above target levels, and the Fed has remained wary of turning too dovish, too soon—something it believes could result in a resurgence of inflation.
On the plus side, a "high for longer" rate environment offers investors meaningful fixed income yields. Sticking to a portfolio of quality stocks (those with proven cash flow, and/or a record of consistently raising dividends) and fixed income investments should remain an attractive strategy for long-term investors.
Note: The Fed's next policy meeting is scheduled for October 31–November 1.
---
What to read next...
Find out what investors can do to navigate volatility and the Fed's "higher for longer" interest rate landscape.
---
The Federal Reserve hit the pause button at its latest policy meeting.
---