Fed stands pat
Market Perspective: E*TRADE from Morgan Stanley
06/14/23
The Federal Reserve announced it would leave interest rates in their current target range of 5%-5.25%—the first pause since the Fed launched its current tightening cycle in March 2022: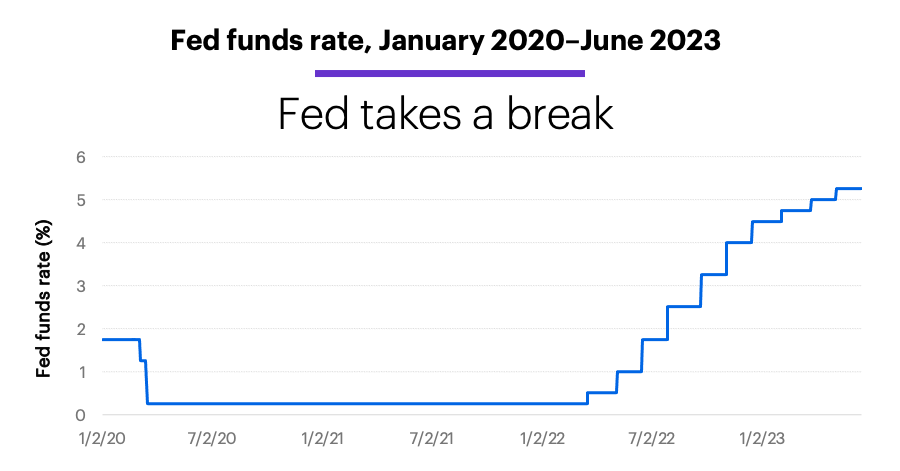 Source (data): Federal Reserve. Values represent upper end of Fed funds target range. (For illustrative purposes. Not a recommendation.)
---
When the Fed raises rates, auto loans, credit card rates, and mortgages become more expensive, while companies pay more to borrow money. That can make both consumers and businesses more conservative about spending—which may then cool the economy and, hopefully, drive down the prices of goods and services. The Fed's ongoing challenge is to accomplish this goal without tipping the economy into recession.
While inflation has remained "sticky," it has shown signs of cooling—including Tuesday's lower-than-expected Consumer Price Index (CPI) reading. While the Fed no doubt welcomed this news, it has not ruled out future rate hikes, and there is still no indication rate cuts are likely before next year. Some pockets of the economy have slowed more than others, and the Fed has been hesitant to claim victory on the inflation front.
Stocks have surprised to the upside so far this year, but questions remain—including, as Morgan Stanley Wealth Management has noted, the disconnect between a good deal of downward-pointing economic data and a market that appears to be factoring in a quick return to record profits and earnings.1 Sticking to a portfolio of quality stocks (those with proven cash flow, and/or a record of consistently raising dividends) and fixed-income investments remains an attractive strategy for long–term investors.
Note: The Fed's next policy meeting is scheduled for July 25-26.
---
1 MorganStanley.com. Revisiting Our Skepticism on Earnings Resilience. 6/12/23.
What to read next...
Will arising tech tide continue to lift the market?
---
What should investors focus on now that spring has sprung?
---
Fed hikes rates by 0.25% in second increase of 2023.
---