Volatility on sale?
DLTR options IV down sharply from last week
Stock has stabilized in recent days after earnings sell-off
Lower IV can make options less expensive
Just as bargain-hunting investors may keep an eye open for stocks making new 52-week lows, traders interested in buying options often look for symbols making longer-term volatility lows.
The key distinction is that low options volatility—i.e., implied volatility (IV)—is what really counts, not the stock's price volatility, even though the two are often aligned. Buy an option with too much IV baked into its premium, and you can find yourself in a losing trade even if the underlying stock moves in your favor. Buying an option with relatively low IV, though, may increase the odds of a profitable trade, or potentially reduce its downside.
On Monday, for example, discount retailer Dollar Tree's (DLTR) IV was down 38% from where it was a week earlier: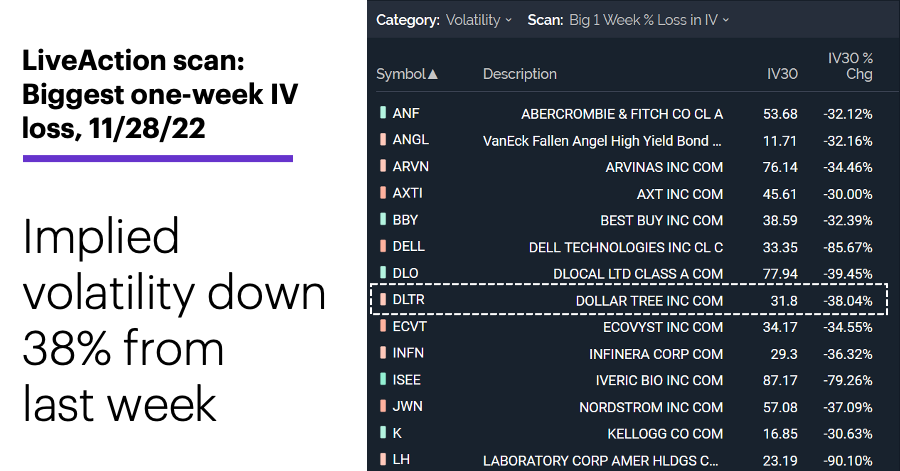 Source: Power E*TRADE. (For illustrative purposes. Not a recommendation.)
---
Like several other stocks on the list—including Abercrombie & Fitch (ANF), Best Buy (BBY), Dell (DELL), and Nordstrom (JWN)—DLTR released earnings last week and topped its headline numbers. Unlike some of the others, though, DLTR lowered its forward guidance, citing the pressures inflation was putting on its profit margins.1 Shares fell as much as 11% intraday on November 22 before bouncing to close down only 8%, and since then the stock has traded mostly sideways, holding above last Tuesday's low.
Because IV typically increases before an earnings release, and often jumps immediately after an announcement, big IV declines like the one on this list can simply mean volatility has fallen from an exceptionally high level—in other words, it may not be particularly low compared to its long-term average. And that can mean option premiums are still higher than average, too.
In this case, though, in addition to revealing DLTR has been no stranger to sharp sell-offs (and rebounds) in recent months, the bottom of the following chart shows IV fell below its historical volatility (IV) and hit its lowest level in several months: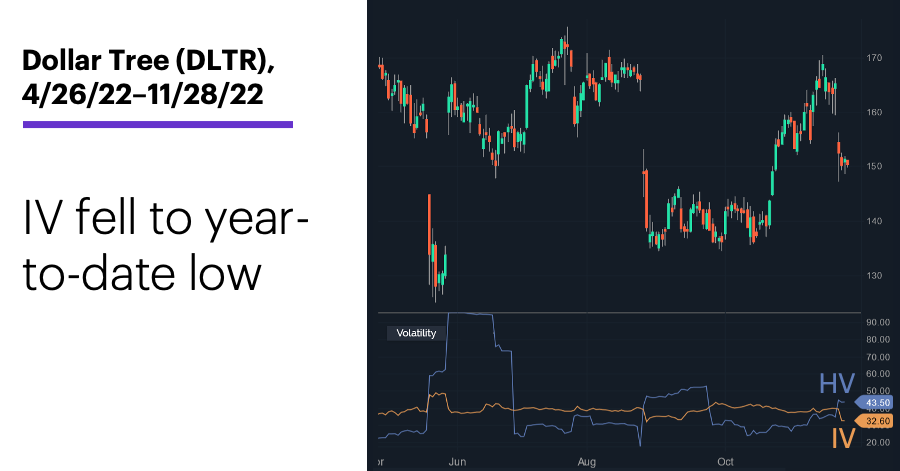 Source (data): Power E*TRADE. (For illustrative purposes. Not a recommendation.)
---
Also, IV was below its 30-day average for six of the next seven options expirations (through January). In other words, as of Monday there was little indication that DLTR's options were overpriced because of exceptionally high IV—a potential advantage for options buyers, and a possible negative for sellers.
Buying options when IV is relatively low doesn't guarantee a trade will be profitable, but it can be a good first step in identifying favorable trade conditions—and avoiding situations where the volatility deck is stacked against you.
Market Mover Update: On Monday, January WTI crude oil futures (CLF3) rallied to close up on the day after breaking below their September lows and trading to their lowest level ($73.60) since mid-January (see "Oil pivot").
Today's numbers include: S&P Case-Shiller Home Price Index (9 a.m.), FHFA House Price Index (9 a.m.), Consumer Confidence (10 a.m.).
Today's earnings include: CrowdStrike (CRWD), Hewlett Packard Enterprise (HPE), Intuit (INTU), NetApp (NTAP), Workday (WDAY).
Click here to log on to your account or learn more about E*TRADE's trading platforms, or follow the Company on Twitter, @ETRADE, for useful trading and investing insights.
---
1 Reuters. Dollar Tree cuts 2022 profit view again as inflation threatens margins. 11/22/22.
What to read next...
11/28/22
Stocks head toward the final month of the year with another upswing.
---
11/23/22
Crude oil prices staged a high-momentum pivot over the past two days.
---
11/22/22
Find out how options traders were positioned as this stock tested a key price level.
---