October's pivotal performance
October often volatile, but crashes are infrequent
One of the most bullish months over past three decades
Intramonth downturns have often reversed
Last month was a typical September, in that the S&P 500 (SPX) declined—albeit more than it has in any month since March 2020, and more than it has in any September in at least 35 years.
And even though this month started with one of the market's biggest two-day rallies in years, many traders and investors are likely anxious about the potential for volatility in October, given its stormy reputation.
While the historical record suggests traders would be correct to anticipate higher-than-average volatility this month, it also implies they'd be off base if they were overly concerned about a market crash, although such events can never be ruled out. Despite a relative handful of infamous, and mostly distant, sell-offs (1929, 1987, 2008), October has been a more-bullish-than-average month, especially in recent years.
The S&P 500's (SPX) median October return since 1990 is 1.9%, which is the second–highest of all months of the year.1 The following chart shows 21 of the past 32 Octobers have been positive—at 66%, that's the third-highest percentage of any month: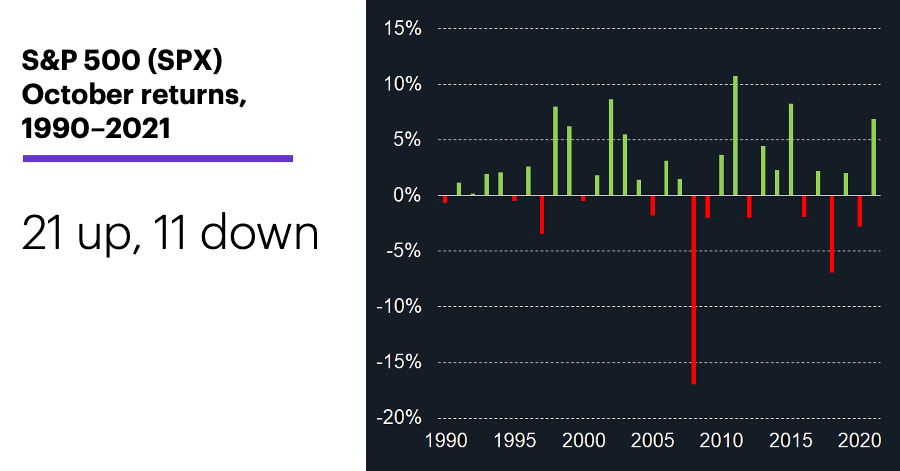 Source (data): Power E*TRADE. (For illustrative purposes. Not a recommendation.)
---
Also, October was the only other month besides November with a double-digit SPX percentage gain during this span, and it also tied November for the most gains of 5% or more (seven).
That's not to say October's reputation for volatility is unearned. Even during the bullish 1990—2021 period, the market has sometimes dropped sharply in October. The SPX's intramonth declines (the move from the previous month's closing price to the lowest price of the current month) have typically been bigger in October (nearly -3%) than in any other month of the year: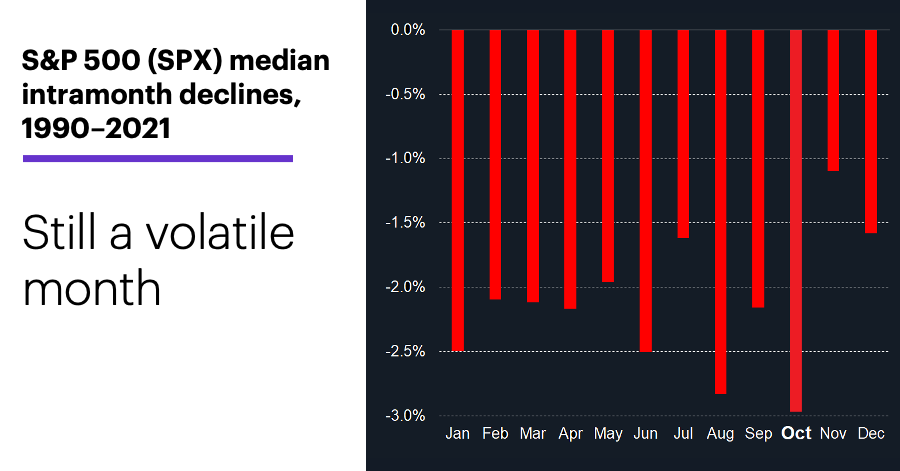 Source (data): Power E*TRADE. (For illustrative purposes. Not a recommendation.)
---
Taken together, though, the two charts have a simple implication: A month with a larger-than-average intramonth drawdown but a larger-than-average net gain—as well as a higher-than-average probability of closing higher—has favored bulls. Over the years, investors who avoided getting shaken out of the market by sharp October sell-offs often saw their losses erased by the end of the month, while traders who bought on weakness had the potential to capture outsized gains: The SPX's median return from October's low to its close was 4.4%—larger than in any other month.
So, in one sense, if October turns out to be a strong month—admittedly, a big "if"—it would simply be the latest example of its historical tendency to be a pivotal month for the stock market.
Market Mover Update: The SPX's 5%-plus Monday–Tuesday rally was its biggest two-day gain since April 2020, and only the second time since 2015 the index has gained 2% or more on consecutive days (the last time was March 15–16 of this year).
Today's numbers include (all times ET): OPEC meeting, mortgage applications (7 a.m.), ADP Employment Change (8:15 a.m.), International Trade in Goods and Services (8:30 a.m.), PMI Composite Final (9:45 a.m.), ISM Services Index (10 a.m.), EIA Petroleum Status Report (10:30 a.m.).
Today's earnings include: RPM International (RPM), Lamb Weston (LW).
Click here to log on to your account or learn more about E*TRADE's trading platforms, or follow the Company on Twitter, @ETRADE, for useful trading and investing insights.
---
1 All figures reflect S&P 500 (SPX) monthly prices, December 1989–October 2021. Supporting document available upon request.
What to read next...
10/04/22
Auto stock's big sell-off may have piqued the interest of contrarians, but the move may have been sending mixed signals.
---
10/03/22
Stocks start a new week, month, and quarter at their lowest levels of the year.
---
09/28/22
The stock market appeared to belly flop on Monday, but looks are often deceiving.
---