Metal surge, dollar retreat
Metals & mining one of S&P 500's strongest groups over past month
Precious and industrial metals prices have jumped since early Nov.
Upswing coincided with dollar downturn
Most people may be talking about the tech sector's outperformance during the market's most recent upswing, but over the past month materials have been the strongest S&P 500 (SPX) sector, outgaining the index roughly 19% vs. 12% as of Tuesday.
And the sector's biggest driver—by far—has been the metals & mining group, which has rallied around 24%. Mining stocks such as Freeport-McMoRan (FCX), Newmont (NEM), and Royal Gold (RGLD) have jumped as much as 20% in just the past nine trading days.
Traders wondering why the group has done so well recently need look no further than the following chart, which shows gold, silver, platinum, and (especially) palladium futures rallying sharply since November 3—a notable departure from their mostly negative performance this year: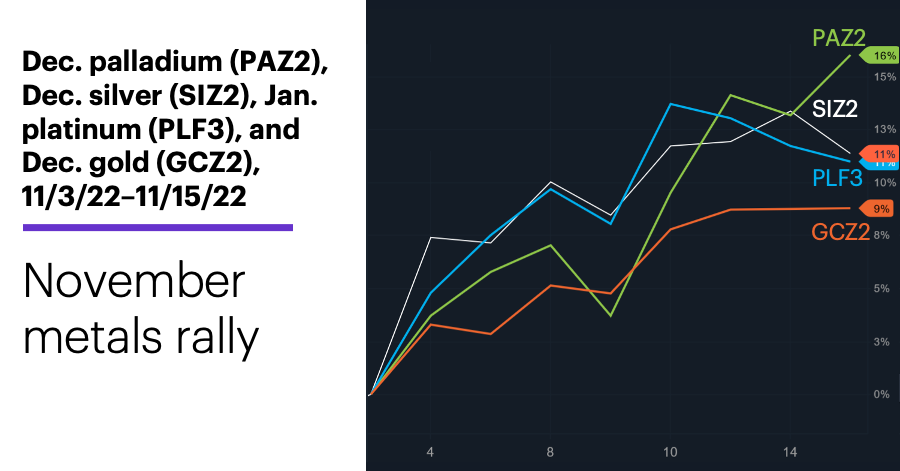 Source: Power E*TRADE. (For illustrative purposes. Not a recommendation.)
---
Of course, this begs the question, why have metals jumped this month? Gold, silver, platinum, and palladium are distinct markets with different commercial applications, but they nonetheless tend to be correlated over time. And one thing they have in common is that they are priced in US dollars.
The sharp rise in interest rates this year has produced a stronger dollar, a development that makes commodities priced in dollars—like precious metals—more expensive for non-US investors. In other words, a strengthening dollar can put downward pressure on the prices of dollar-denominated commodities, while a weakening dollar can give them a tailwind.
While the dollar and precious metals don't always move in opposite directions, that has certainly been the case for most of this year. Most metals had been in decline since March, around the time the dollar's uptrend accelerated. But after hitting its highest levels in more than 20 years in late September, the US dollar index (DXY) began to swing lower:
Source (data): Power E*TRADE. (For illustrative purposes. Not a recommendation.)
---
As of yesterday, the DXY was nearly 7% below its September highs (its biggest pullback since the second half of 2020), and it had tumbled nearly 6% just since November 3—right when metals began one of their biggest upswings of the year.
The dollar isn't the only factor affecting the prices of precious metals and their related stocks, but it can't be ignored. With the Fed signaling it may begin to raise interest rates less aggressively,1 traders and investors would do well to keep tabs on the outlook for the dollar—short term and long term—and its implications for the metals space.
Today's numbers include (all times ET): Mortgage Applications (7 a.m.), Retail Sales (8:30 a.m.), Import and Export Prices (8:30 a.m.), Industrial Production (9:15 a.m.), Business Inventories (10 a.m.), Housing Market Index (10 a.m.).
Today's earnings include: Target (TGT), TJX (TJX), Lowe's (LOW), NVIDIA (NVDA), Williams-Sonoma (WSM)
Click here to log on to your account or learn more about E*TRADE's trading platforms, or follow the Company on Twitter, @ETRADE, for useful trading and investing insights.
---
1 Reuters. Fed may slow pace of rate hikes soon: Brainard. 11/14/22.
What to read next...
11/15/22
When a breakout move looks like the running of the bulls, experienced traders know the importance of not getting stampeded.
---
11/14/22
Market rallies to fresh rebound highs amid inflation cool-down.
---
11/11/22
The SPX's performance after other big days may provide some insight into what Thursday's move could mean for the market.
---