Fed goes with minimum hike
Market Perspective: E*TRADE from Morgan Stanley
03/22/23
On Wednesday afternoon the Federal Reserve announced it would raise interest rates by 0.25%—its ninth hike since March 2022. The move brought the benchmark Fed funds rate to a target range of 4.75%–5%, its highest level since 2006: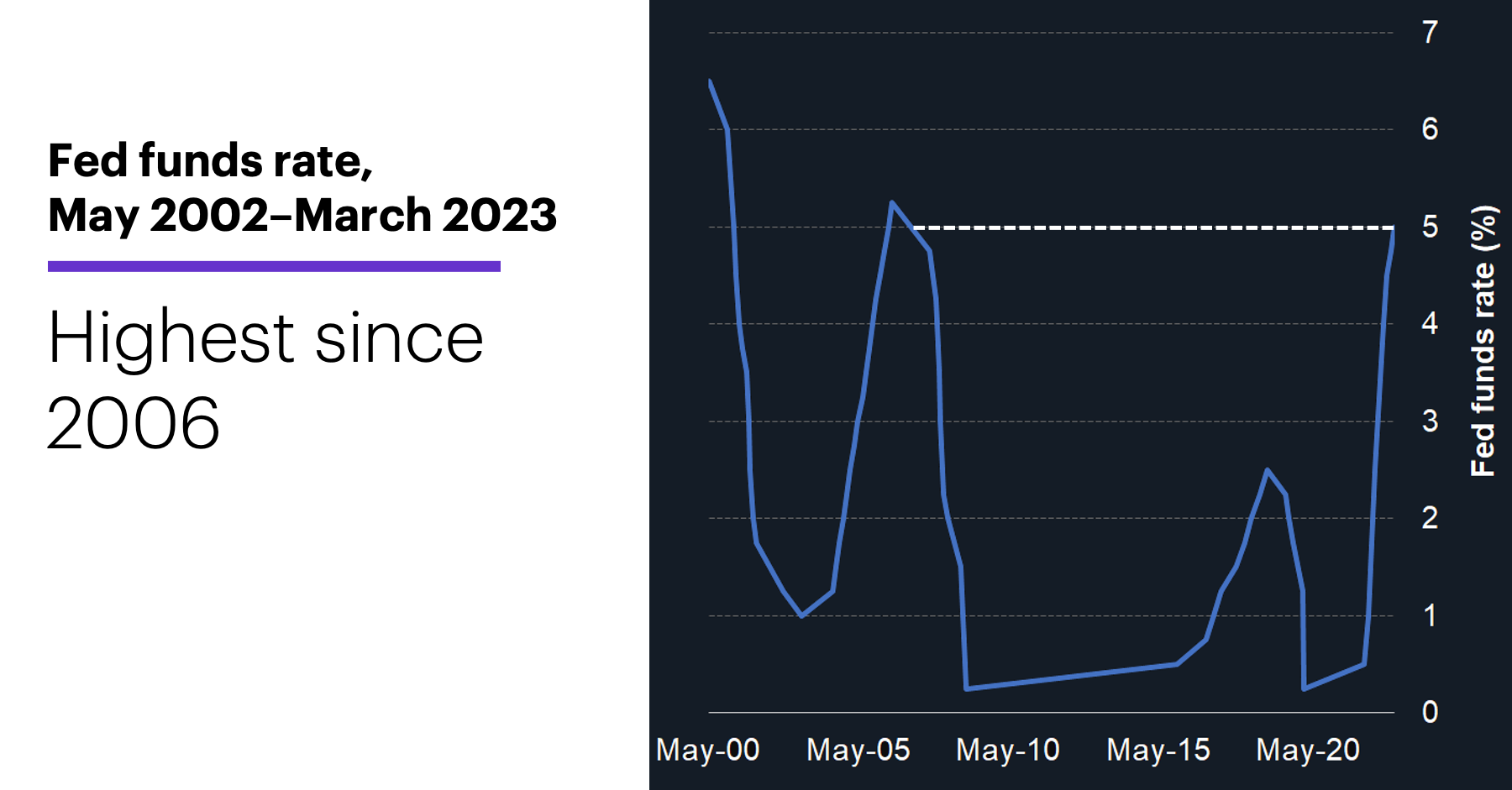 Source (data): www.federalreserve.gov. Reflects 0.25% hike from 3/22/23. (For illustrative purposes. Not a recommendation.)
---
When the Fed raises rates, auto loans, credit card rates, and mortgages become more expensive, while companies pay more to borrow money. That can make both consumers and businesses more conservative about spending—which may then cool the economy and, hopefully, drive down the prices of goods and services.
The Fed's challenge has been to accomplish this goal without tipping the economy into recession. While recent Consumer Price Index (CPI) and Producer Price Index (PPI) reports have indicated inflation has cooled, it is still far above the Fed's stated target of 2%.
Maintaining a diversified portfolio of quality stocks and fixed-income investments remains an attractive strategy.
As recently as a few weeks ago, the Fed—which has consistently signaled its intention to combat stubborn inflation with higher interest rates—was widely expected to hike by 0.5% at this meeting. But recent stress in the banking sector, along with last week's lower-than-expected inflation readings, may have prompted the central bank to go with a smaller increase.

However, this by no means signals the Fed has abandoned its long-term plan. Most analysts expect rates to increase further, and remain elevated for a significant period of time. Morgan Stanley & Co., for example, doesn't anticipate a rate cut before March 2024.1
Given the prospect of further stock-market volatility, maintaining a portfolio of quality stocks—those with proven cash flow, and/or a record of consistently raising dividends—is key. And incorporating fixed-income investments, which are now providing meaningful yield, remains an attractive strategy.
Note: The Fed's next policy meeting is scheduled for May 2-3.
---
1 MorganStanley.com. The Fed Versus Economic Resilience. 2/28/23.
What to read next...
Find out what February's winter chill could signal for this year's evolving market picture.
---
Find out what was behind the market's January pivot—and what investors should watch for now.
---