Options talent show
EDR options volume more than 31 times average Tuesday morning
Open interest particularly high in one contract
Stock up more than 2% intraday despite broad-market selling
It was a little difficult to tell from just looking at its price chart, but sports and entertainment talent agency Endeavor Group (EDR) stood out from most stocks on Tuesday.
While the S&P 500 was down more than 1% around midday, EDR was up more than 2% and on pace for its second-highest close in more than seven months—even though it didn't challenge Monday's high:
Source: Power E*TRADE (For illustrative purposes. Not a recommendation.)
---
The chart shows all the twists in EDR's story since it began trading in late April. Debuting in the mid–$20s, the stock pushed to its current record close of $31.95 a couple of weeks later, then slid 28% to it mid-August (and record) low close of $23.09. By December 7, though, shares had rallied 33% off that low.
Yesterday's rally probably would have been less noticeable if it hadn't been accompanied by some exceptional activity on the options side. EDR topped the LiveAction scan for unusual options volume, trading more than 31 times its average number of contracts early in the session: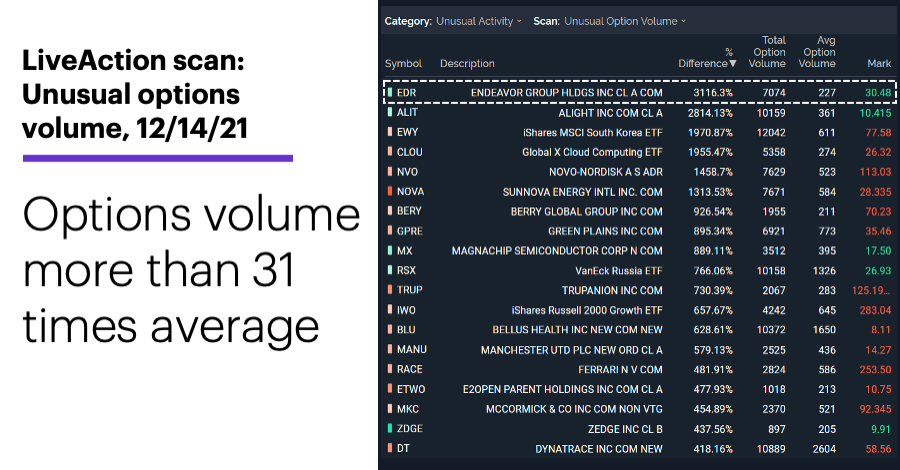 Source: Power E*TRADE (For illustrative purposes. Not a recommendation.)
---
The emphasis was on calls, where volume was nearly 60 times average. The options chain showed that when the stock was trading around $30.50, volume in the February $35 calls was 8,100 contracts, representing more than $28 million of EDR stock:
Source: Power E*TRADE. (For illustrative purposes. Not a recommendation.)
---
Especially since the stock was up on a down day for the market—and had been trending higher for nearly four months—this type of call options activity may have appeared to have a strong bullish tint. But the options chain also showed the $35 calls had open interest (OI) of 9,400 contracts, which raises two important points:
1. High options volume can represent traders opening new positions or closing existing ones—or both.
2. Increasing OI means traders are opening new positions, while decreasing OI means they're closing positions.
In other words, traders need to consult both volume and OI to get a clearer picture of whether big prints like the one yesterday in EDR suggest traders are getting in or out of a market. For example, if a trader was inclined to believe heavy call trading had bullish implications for a stock, that outlook would only make sense if the volume consisted of new positions (rising OI) rather than the liquidation of old ones (declining OI).
Here's another often-overlooked catch: While options volume is shown as it occurs, OI data is updated each day after the market closes. That means the EDR February $35 call options' OI of 9,400 represented the number of open positions as of the close of trading on Monday—and that means some or all of the 8,100 contracts that traded Tuesday morning could have been traders getting out of their existing positions. (Note: Later in the trading session, volume in the February $35 calls topped 10,000 contracts—more than the OI total, which means at least some of those trades represented new positions.)
And that's why many traders who noticed EDR yesterday may be looking at where the OI total stands today, since whether its higher or lower than yesterday may throw some light on whether that big option print meant traders were, in fact, getting more interested in EDR, or if they were just unwinding positions.
Today's numbers include (all times ET): MBA Mortgage Applications (7 a.m.), Retail Sales (8:30 a.m.), Empire State Manufacturing Index (8:30 a.m.), Import and Export Prices (8:30 a.m.), Business Inventories (10 a.m.), NAHB Housing Market Index (10 a.m.), Atlanta Fed Business Inflation Expectations (10 a.m.), EIA Petroleum Status Report (10:30 a.m.), FOMC announcement (2 p.m.).
Today's earnings include: Toro (TTC), Heico (HEI), Lennar (LEN).
Click here to log on to your account or learn more about E*TRADE's trading platforms, or follow the Company on Twitter, @ETRADE, for useful trading and investing insights
---
What to read next...
12/13/21
Stocks return to record levels just a little more than a week after its virus pullback.
---
12/09/21
After recent selling, are some growth stocks still stretched to the downside—or is the rebound overdone?
---
12/08/21
Large options positions shine spotlight on biotech stock as it releases information about a clinical trial.
---