Volatility vacation?
ABNB pressuring price support after earnings sell-off
Options volatility moderate despite stock drop
Copper breaks support, hits 22-week low
Airbnb (ABNB) fell as much as 14% intraday on Wednesday after releasing earnings that included, among other things, a cautious Q2 outlook and a record number of bookings that still fell short of estimates:1
Source: Power E*TRADE. (For illustrative purposes. Not a recommendation.)
---
Although the stock rebounded off its lows to end the day down a little less than 11%, the move dropped shares close to the support level defined by the February and April lows around $106.50–$107.50. It also pushed prices roughly 21% below the Street's average 12-month profit target of $134.86,2 toward the nine-month high the stock hit shortly after its February earnings announcement. On Thursday, ABNB gave up an early rebound to close lower on the day, although it didn't trade below Wednesday's low.
But as this volatility was unfolding in the stock, the ABNB options market appeared to be somewhat subdued. There was plenty of trading going on, but ABNB appeared on Wednesday's scan for 52-week low implied volatility (IV), which means the options market was expecting less volatility in the near future than it had at any point in the past year. And on Thursday, ABNB's volatility constellation showed IV was still below average for the next several expirations:
Source: Power E*TRADE. (For illustrative purposes. Not a recommendation.)
---
Of course, IV often rises before an earnings announcement and falls after it, but some traders may have thought it was a little unusual for it to hit a 52-week low as the stock was in the middle of a double-digit percentage sell-off.
Did the relatively tame IV reading suggest the options market thought the majority of the stock's near-term volatility was behind it, and that prices would hold around the support level? Perhaps, but that doesn't mean the options market is correct. (If the stock does break down below support—especially if the move is sharp—IV could very well jump dramatically.) But it does mean, all else being equal, that ABNB options premiums may have been tilted toward being underpriced rather than overpriced because of their relatively low IV.
Market Mover Update: Unlike ABNB, copper decisively broke some well-defined support levels on Thursday, falling below its March–May lows and December–January lows: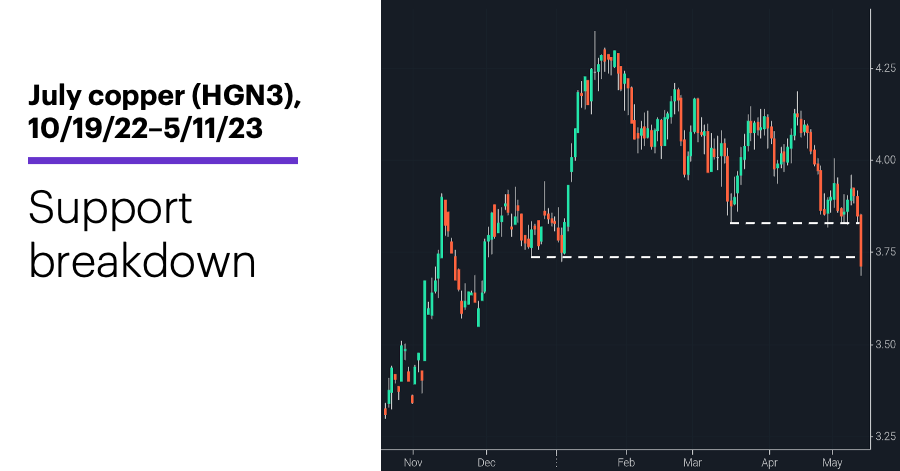 Source: Power E*TRADE. (For illustrative purposes. Not a recommendation.)
---
Along with crude oil, copper is a commonly referenced indicator for future economic growth, since a robust economy requires energy to run it, while copper is a key industrial commodity, and a critical ingredient in construction projects.
With one day to go until expiration, traders who sold AbbVie's (ABBV) May 12 $152.50 calls earlier this week appeared to be in better position than the buyers. The stock fell for the fourth-straight day on Thursday, leaving the options poised to expire worthless unless the stock stages a strong rally today (see "Traders taking short-term pharma position?").
Today's numbers include (all times ET): Import and Export Prices (8:30 a.m.), Consumer Sentiment (10 a.m.).
Today's earnings include: Spectrum Brands (SPB).
Click here to log on to your account or learn more about E*TRADE's trading platforms, or follow the Company on Twitter, @ETRADE, for useful trading and investing insights.
---
1 MarketWatch.com. Airbnb stock falls sharply on cautious forecast; record bookings miss estimates. 5/10/23.
2 TipRanks. Airbnb (ABNB) Stock Forecast & Price Target. 5/11/23.
What to read next...
05/11/23
Early rally loses momentum as stock market ponders latest inflation data.
---
05/10/23
Options traders appeared to open large positions in calls expiring this week.
---
05/09/23
As traders prepared for key inflation data, the stock market got off to a cautious start to the week.
---