Stock pauses, options signal move
NVCR up more than 40% from March lows
Stock retreated after hitting 14-month high in January
Options IV high as shares paused at resistance
On Tuesday, NovoCure (NVCR) was up more than 40% from the nearly two-year low it hit in March, but the move paused recently as shares tested resistance around $83.50—a former support level the stock broke below in February. That breakdown came just six weeks after the stock jumped to a roughly 14-month high in early January: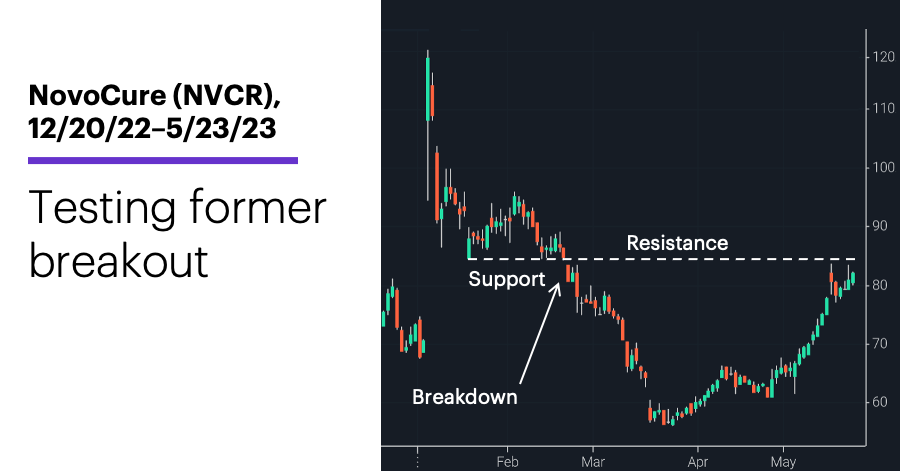 Source: Power E*TRADE. (For illustrative purposes. Not a recommendation.)
---
The stock's 68.5% rally on January 5 followed news of successful clinical trial results for one of its tumor-treating therapies. But after falling more than 50% over the next nine weeks, all the robust March–May rally did was push shares more or less back to where they were in December when NVCR was still stuck in a trading range that lasted for almost all of 2022 (see "Breakout signals and volatility realities").
Then, as now, NVCR had exceptionally high options implied volatility (IV). On Tuesday it was toward the top of the LiveAction scan for highest 30-day IV: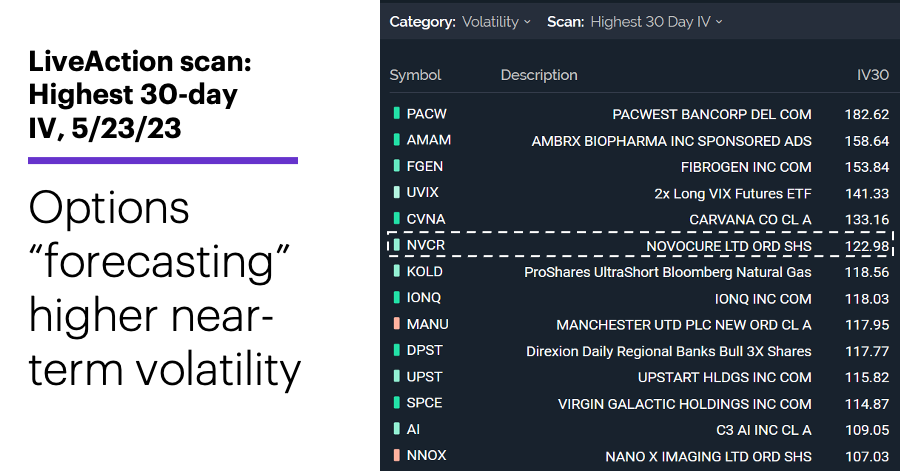 Source: Power E*TRADE. (For illustrative purposes. Not a recommendation.)
---
While IV often drops after eagerly awaited news about a company finally hits the Street, there may be good reason January's clinical trial results haven't marked the end of NVCR's high-IV phase. Translating successful tests into a viable product—and bottom-line profits—is a multi-stage process. In this case, NovoCure still needs premarket approval for the therapy, which it is looking for in the second half of the year.1
In other words, there's still uncertainty—i.e., potential volatility—on the horizon. On Tuesday, NVCR's volatility constellation showed IV was above average for the next several options expirations, although it dropped off notably after June: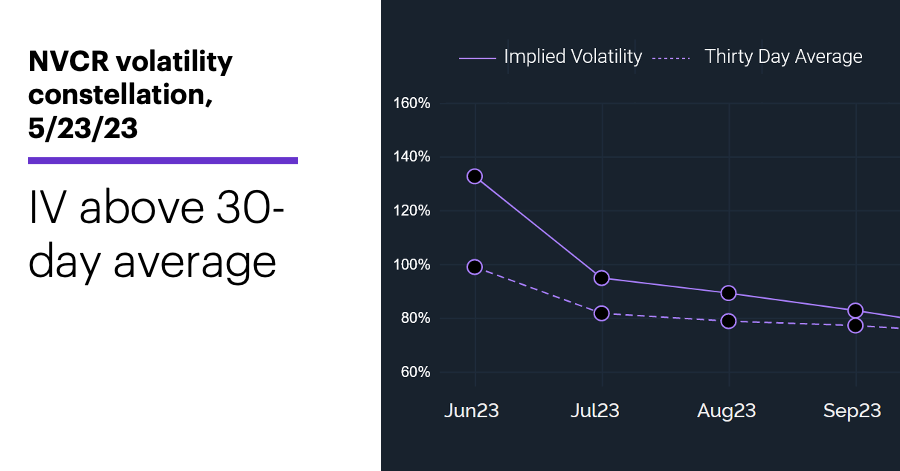 Source: Power E*TRADE. (For illustrative purposes. Not a recommendation.)
---
That high IV was reflected in what appeared to be relatively pricey options. Overpriced options may be attractive to potential sellers, but they represent a hazard for buyers. For example, on Monday a July call option with a strike price more than 48% above NVCR's stock price traded for $2.85. By comparison, an Apple (AAPL) July call with a strike 49% above the stock price didn't even have a bid, and was offered at $0.01. If and when volatility drops—say, for example, after a regulatory decision on a company's drug or therapy—option prices can drop along with it.
But that highlights one of the often-ignored principles of volatility: High IV signals elevated potential price movement, but it doesn't indicate which way a stock is likely to move. In other words, the options market may expect a stock that is testing a resistance level to be volatile over the next 30 days, but even if the options market is correct—which isn't a given—that could translate into a breakout above the level, a fast retreat from it, or choppy trading above or below it.
Market Mover Update: The S&P 500's (SPX) Tuesday decline followed a day both the SPX and Cboe Volatility Index (VIX) closed higher (see "VIX watch" section in "Bulls make a push.") Edwards Lifesciences (EW) fell more than 5% intraday on Tuesday and closed at its lowest level in a month (see "The right spread at the right time").
Today's numbers include (all times ET): FOMC minutes (2 p.m.).
Today's earnings include: Analog Devices (ADI), Dycom (DY), Kohl's (KSS), E.L.F. Beauty (ELF), Williams Sonoma (WSM), Nvidia (NVDA), Snowflake (SNOW), Splunk (SPLK).
Click here to log on to your account or learn more about E*TRADE's trading platforms, or follow the Company on Twitter, @ETRADE, for useful trading and investing insights.
---
1 MarketWatch.com. NovoCure, Zai shares rally after lung-cancer treatment meets primary endpoint in study. 1/5/23.
What to read next...
05/23/23
A fintech company sees heavy options volume as the market waits for news about the debt-ceiling debate.
---
05/22/23
Broad market is coming off new year-to-date highs amid debt-ceiling optimism.
---
05/19/23
"Bearish" options print could turn out to be something else altogether.
---