The volatility challenge
PI fell 39% in one day roughly a week after hitting record high
Options volatility "below average," but that average is high
Oil and gold make dramatic moves on Thursday
One of the counterintuitive aspects of earnings season is that it often is less about the numbers themselves than whether those numbers are above or below "expectations"—especially with respect to what the company has to say about its future numbers.
Case in point, Impinj (PI), which closed at an all-time high of $141.40 on April 19. Around a week later, the stock tumbled after missing its headline earnings estimate by three cents but topping forecasted revenues: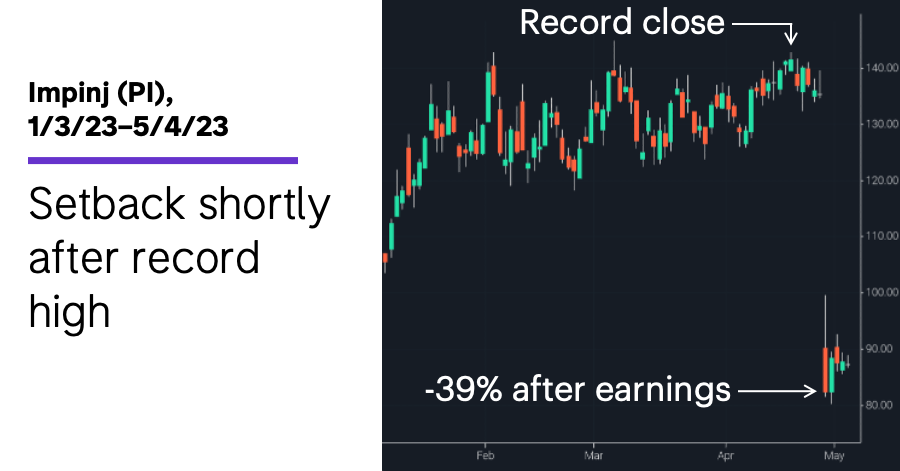 Source: Power E*TRADE. (For illustrative purposes. Not a recommendation.)
---
While some market watchers may have thought those numbers should more or less cancel each other out, the company also said it expected Q2 earnings and sales to come in at $0.31 and $85.5 million, respectively—below the Street's expectations of $0.40 and $88.3 million.1 The stock ended the day down 39% at $82.47.
A week later, the stock was above its April 27 close, although still within that day's range. And although last week's sell-off was large enough that PI was still on Thursday's LiveAction scan for highest historical volatility (which hit its highest level in more than five years), its options implied volatility (IV) was below average for the next several options expirations: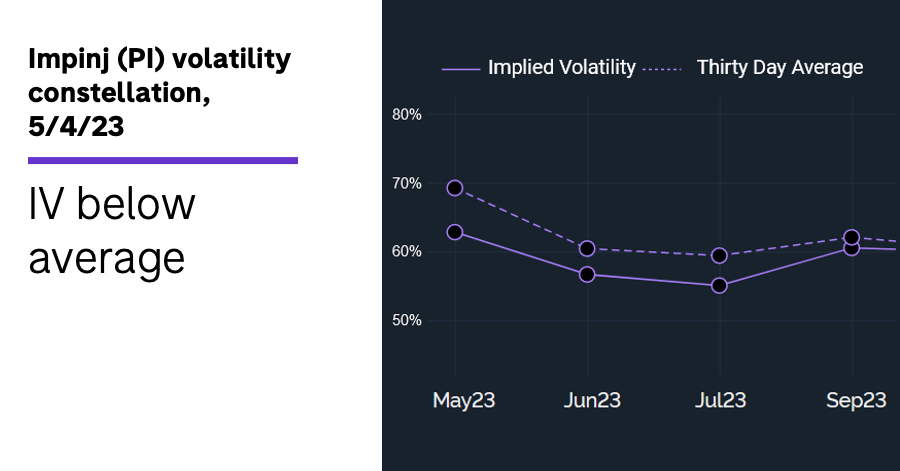 Source: Power E*TRADE. (For illustrative purposes. Not a recommendation.)
---
The two things options traders keep in mind about IV is that, unlike HV, IV is forward looking, and (all else being equal) high IV tends to make options more expensive, while low IV does the opposite. That's why options traders typically prefer to sell high-IV options and buy low-IV options, whenever possible.
But the markets rarely make things easy. Yes, IV typically declines after an earnings announcement, which is why the LiveAction scan for biggest one-week IV losses usually contains a healthy number of companies that have recently posted their numbers. But it's also true IV can still be high even when it's below its 30-day average—if average IV was already exceptionally high, as it could be if, say, an unexpected market event triggered a big move in the underlying stock and dialed up market uncertainty.
PI was notably absent from yesterday's scan for big one-week IV declines. Long-time options traders try to keep volatility on their side, but they also know that in many instances IV may not provide a clear edge for either buyers or sellers because it's not exceptionally high or low.
Market Mover Update: Two high-profile commodity markets made notable intraday moves—in the opposite direction—on Thursday. June WTI crude oil futures (CLM3) fell more than 7% intraday to hit their lowest level ($63.64) since December 21, 2021, but recovered to close above $68 and toward the top of the day's range. Meanwhile, gold prices made another push to challenge their all-time highs on Wednesday, spiking to their highest level in more than a year: June gold (GCM3) tagged $2,085.40—higher than it's been since March 8, 2022—before pulling back to close below $2,060, in the bottom half of the day's range.
Today's numbers include (all times ET): Employment Report (8:30 a.m.).
Today's earnings include: EPAM Systems (EPAM), Ubiquiti (UI).
Click here to log on to your account or learn more about E*TRADE's trading platforms, or follow the Company on Twitter, @ETRADE, for useful trading and investing insights.
---
1 Investor's Business Daily. Impinj Stock Plummets As Tracking-Chip Maker Cuts Outlook. 4/27/23.
What to read next...
05/04/23
Find out what was happening in the markets as the Fed hiked rates again.
---
05/03/23
Was the stock market issuing a signal like the one it sent in March?
---
05/01/23
Tech sector carries market, investors shrug off weak GDP.
---