Vax stocks take their shots
Vaccine makers BNTX and MRNA have trended lower for three months
Their corrections were deepest when Pfizer announced COVID pill
Both stocks have held above sell-off lows for past six days
BioNTech (BNTX) and Moderna (MRNA), arguably the biggest outperformers of the 2020 vaccine race, both staged huge rallies that extended into early August of this year. And although both stocks are still up more than 250% just since early September 2020, they have pulled back roughly 50% from their August 9 record closes: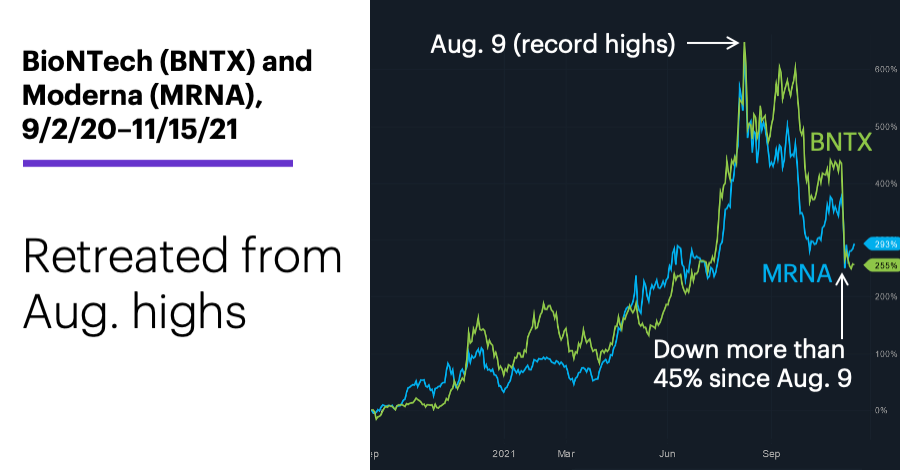 Source: Power E*TRADE (For illustrative purposes. Not a recommendation.)
---
In retrospect many observers would, of course, find it easy to argue that—despite the profound importance of their vaccines—BNTX and MRNA had gotten ahead of themselves. That's nothing more than Monday-morning quarterbacking. But the latter portions of their corrections unfolded a key industry development: news that both Merck (MRK) and Pfizer (PFE) had developed successful "anti-COVID" pills.
While the initial market reaction may make sense at first glance—orally administered COVID therapies would seem to reduce the demand for vaccine shots, so BNTX and MRNA share prices should decline, right?—the following detail casts things in a different light:
●These pills—Merck's molnupiravir and BioNTech's Paxlovid—are not vaccines designed to prevent people from getting COVID, they are drugs designed to improve the outcome of people who have already contracted the virus. In testing, both have signifiantly reduced the risk of hospitalization and death in COVID patients.1
In other words, these treatments complement vaccines, but don't necessarily replace them. While the demand for COVID vaccine shots may never be what it was in late 2020 and early 2021, as Morgan Stanley strategists noted recently, the newly developed oral treatments could be most useful for specific populations, such as immunocompromised individuals who don't get a good response from a vaccine.2
As both BNTX and MRNA have remained above their sell-off lows from November 5 (the day the Pfizer story broke), some traders may be debating whether stocks that were arguably overbought three months ago may be leaning toward the oversold end of the spectrum.
Final note on options: Options implied volatility (IV) in both BNTX and MRNA has moderated significantly since November 5, with IV below historical volatility (HV), and IV for the next several weekly expirations running below average.
Market Mover Update: It's retail week, and one of the high-profile names scheduled to release earnings this week, Target (TGT), broke out of its recent consolidation to hit a new record intraday high on Monday—although it later pulled back to the lower half of the day's range: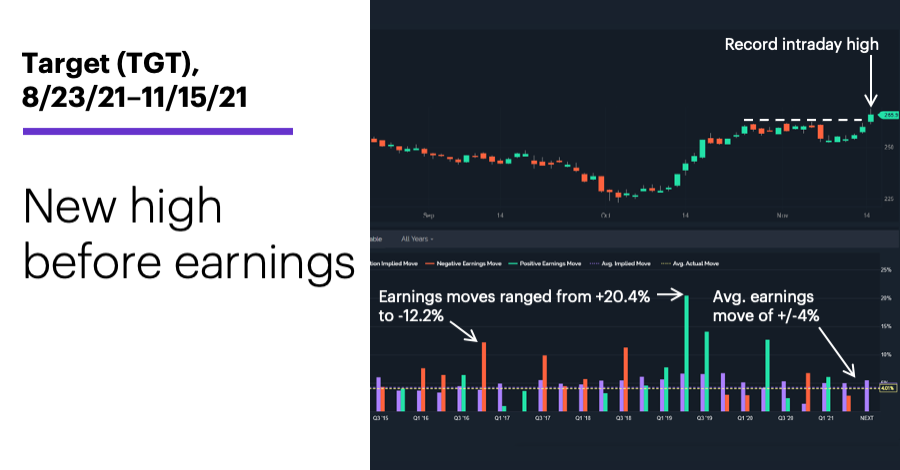 Source: Power E*TRADE (For illustrative purposes. Not a recommendation.)
---
Target's numbers are due out before tomorrow's opening bell. The bottom half of the chart shows TGT's earnings-day history—how much the options market expected the stock to move on earnings day (purple columns) and how much it actually moved, up or down (green and red columns, respectively). TGT's average earnings-day move is +/-4%, although the chart shows it has gained as much as 20.4% and fallen as much as 12.2%, dating back to August 2015. Over its past 24 earnings releases, TGT has rallied on earnings day 12 times and declined 12 times.
Today's numbers include (all times ET): Retail Sales (8:30 a.m.), import and export prices (8:30 a.m.), Industrial Production and Capacity Utilization (9:15 a.m.), Business Inventories (10 a.m.), NAHB Housing Market Index (10 a.m.).
Today's earnings include: Home Depot (HD), Walmart (WMT), Jumia Technologies (JMIA).
Click here to log on to your account or learn more about E*TRADE's trading platforms, or follow the Company on Twitter, @ETRADE, for useful trading and investing insights
---
1 Reuters. Analysis: COVID-19 pills are coming, but no substitute for vaccines, disease experts say. 11/9/21.
2 MorganStanley.com. Thoughts on the Market Podcast: COVID-19: Will Pills Change the Game? 10/5/21.
What to read next...
11/15/21
Market loses ground for first week since October 1 despite Friday rebound.
---
11/12/21
Niche transport stock with footprint in a different type of electric vehicle space tests recent breakout.
---
11/11/21
This stock didn't do much on Wednesday, but its options were a different story.
---