Options in high gear before earnings
Options traders active in KNX puts on Thursday
Adjustments to existing positions in OTM puts?
Gold running toward record highs, but trailing silver
A week before its April 20 earnings announcement, Knight-Swift Transportation (KNX) put trades outnumbered call trades by roughly 137 to one—the highest put-call ratio of any stock trading above $20 on Thursday. Two strikes, the May $55 and $45 puts, accounted for the majority of the activity: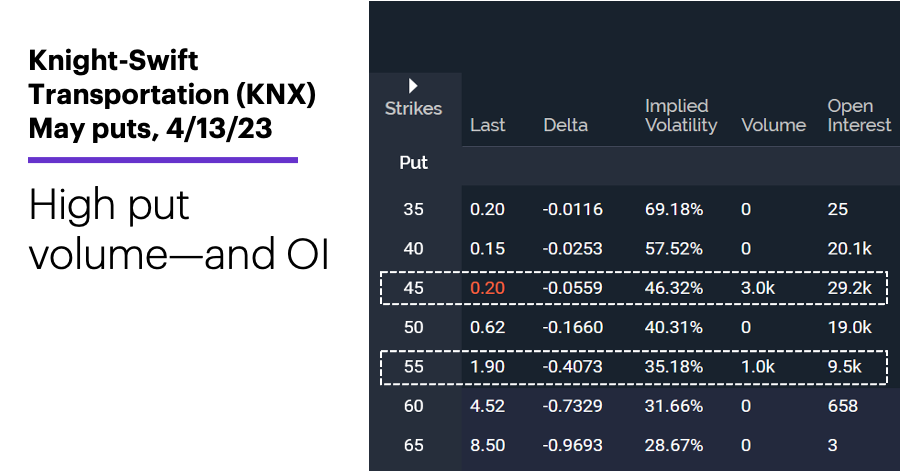 Source: Power E*TRADE. (For illustrative purposes. Not a recommendation.)
---
With the stock trading around $56 at midday, the $55 puts represented an at-the-money strike, while the $45 puts were roughly 18% out of the money (OTM). But the options chain also showed open interest (OI) was especially large in the three nearest OTM strikes—more than 68,000 total contracts in the $50, $45, and $40 puts, plus the 9,500 in the $55 puts.
Meanwhile, KNX shares—a little more than two months removed from their all-time high above $64—traded more than 1% lower most of Thursday morning before expanding their loss later in the day, creating what some traders may have felt was a bearish sentiment picture:
Source: Power E*TRADE. (For illustrative purposes. Not a recommendation.)
---
What couldn't be known at the time was whether yesterday's heavy put volume meant traders were adding to positions, or if they were instead scaling back existing ones. Since OI data is always a day delayed, the only way to know if traders were getting in or out of the market is to compare today's OI to yesterday's. If OI in the $45 and $55 puts is higher on Friday than it was on Thursday, at least some of Thursday's volume represented new positions. But if OI is lower, at least some of Thursday's volume represented traders getting out of the market.
Either way, though, there are still some significant put positions in KNX. In addition to the May options, put OI outnumbered call OI by more than 10 to 1 in the April options (with more than 16,000 open puts), and more than 2 to 1 in the August options.
Gold grabs headlines, silver outperforms. Since its 2023 low close of $1,834.60 on March 7, June gold futures (GCM3) have rallied nearly $230, benefiting both from "safe-haven" buying during last month's bank turmoil, and a slumping US dollar (which makes gold cheaper for non-US investors). The market hit $2,063.40 on Thursday—as high as it's been since March 2022—and spot gold prices climbed within $25 of their August 2020 all-time highs.
As is often the case, though, a gold rally has overshadowed an even larger move in silver. While June gold is up around 12.5% since March 7, May silver (SIK3) has gained 28%: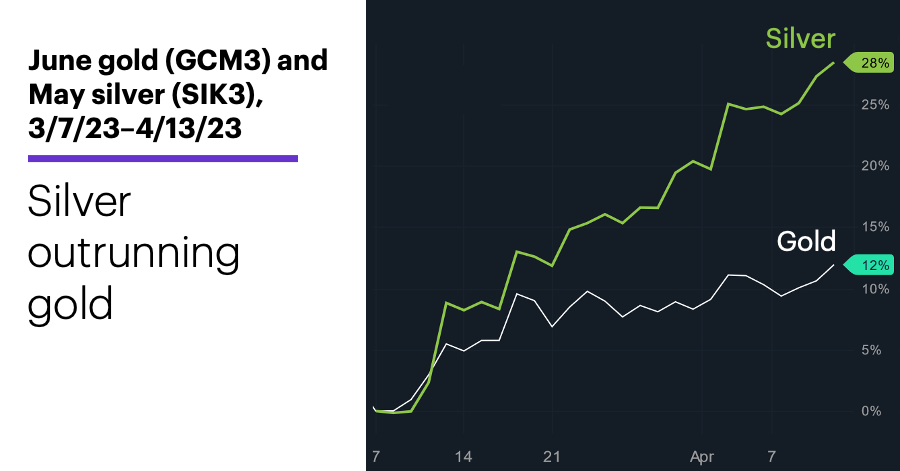 Source: Power E*TRADE. (For illustrative purposes. Not a recommendation.)
---
Market Mover Update: Sarepta Therapeutics (SRPT) fell more than 12% intraday Thursday following reports the Food and Drug Administration (FDA) was inclined to reject one of the company's gene therapies.1 The FDA's decision on the therapy is scheduled for May 12 (see "Dueling volatility catalysts"). The stock trimmed its loss later in the session, though.
A day after the market failed to hold onto its gains after the cooler-than-expected Consumer Price Index release, the S&P 500 (SPX) closed solidly higher on Thursday after the Producer Price Index showed prices at the wholesale level dropped 0.5% in March. But the SPX is still trading within the confines of a nearly two-week consolidation.
Today's numbers include (all times ET): Retail Sales (8:30 a.m.), Import and Export Prices (8:30 a.m.), Industrial Production and Capacity Utilization (9:15 a.m.), Business Inventories (10 a.m.), Consumer Sentiment (10 a.m.).
Today's earnings include: Blackrock (BLK), Citigroup (C), JPMorgan Chase (JPM), PNC Financial Services (PNC), Wells Fargo (WFC), UnitedHealth (UNH).
Click here to log on to your account or learn more about E*TRADE's trading platforms, or follow the Company on Twitter, @ETRADE, for useful trading and investing insights.
---
1 Reuters. Sarepta shares drop as report says FDA almost rejected under-review gene therapy. 4/13/23.
What to read next...
04/12/23
Options data signals uncertainty about upcoming market events—and high options prices.
---
04/10/23
Market turns cautious as latest round of economic data surprises to downside.
---
04/05/23
Do traders think the recent move in crude oil—and energy stocks—represented a real shift or a temporary disruption?
---