Timing and time decay
TMUS jumped 12% intraday Thursday
Options with little time value surged more than 620%
Up-gap pattern has occurred after other earnings releases
Earnings season always generates plenty of headlines about stocks surging or selling off after releasing their numbers. Meta Platforms (FB) may have been the center of attention yesterday, but the move in T-Mobile (TMUS) offered a lesson in why it's a good idea for traders—and investors—to pay attention to the fine print of price action. For options traders, it also highlighted the importance of understanding time decay, especially near expiration.
T-Mobile jumped 12% intraday after releasing estimate-topping numbers and bullish guidance,1 trading within a few cents of its December highs around $122.50 and extending the rebound off its January low: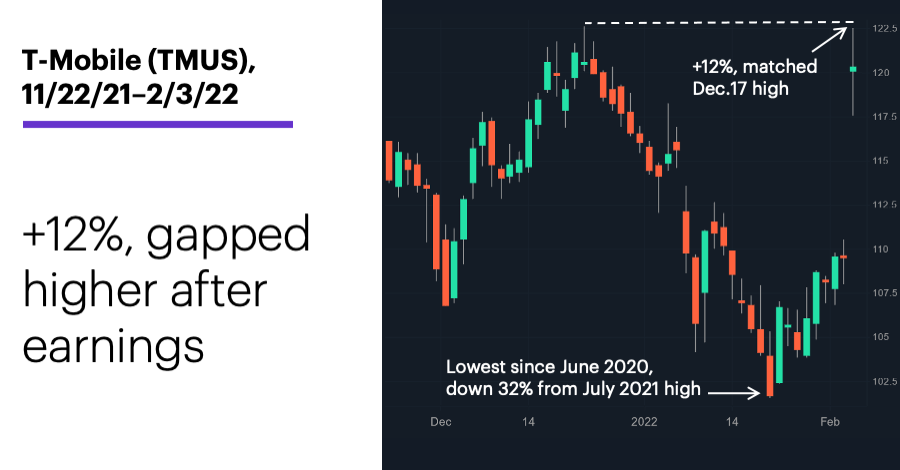 Source: Power E*TRADE. (For illustrative purposes. Not a recommendation.)
---
Compare this to a chart of the February $125 call option (expiring in two weeks), which rallied from $0.28 on Wednesday to as high as $2.02 yesterday (+621%), and was trading up a little more than 500% around midday: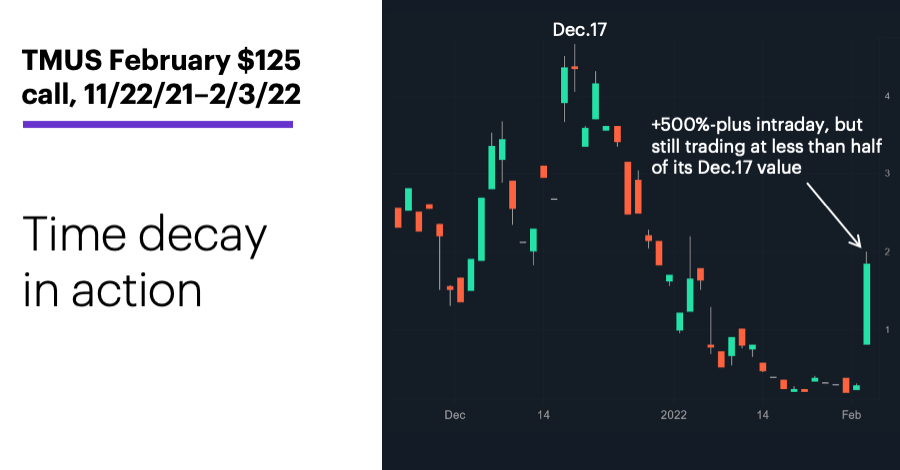 Source: Power E*TRADE. (For illustrative purposes. Not a recommendation.)
---
The takeaway here is that even though TMUS shares essentially equaled their price from December 17, the $125 call topped out at less than half of its December 17 closing price. The difference? Around seven weeks of time decay. Basically, in mid-December there was plenty of time for the stock to rally above $125, and the options market priced that possibility into the call's premium. Now, with just two weeks until expiration, the stock is operating with a much smaller window—i.e., it has much less time value.
While the longer-term picture is a different story, options traders are always constrained by expiration dates. Yesterday, the Street's average 12-month target for TMUS was around $158.50,2 a little above its July 2021 all-time highs. A lot can happen over the course of 12 months, but a stock's near-term tendencies after big moves like Thursday's may be relevant not just to options traders, but to investors who sometimes feel the "FOMO" itch when a stock takes off to the upside.
T-Mobile has had only a handful of days that compare to Thursday (a 10%-plus intraday rally and a gap above the previous day's high), but if we look at similar moves that weren't quite as large,3 we find 23 examples with two interesting characteristics. First, many of these days—in fact, the last eight, including Thursday—followed TMUS earnings releases.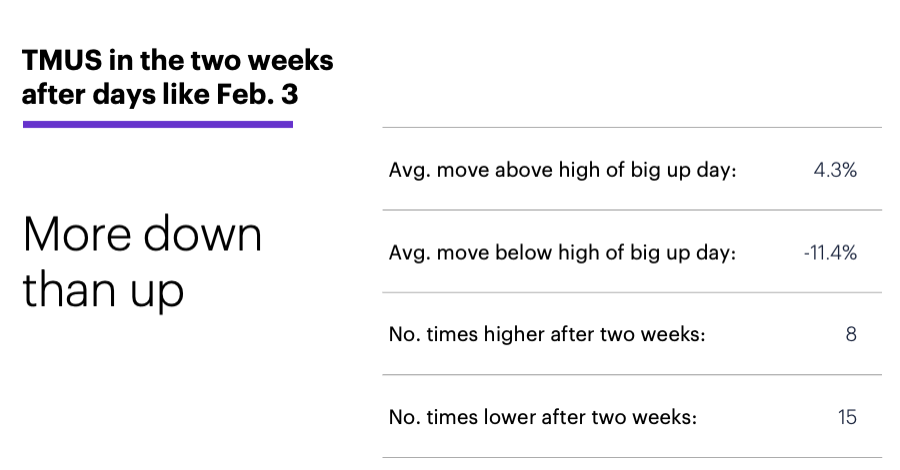 Source: Power E*TRADE. (For illustrative purposes. Not a recommendation.)
---
Second, as this table shows, the stock leaned more to the downside than the upside in the two weeks after these days. On average, TMUS climbed a maximum of 4.3% above the big up day's high over the next two weeks, while its average maximum move below that high was -11.4%. Also, two weeks after the large up day, the stock was lower 15 times and higher only eight times.
Remember, though, averages are composites—in one case TMUS rallied 36.5% above the big up day's high, and fell 30% below it in another. Nonetheless, this type of information may help traders trying to gauge whether options may be overpriced or underpriced, as well as give longer-term investors some perspective on where a headline-grabbing price move fits into the bigger picture.
Today's numbers include (all times ET): Employment Report (8:30 a.m.).
Today's earnings include: Bristol Myers Squibb (BMY), Aon (AON), Regeneron Pharmaceuticals (REGN).
Click here to log on to your account or learn more about E*TRADE's trading platforms, or follow the Company on Twitter, @ETRADE, for useful trading and investing insights.
---
1 StreetInsider.com. T-Mobile (TMUS) Shares Up 9% on Strong Q4 Beat. 2/2/22.
2 TipRanks.com. T Mobile US Stock Forecast & Price Targets. 2/3/22.
3 All figures reflect T-Mobile (TMUS) daily price data, 5/15/07 – 2/3/22. "Days like Thursday" (February 3, 2022) refers to a day with: a low above the previous day's high; an intraday high at least 7.5% above the previous day's close; a close 3.75%-12% above the previous day's close. Supporting document available upon request.