Three-day window for retail trades
HD announced earnings Tuesday morning
Stock pulled back, tested breakout level
Heavy volume in call options expiring this week
The retail portion of earnings season started with a bang this week, with Walmart (WMT) and Home Depot (HD) reporting their numbers on Tuesday morning.
Setting aside any longer-term implications of the numbers themselves, HD was particularly interesting because of some apparent contradictions in its stock and options activity. While the company topped headline earnings and narrowly missed revenues, it also offered disappointing forward guidance.1 Shares fell more than 7% intraday, trading below $296 and testing a former breakout level from November: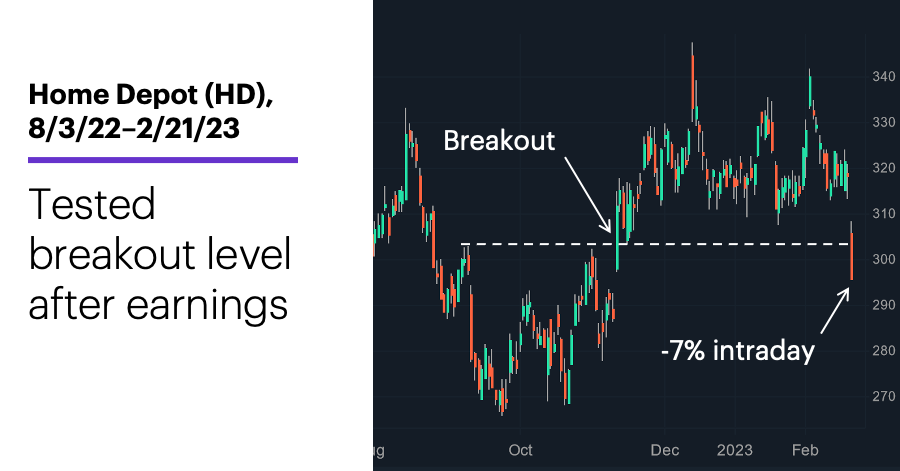 Source: Power E*TRADE. (For illustrative purposes. Not a recommendation.)
---
As is often the case after an earnings announcement, HD's options volume was heavier than usual on Tuesday morning. But while it didn't appear on any LiveAction scans for unusual put volume—which traders may have expected, given the stock's decline—HD did appear on the unusual call volume scan early in the trading session: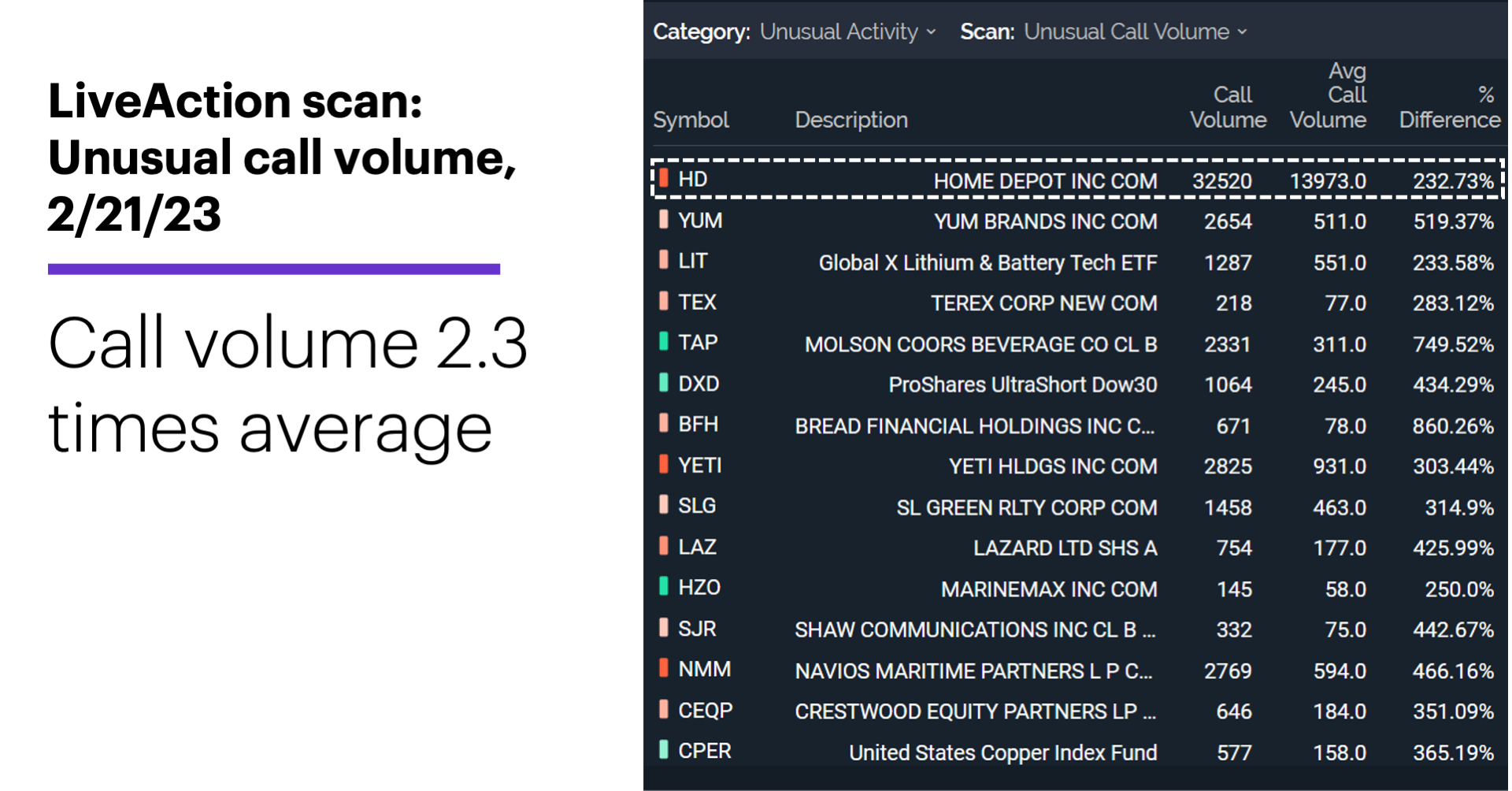 Source: Power E*TRADE. (For illustrative purposes. Not a recommendation.)
---
Call volume around 2.3 times average isn't exceptionally high—it was the lowest of any symbol on this portion of the scan—but the fact that calls were more active than puts on a relative basis when the stock was falling may have struck some traders as unusual. All else being equal, investors tend to use calls more often to take long positions and favor puts to take short positions.
More interesting, though, was the nature of that call activity, and where much of it was occurring. More than a third was in the February 24 options expiring this Friday: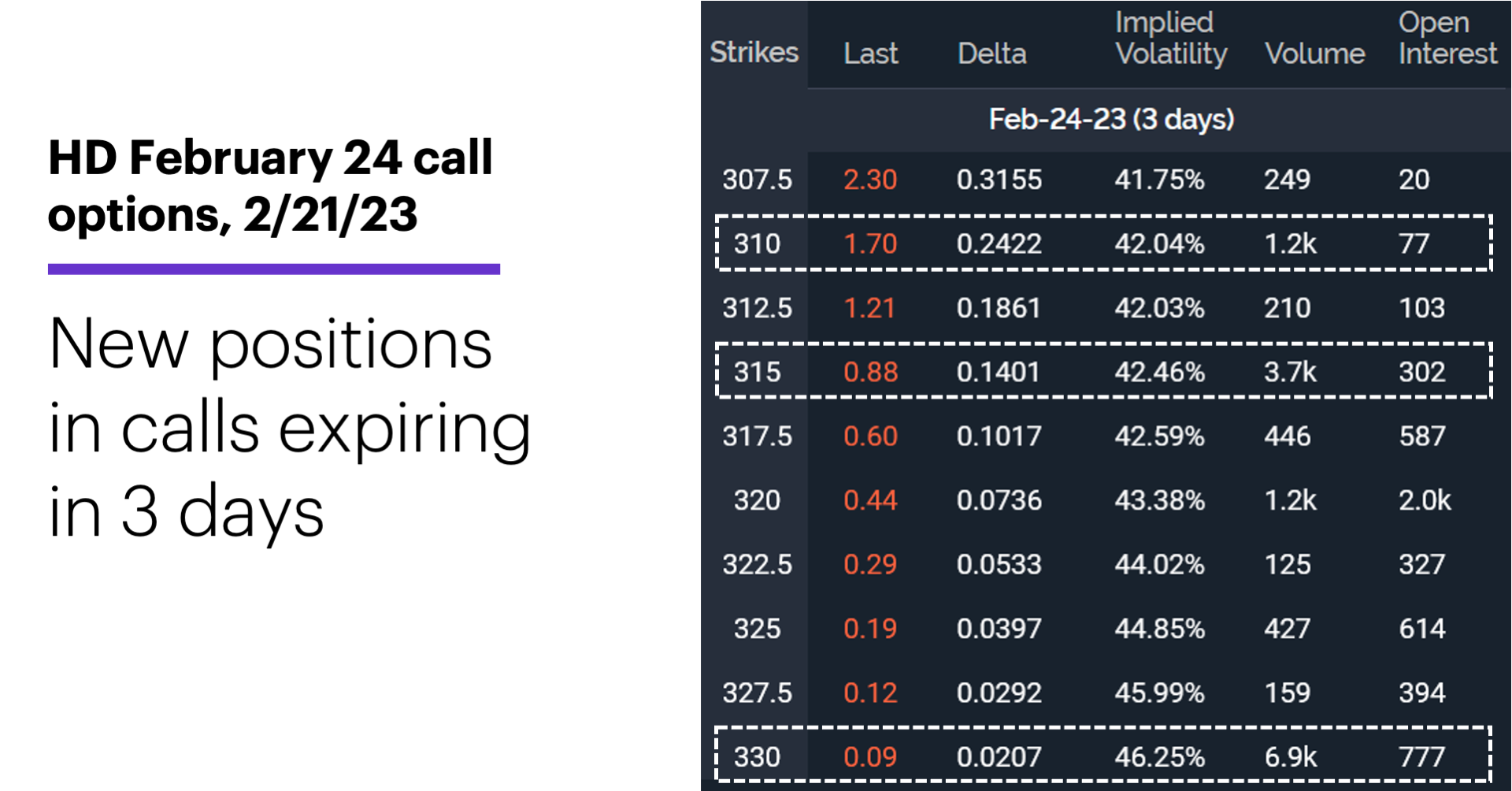 Source: Power E*TRADE. (For illustrative purposes. Not a recommendation.)
---
Most importantly, the volume in three of the four most heavily traded contracts, the $310, $315, and $330 calls, exceeded their respective open interest (OI) totals. That means rather than bailing out of existing positions because of a large, adverse move in the stock—a common occurrence in soon-to-expire options—at least some traders appeared to be opening new positions.
That means that whatever they thought the stock would do—there are two sides to every trade—these traders expected it to happen in the next three days. The $310, $315, and $330 calls will expire worthless on Friday unless HD rallies more than roughly 3.7%, 5.4%, and 10.4%, respectively, above where it was trading midday on Tuesday (around $299).
Traders who sold those calls, of course, will keep the premium they collected if the stock doesn't rebound that much by Friday. (Even for the $330 calls, which were trading for only $0.09, that represented a total potential profit of more than $62,000 on 6,900 contracts, with theoretically unlimited upside risk.) But buyers—who saw the prices of some of these options fall $11 or more overnight—may have been anticipating a quick rebound.

Market Mover Update: Longer-term interest rates extended last week's rebound, with the 10-year T-note yield hitting 3.96% on Tuesday—the highest it's been since November 10. After initially trading higher on Tuesday, April WTI crude oil futures (CLJ3) slipped into negative territory, extending last week's downturn.
Today's numbers include (all times ET): FOMC minutes (2 p.m.).
Today's earnings include: Ultra Clean Holdings (UCTT), TJX Companies (TJX), Nvidia (NVDA), Etsy (ETSY), eBay (EBAY), Five9 (FIVN), Teladoc (TDOC), NetApp (NTAP), Sunrun (RUN).
Click here to log on to your account or learn more about E*TRADE's trading platforms, or follow the Company on Twitter, @ETRADE, for useful trading and investing insights.
---
1 Reuters. Home Depot flags profit hit from slowing demand, rising wages in 2023. 2/21/23.
What to read next...
02/21/23
Small caps gain for the week, but broad market takes a step back.
---
02/17/23
This aerospace stock has been grounded for a couple of weeks, but options traders recently put on a couple of big positions.
---
02/16/23
Car dealer's options volatility is high heading into earnings.
---