Supply shocker
US and other countries access strategic oil reserves to combat high prices
Oil prices rallied in wake of news, OPEC responds warily
Oil prices eased in recent weeks, but still up nearly 60% this year
Yesterday's news that the US and several partners (India, China, Japan, South Korea and the UK) would release oil from strategic stockpiles to combat high oil and gas prices1 may have been about macroeconomics and politics to some observers, but to others it offered a lesson in the ways markets often process information—and keep traders off balance in the process.
The oil market's response to this development—rumored on Monday and confirmed on Tuesday—was fairly dramatic: January WTI crude oil futures (CLF2) staged their biggest one-day rally in in two weeks, and their biggest intraday gain (more than 3%) in months:
Source: Power E*TRADE (For illustrative purposes. Not a recommendation.)
---
While the move may appear to be illogical—more supply would seem to put downward pressure on oil prices, right?—there was, as usual, more going on than met the eye:
1. The White House had publicly discussed the possibility of opening the strategic reserve spigot as far back as November 5. One need only refer to how Deere (DE) recently declined when a strike was rumored—then began to rally the day it actually started—to appreciate how markets often seem to move contrary to expectations. (On Monday, CLF2 fell to a six-week low of $74.76 before closing up at $76.49.)
2. As some analysts had pointed out, the US has already been accessing its strategic oil reserve—and exporting its contents at a record pace (roughly 1.6 million barrels in October).2
3. A little operation known as the Organization of the Petroleum Exporting Countries (OPEC) and its oil-producing allies—who are scheduled to meet next week, by the way—characterized yesterday's announcement as "unjustified," and said it may have to reconsider oil ouput levels.3
Together, these factors may make the oil rebound over the past two days less of a head scratcher. Not surprisingly, the move also fueled rallies in oil stocks like Chevron (CVX) and ConocoPhillips (COP), which the following chart shows have been tracking the ups and downs of oil fairly closely: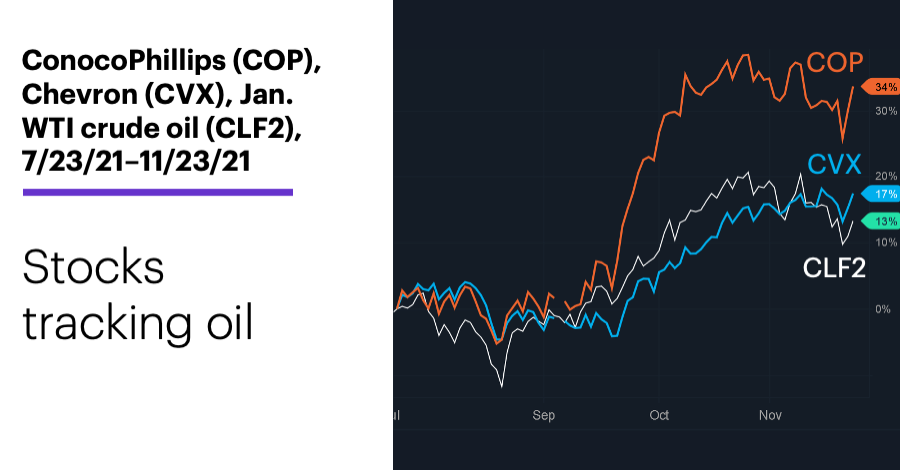 Source: Power E*TRADE (For illustrative purposes. Not a recommendation.)
---
Another angle of the story is the fact that oil (and by extension, oil stocks) may continue to receive bullish attention as long as inflation remains an issue.
The past 48 hours of price action won't be the final word on the subject, but the various factors at work suggest that the simple formula of Tapping Strategic Reserves = More Supply = Lower Oil and Gas Prices may be a little too simple.
Today's numbers include (all times ET): Mortgage Applications (7 a.m.), Durable Goods Orders (8:30 a.m.), GDP, second estimate (8:30 a.m.), Advance International Trade in Goods (8:30 a.m.), Weekly Jobless Claims (8:30 a.m.), Advance Retail Inventories and Wholesale Inventories (8:30 a.m.), New Home Sales (10 a.m.), Personal Income and Outlays (10 a.m.), Consumer Sentiment (10 a.m.), EIA Petroleum Status Report (10:30 a.m.).
Today's earnings include: Deere (DE), Futu (FUTU).
Click here to log on to your account or learn more about E*TRADE's trading platforms, or follow the Company on Twitter, @ETRADE, for useful trading and investing insights
---
1 CNBC.com. U.S. to release oil from reserves in coordination with other countries to lower gas prices. 11/23/21.
2 BloombergQuint. U.S. Is Already Exporting Oil From Strategic Reserve at Record Pace. 11/10/21.
3 Bloomberg. OPEC+ warns of response as Biden readies to tap strategic reserve. 11/22/21.
What to read next...
11/23/21
This stock's tightening trading range shows how the wrong trading strategy can doom an accurate market forecast.
---
11/22/21
Market presses all-time highs as it bounces back from down week.
---
11/19/21
Were options traders fading this chip stock's recent price surge, or hedging near-term volatility?
---