Tech options on the move
ALX up more than 30% since early December
Stock recently broke out above Dec.–Jan. resistance
Large trader executing a 28,000-contract straddle?
While the broad market dipped modestly on Tuesday morning after two strong up days, data analytics software company Alteryx (AYX) was adding to its recent upswing, trading higher for a third day as it broke out above its December–January highs: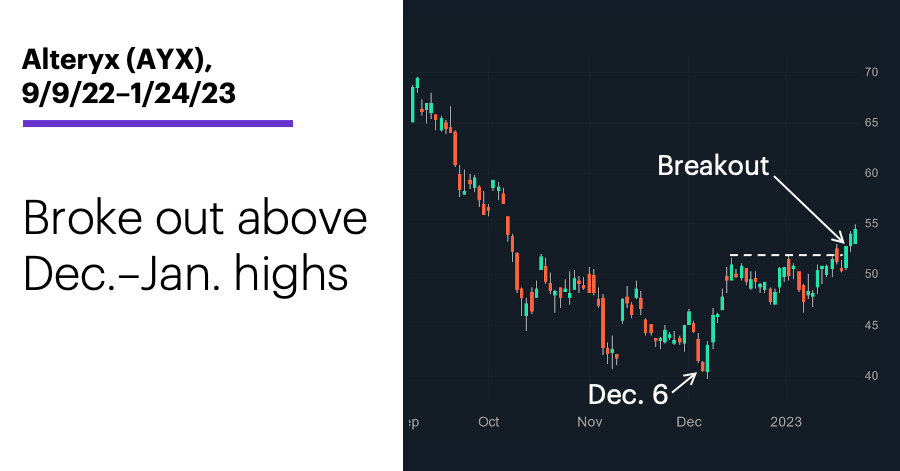 Source: Power E*TRADE. (For illustrative purposes. Not a recommendation.)
---
Although the stock weakened later in the day, this push extended AYX's rally since December 6—when it closed at its lowest level since July 2018—to around 33%.
To many traders, that short-term momentum may have been the most noteworthy thing about the stock, which is still down roughly 70% from its July 2020 record high around $182. But those who have been watching AYX's options recently know there was more going on behind the scenes. On Monday, options volume was more than 10 times average, with more than 28,000 contracts trading in both the February $40 calls and puts: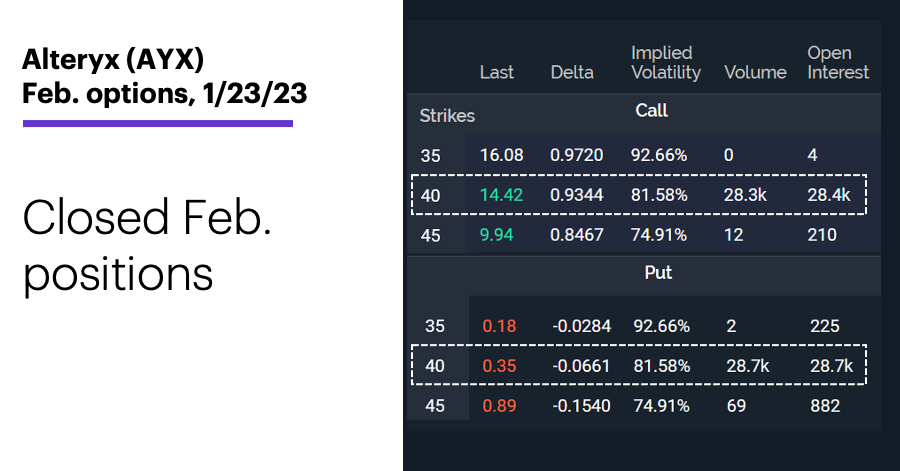 Source: Power E*TRADE. (For illustrative purposes. Not a recommendation.)
---
Open interest (OI) in both contracts was higher than the volume, which suggested a large trader was getting out of these positions—a possibility that seemed to be confirmed by similar trades in the May $40 calls and puts. In this case, the volume was much greater than the OI, which means most of the volume could be new (opening) positions: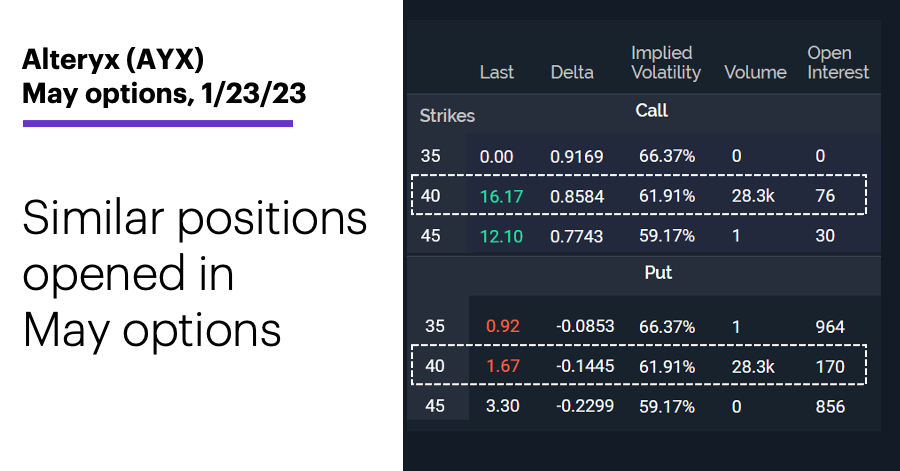 Source: Power E*TRADE. (For illustrative purposes. Not a recommendation.)
---
Tuesday's OI totals (not shown) appeared to confirm the large positions in the February options had been rolled forward to May expiration: Each of the February options had fewer than 600 open contracts, while the May options each had OI of 28,300 or more.
Identical positions in calls and puts with the same strike price and expiration could represent a "straddle," a spread designed to profit depending on how much (or little) the stock moves, rather than which direction it takes. ("Large trader making volatility play?" describes a similar situation from last month.)
In this case, the volume history suggests the original large trades in the February $40 options were opened on December 6—the same day AYX closed at its 2022 low. Using that day's closing prices, the February $40 straddle was trading for $9.20. On Monday, when the February positions were liquidated, the straddle closed at $14.77, which means the position would have generated a gross profit or loss (depending on whether the trader was long or short) of +/-$5.57, or +/-$155,960 for a 28,000-contract position. In this case, the long call's gains were larger than the long put's losses.
Of course, the position appeared to be simultaneously reopened in the May options, which is interesting because straddles are typically executed using at-the-money (ATM) options—i.e., those with strike prices near the current stock price. And although on December 6 the $40 strike was ATM (the stock closed at $40.44 that day), now it is well below where AYX is trading (roughly $54 on Tuesday).
That raises an interesting point: There's no way to prove the options activity described here represents a large straddle position. Another possibility is that it's a "synthetic" stock position. A long synthetic combines a long call with a same-strike short put, while a short synthetic combines a short call with a same-strike long put—positions that mimic long and short stock positions, respectively, except that they are more aggressive because of their leverage.
Final note: AYX is currently scheduled to release earnings on February 9.
Wednesday's numbers include (all times ET): Mortgage applications (7 a.m.).
Wednesday's earnings include: Abbott Laboratories (ABT), AT&T (T), US Bancorp (USB), International Business Machines (IBM), Boeing (BA), BOK Financial (BOKF), Kimberly-Clark (KMB), CSX (CSX), General Dynamics (GD), Freeport-McMoRan (FCX), ServiceNow (NOW), Tesla (TSLA), Teledyne (TDY), Crown Castle (CCI), Teradyne (TER).
Thursday's numbers include (all times ET): Q4 GDP, initial estimate (8:30 a.m.), Durable Goods Orders (8:30 a.m.), Advance Trade in Goods (8:30 a.m.), Chicago Fed national activity index (8:30 a.m.), New Home Sales (10 a.m.).
Thursday's earnings include: Rockwell Automation (ROK), American Airlines (AAL), Southwest Airlines (LUV), JetBlue Airways (JBLU), Archer-Daniels-Midland (ADM), Intel (INTC), Northrop Grumman (NOC), Eagle Materials (EXP), Mastercard (MA), Visa (V), L3harris Technologies (LHX).
Click here to log on to your account or learn more about E*TRADE's trading platforms, or follow the Company on Twitter, @ETRADE, for useful trading and investing insights.
---
What to read next...
01/23/23
Stocks pull back despite seemingly good news on the inflation front.
---
01/20/23
Stock's earnings move shows why something that "looks" bullish or bearish may be the opposite.
---
01/18/23
Some of the biggest names in tech will be reporting their numbers in the next two weeks.
---