Straddle prices, earnings forecasts
CVNA scheduled to release earnings in one week
Options volatility was among the market's highest on Wed.
Straddle price provides an estimate of market expectations
A quick note on options prices and earnings estimates from Wednesday' trading:
Carvana's (CVNA) 230%-plus implied volatility (IV) on Wednesday kept it at or near the top of the LiveAction scan for highest 30-day IV readings. That elevated volatility level likely reflects the company's upcoming earnings release, which is currently scheduled for Thursday, February 23.
The stock, which closed at an all-time low of $3.72 in late December, has since rallied to nearly $20, and was trading mostly between $10.50 and $12.30 on Wednesday: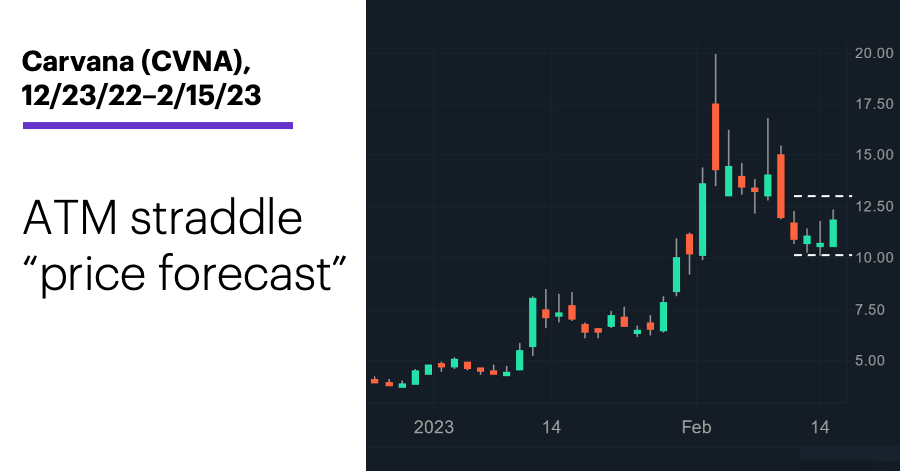 Source: Power E*TRADE. (For illustrative purposes. Not a recommendation.)
---
Knowing when IV is unusually high or low is useful, since it can highlight potentially overpriced or underpriced options. But since it represents an estimate of the stock's possible percentage price change on an annualized basis, it can also feel somewhat abstract.
That's why some traders—especially when earnings are approaching—use the price of an at-the-money (ATM) straddle to get a feel for how much the options market is expecting a stock to move. A straddle combines a call and put with the same strike price and expiration. A trader who buys a straddle can potentially profit regardless of which direction the stock moves, as long as it moves enough to offset the cost of the options. Meanwhile, a trader who sells a straddle has the potential to profit if the stock moves less, up or down, than the cost of the options.
Here's how the cost of a CVNA straddle on Wednesday translated into how much the options market thought the stock could move over the next week or so. With the stock trading around $12 at 11:30 a.m. ET, the $12 straddle in the February 24 options (expiring one day after earnings) was priced at roughly 1.93 ($193). That means any traders who bought the straddle would need the stock to be above $13.93 (the strike price plus the straddle cost) or below $10.07 (the strike price minus the straddle cost) to realize any profit at expiration. (The dashed lines on the price chart show these "breakeven" levels.)
In effect, that means yesterday the options market was pricing in a +/-16.1% price move ($12 +/-$1.93) in CVNA through February 24. Of course, there's no guarantee the straddle's "forecast" is correct (and it may change at any time), but it can provide a practical guide to what options traders are expecting at a given moment.
Today's numbers include (all times ET): Producer Price Index, PPI (8:30 a.m.), Housing Starts and Permits (8:30 a.m.), Weekly Jobless Claims (8:30 a.m.), EIA Natural Gas Report (10:30 a.m.).
Today's earnings include: Applied Materials (AMAT), Hyatt Hotels (H), Vulcan Materials (VMC), Datadog (DDOG), Dropbox (DBX), EPAM Systems (EPAM), Tower Semiconductor (TSEM).
Click here to log on to your account or learn more about E*TRADE's trading platforms, or follow the Company on Twitter, @ETRADE, for useful trading and investing insights.
---
What to read next...
02/15/23
Options scans shows traders taking major positions in this rangebound casino stock.
---
02/13/23
Stocks pull back as traders await latest readings on consumer and producer prices.
---
02/10/23
Software stock's surge highlights key trade factors for options traders.
---