Sell-offs and surges
SI options volatility spiked during recent stock sell-off
Stock tracked cryptocurrency retreat
Some December put premiums jumped more than 700%
Say you bought a stock for $32 a week ago and woke up this morning to news the company was being bought by a competitor. Your stock shoots to $62 in early trading—a 94% price increase that represents a huge volatility surge, although you probably don't think of it as "volatility" because the move is in your favor.
Now ask yourself if you'd think of that $30 price change as volatility if your stock had instead dropped to $2. (The correct answer is, yes.)
Instead of that binary (up is good, down is bad) outlook, options traders tend to have a more nuanced perspective on volatility. Specifically, they're often thinking about how it may temporarily distort options prices and make them more attractive to buy or sell, regardless of whether the underlying stock is up or down. Bottom line, high options implied volatility (IV) sometimes inflates options prices to potentially unsustainable levels—and that can attract traders interested in selling those options, to collect premium, and/or take a position in the underlying stock (if assigned).
Consider what's happened recently in Silvergate Capital (SI), a banking infrastructure and services company that's established a toehold in the cryptocurrency space. Yesterday, it had exceptionally high 30-day IV: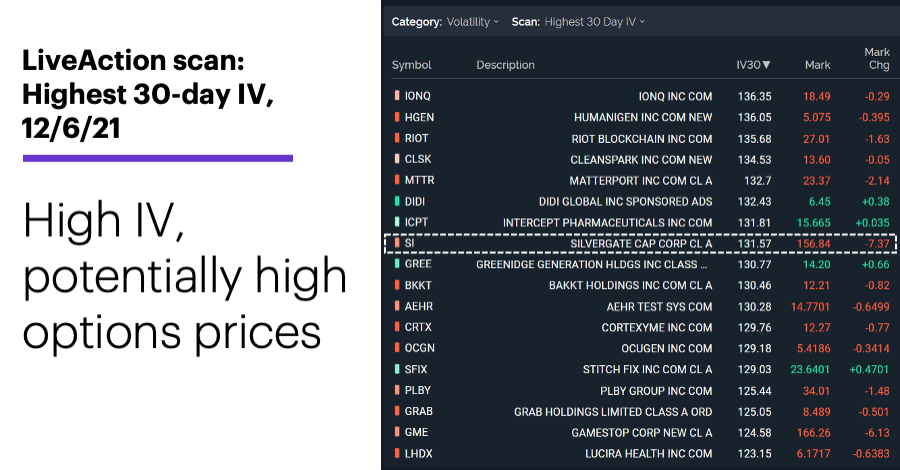 Source: Power E*TRADE (For illustrative purposes. Not a recommendation.)
---
High IV simply means the options market is expecting higher volatility in the underlying stock in the future, in this case the next 30 days.
Not only was the stock's IV high relative to others, it was also high relative to itself—that is, SI's typical IV levels. The following chart shows SI's IV (solid line) was above its 30-day average (dashed line) for the next four expiration cycles, but especially for December and January options:
Source: Power E*TRADE (For illustrative purposes. Not a recommendation.)
---
And if you're wondering why the options market may have been anticipating higher-than-normal volatility in SI, its price chart shows the stock dropped as much as 31% over the past five days (generally following a pullback in cryptocurrencies):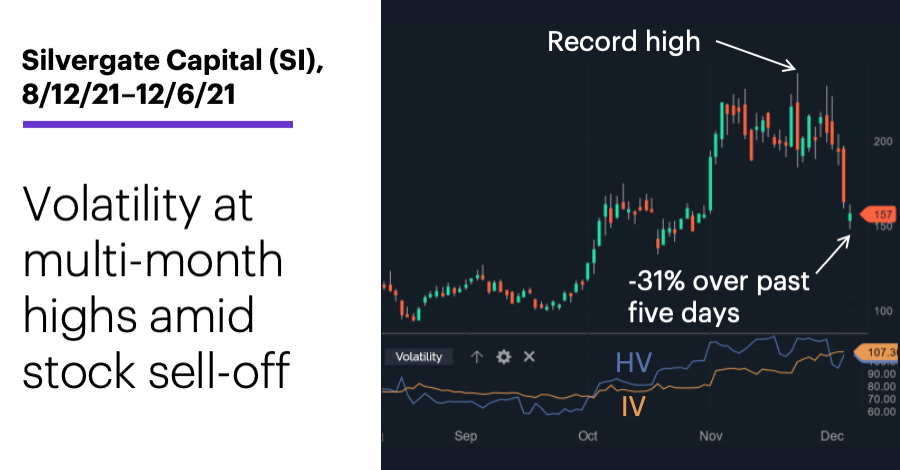 Source: Power E*TRADE. (For illustrative purposes. Not a recommendation.)
---
The bottom of the chart also shows IV was at its highest level of the past several months.
And how did this elevated IV play out in options prices? As just one example, the $125 put option expiring on December 17, which closed at 0.75 on November 29 (when SI closed at $213.45), hit a high of 5.70 on Monday (when SI fell to $147.90)—a 660% increase. Other options were up even more.
When a stock makes a big move (especially down), options sellers demand a greater premium for assuming the risk of being assigned that stock in volatile, uncertain conditions. That may be bad news for people who want to buy those options, but it can be good news for options sellers who expect volatility to decline to more typical levels, and premiums to retreat along with them.
Today's numbers include (all times ET): International Trade in Goods and Services (8:30 a.m.), Productivity and Costs (8:30 a.m.), Consumer Credit (3 p.m.).
Today's earnings include: Coupa Software (COUP), Science Applications International (SAIC), MongoDB (MDB), HealthEquity (HQY).
Click here to log on to your account or learn more about E*TRADE's trading platforms, or follow the Company on Twitter, @ETRADE, for useful trading and investing insights
---
What to read next...
12/06/21
Rocky conclusion to November spills into early December as markets grapple with virus variant.
---
12/03/21
This week's choppy price action included an unusual type of day that many people may have overlooked.
---
12/02/21
The recent volatility may make things particularly interesting in certain areas of the market.
---