Put trades soar after stock surge
UCTT fell more than 2% Thursday on unusually high put volume
Stock rallied nearly 40% in less than two weeks after recent earnings
Shares still more than 25% below Street estimates
Stocks that jump 40% in less than two weeks will attract their fair share of trader attention—especially if they're in sectors occupying key roles in the global economy. Throw in some unusual options activity that appears to run contrary to the stock's price action, and you can get plenty of traders looking at their screens and asking, "So, what's going on here?"
That was semiconductor support stock Ultra Clean Holdings (UCTT) in a nutshell yesterday. Halfway through the trading session, UCTT was above all but 10 other stocks on the LiveAction scan for high put–call ratios, with put volume running a little more than 31 times call volume: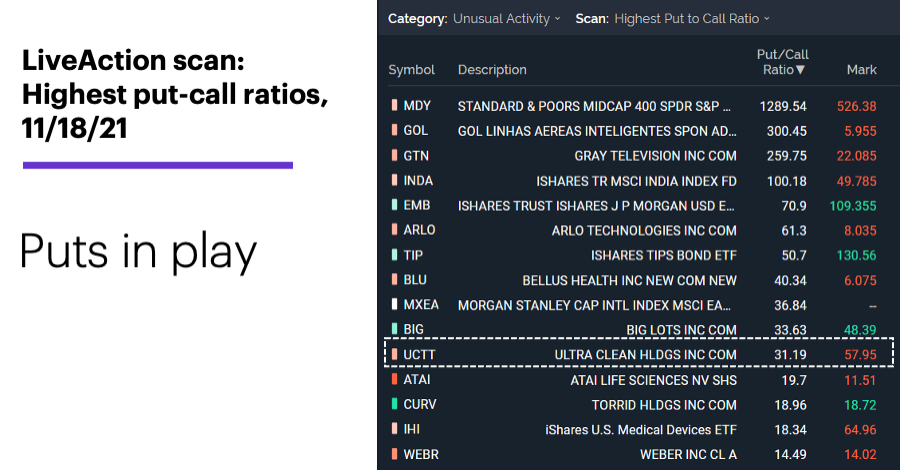 Source: Power E*TRADE (For illustrative purposes. Not a recommendation.)
---
At 4,737 contracts, UCTT's put volume was nearly 40 times its daily average. As is often the case when put or call volume makes an unusual one-day jump, the following chart shows 97% of trading was in two contracts, the January $50 and $55 puts—the two nearest out-of-the-money strike prices around 1 p.m. ET yesterday:
Source: Power E*TRADE (For illustrative purposes. Not a recommendation.)
---
Some people would (understandably) be inclined to think "bear put spread" when spotting this type of print—i.e., some large trader bought the January $55 puts and sold the January $50 puts to profit from a potential decline into the zone between the two strike prices.
That's possible, but ultimately unknowable—there are any number of equally plausible explanations for such activity. But if those trades did represent a bearish bias on someone's part, the fact that UCTT recently rallied more than 40% over the course of nine days may explain why someone would anticipate at least some temporary weakness:
Source: Power E*TRADE. (For illustrative purposes. Not a recommendation.)
---
That price surge followed UCTT's October 27 earnings, which topped estimates both in terms of Q3 performance and the company's future growth projections.1 The chart also shows UCTT dropped more than 2% intraday yesterday, pulling the stock back toward the bottom of the price consolidation that formed over the past seven trading days—and dropping it roughly 28% below the current Street analyst target of $73.63.2
Unusual options activity can certainly shine a light on possible interest in a stock, but deciphering the precise motivations and strategy behind isolated trades is risky business—even in terms of time frame. After all, traders and investors who think a stock is headed higher in the long can certainly make bearish trades (or hedge long positions) if they see the potential for near-term volatility.
Market Mover Update: With earnings due out next Wednesday, Deere (DE) hit a nine-week high yesterday—then reversed to close near the day's low—amid reports that workers had agreed to a new six-year labor contract, ending a five-week strike. The November 26 $300 put options, which closed at 2.02 on November 3, had lost more than 90% of their value by yesterday. Since hitting a multi-month low the day the strike began, DE has rallied more than 9% (see "Labor jolt highlights options").
Today's earnings include: Buckle (BKE), Foot Locker (FL).
Today's IPOs include: FinWise Bancorp (FINW), Snow Lake Resources (LITM).
Click here to log on to your account or learn more about E*TRADE's trading platforms, or follow the Company on Twitter, @ETRADE, for useful trading and investing insights
---
1 StreetInsider.com. Ultra Clean Holdings (UCTT) Tops Q3 EPS by 6c. 10/28/21.
2 TipRanks.com. Ultra Clean Holdings Stock Forecast & Price Targets. 11/18/21.
What to read next...
11/18/21
Do traders think the trend in gaming stocks has played out, or has it just pressed the pause button?
---
11/17/21
There's more than one way to approach trade non-directional options strategies like strangles.
---
11/16/21
Vaccine stocks not immune to volatility, but do traders think their condition is stabilizing?
---