Call positions grow as stock slides
AMLX recently broke longstanding support level
Call volume 270 times put volume Wednesday
Total call OI far exceeds put OI
More often than not, options market activity roughly correlates to stock direction—that is, calls will be more popular when a stock is rallying, while put volume will pick up when prices are falling.
That hasn't been the case for Amylyx Pharmaceuticals (AMLX) lately, though.
Amylyx, which focuses on neurological disorders (including ALS disease), hit a six-week intraday high on March 14 after announcing earnings, but reversed to close near its intraday low. Over the next few days it preceded to fall back below a longstanding support level around $32.50, which it originally broke on March 10:
Source: Power E*TRADE. (For illustrative purposes. Not a recommendation.)
---
Amylyx, which began trading a little more than 14 months ago, climbed more than 510% off its May 2022 low close of $6.85 to hit an all-time high around $42 in late January. As of yesterday, shares were down more than 30% from that peak.
Despite this recent bearishness, AMLX call options have been getting more attention than usual from traders. On Wednesday, for example—the stock's fifth down day out of six—call volume was roughly 270 times put volume: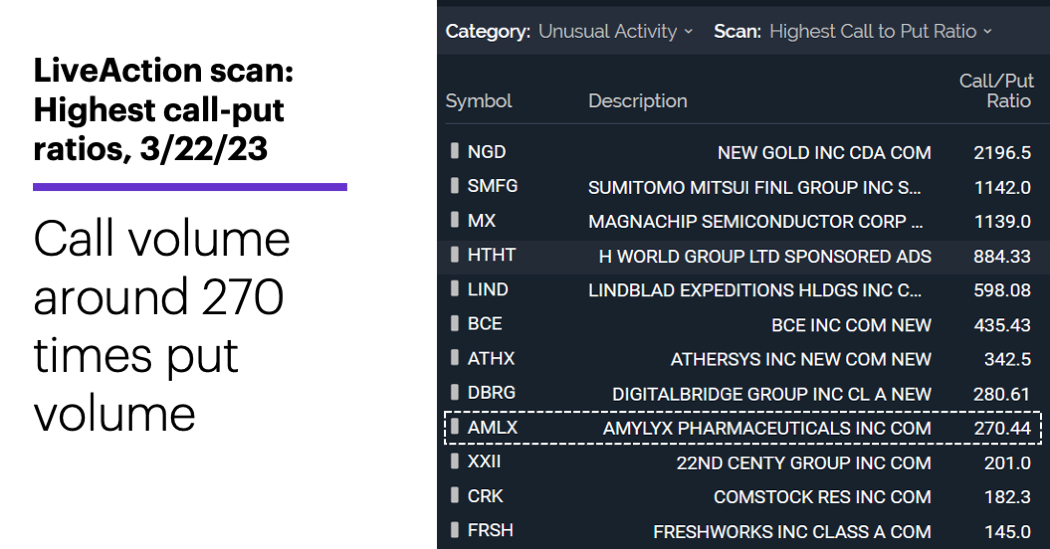 Source: Power E*TRADE. (For illustrative purposes. Not a recommendation.)
---
That included more than 2,000 of the August $45 calls on both Monday and Wednesday, which brought the open interest (OI) in the contract to 4,700 contracts: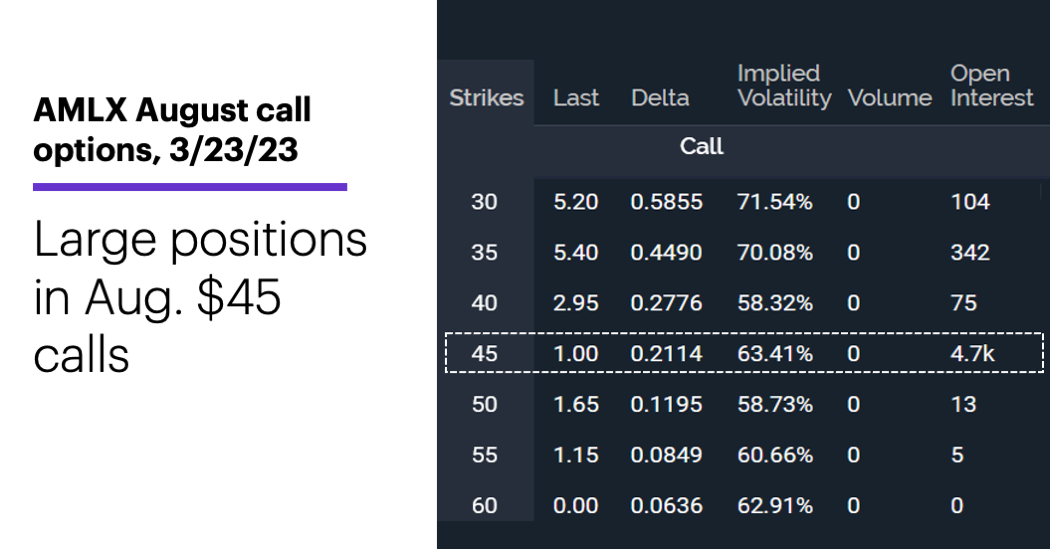 Source: Power E*TRADE. (For illustrative purposes. Not a recommendation.)
---
A concentration in calls was also apparent in the April and May expirations. The total OI for the April, May, and August calls stood at 15,393 yesterday—nearly five times the total put OI of 3,299. Also, of those 15,393 calls, only four were in the money. In other words, virtually all the open call positions could have value at expiration only if the stock price was higher than it was yesterday. The call concentration was greatest in the May and August options, both of which had more than six times as many open calls as puts.
While it's true that most traders buy calls to take long positions in the underlying stock, and buy puts to take short positions, not all traders do—there are always two sides to every trade. But it's worth watching when options traders are crowding into positions that appear to contradict a stock's direction.
Market Mover Update: In the wake of its latest earnings announcement, KB Home (KBH) jumped more than 10% intraday on Thursday to a seven-week high of $40.52 (see "Home is where the range is").
Today's numbers include (all times ET): Durable Goods Orders (8:30 a.m.), PMI Composite Flash (9:45 a.m.).
Today's earnings include: Actinium Pharmaceuticals (ATNM).
Click here to log on to your account or learn more about E*TRADE's trading platforms, or follow the Company on Twitter, @ETRADE, for useful trading and investing insights.
---
What to read next...
03/20/23
Broad market up for week in choppy trading amid bank volatility and inflation data.
---
03/17/23
With key housing market data due to be released, options traders appeared to be positioning themselves for this homebuilder stock's earning release.
---
03/15/23
When the stock market is stressed, moves in other markets can be dramatic—but also, sometimes, short-lived.
---