The inside scoop on an inside day
The S&P 500 formed an "inside day" pattern on Wednesday
SPX fell more than 1% intraday Wed. after 1.3% Tues. rally
"All else equal," market tended to drift after such days
Even on seemingly ho-hum days, traders have opportunities to take a lesson or two out of the markets.
Wednesday was a low-key day on the news front, but the stock market still managed to do something relatively unusual. The S&P 500's (SPX) range was contained entirely within Tuesday's range, forming what's commonly called an "inside day:"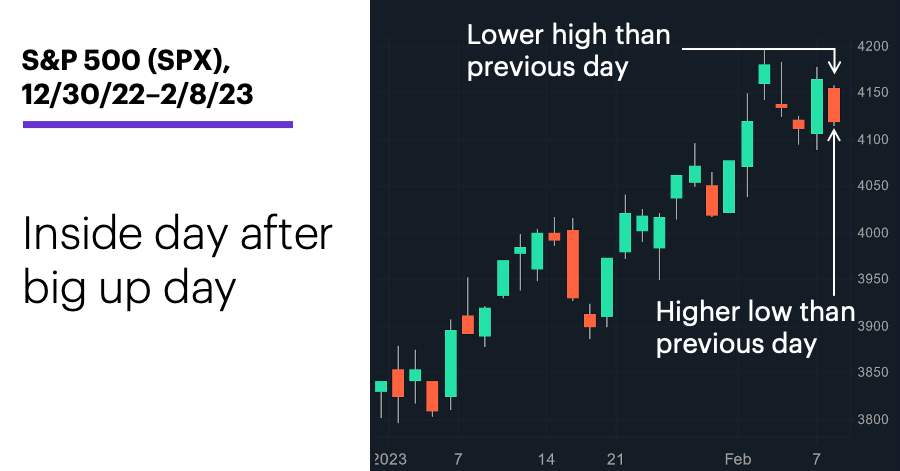 Source: Power E*TRADE. (For illustrative purposes. Not a recommendation.) Note: It is not possible to invest in an index.
---
That's not the unusual part, though—the SPX has formed 976 other inside days over the past 33 years. What distinguished yesterday was that it followed Tuesday's larger-than-average up day, when the SPX made a higher high and closed up 1.3%. Before yesterday, that combination had happened only 65 other times since January 1990 (most recently on January 24).1
What makes these specific inside days unique is the way the market has tended to move after them. For example, while the SPX's median five-day return after all inside days is 0.27%—very close to the index's overall median five-day return of 0.31%—its median five-day return after inside days like Wednesday was -0.07%: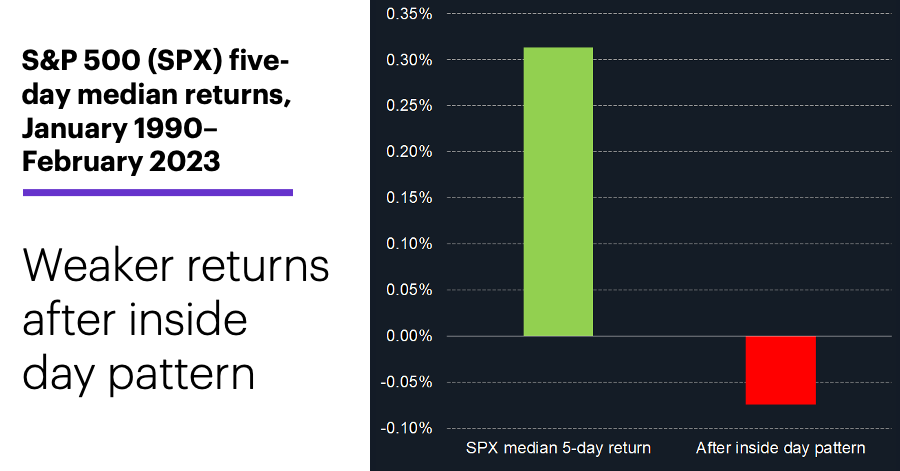 Source: Power E*TRADE. (For illustrative purposes. Not a recommendation.)
---
One way to possibly "explain" this weaker-than-average price behavior is that it's really more about the days before these days—that is, the big up days like Tuesday. A 1.3% gain is around 1.7 times the SPX's average return on an up day—and more than 30 times its overall average daily return of 0.04%. Perhaps the fact that the index was sometimes (slightly) lower five trading days later simply reflects a market "taking a breather" after a burst of upside momentum.
Of course, traders are wise to avoid reading too much into a single day or two of price action—there are always multiple factors at work in the market, and prices may behave differently when a short-term pattern occurs in one type of environment vs. another—say, a prevailing uptrend vs. a downtrend. Also, short-term price patterns tend to have short-term implications—they don't mean much in terms of longer-term trends. And the market's gains after the January 24 example are a reminder that the SPX was lower after five days just one more time than it was higher (33 vs. 32 times).
But knowing what the market usually does in a certain situation—all else being equal—can help give traders a better understanding of whether the price action they're seeing at a given time is bucking the historical odds or moving in sync with it.
Market Mover Update: With earnings due out today, Ralph Lauren dropped more than 7% intraday on Wednesday (see "If the options fit").
Today's numbers include (all times ET): Weekly Jobless Claims (8:30 a.m.), EIA Natural Gas Report (10:30 a.m.).
Today's earnings include: AbbVie (ABBV), Kellogg (K), PepsiCo (PEP), Ralph Lauren (RL), Lyft (LYFT), PayPal (PYPL), Verisign (VRSN).
Click here to log on to your account or learn more about E*TRADE's trading platforms, or follow the Company on Twitter, @ETRADE, for useful trading and investing insights.
---
1 All figures reflect S&P 500 (SPX) daily price data, 1/4/90 – 2/8/23. "Days like Wednesday" refers to an inside day that follows a day the SPX made a higher intraday high and closed up more than 1% but less than 1.5%. Supporting document available upon request.
What to read next...
02/08/23
Breaking down options volume highlights an interesting dynamic in a high-flying AI stock.
---
02/06/23
Market pushes higher as traders digest rate hike, jobs report, and big-tech earnings.
---
02/03/23
With earnings around the corner, traders added to put positions as this apparel stock added to its rally.
---