Spin-off on the move
JNJ consumer spin-off KVUE began trading in May
Company released first earnings last week
Options volume surges amid earnings, "split-off" news
Traders surveying unusual options activity the past several days have had trouble avoiding Kenvue (KVUE), which has repeatedly been at or near the top of the LiveAction scans for high options volume. On Tuesday its call volume was more than 110 times average and its put volume was more than 125 times average.
Haven't heard of KVUE? That's understandable, since it's been trading for less than three months—as a consumer healthcare spin-off (Band-Aids, Tylenol, Listerine, etc.) of Johnson & Johnson (JNJ), which intends to concentrate on pharmaceuticals and medical technology.
Kenvue's open interest (OI) for the next three monthly expirations reveals several large positions, mostly in the $22.50 and $30 strikes, particularly in the September options, which had nearly identical positions—around 55,000 contracts, representing 5.5 million shares of stock each—in the $30 call and $30 put: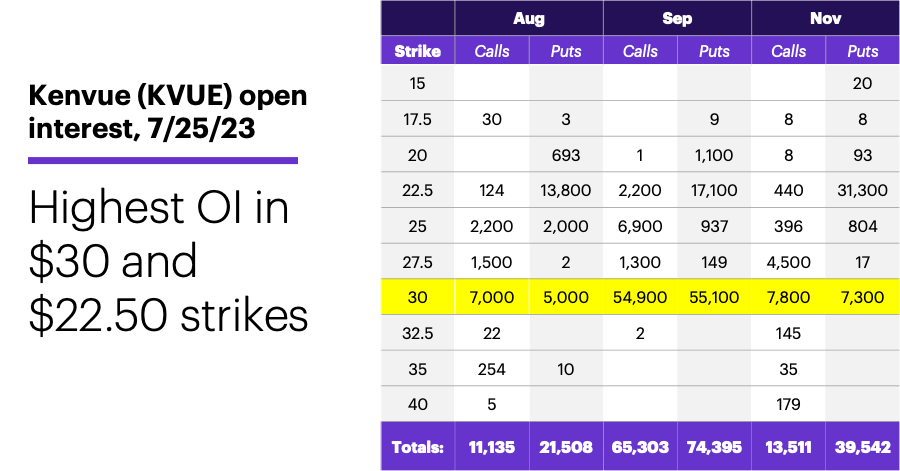 Source (data): Power E*TRADE. (For illustrative purposes. Not a recommendation.)
---
Those happened to be the options that were most active on Tuesday: 21,100 contracts traded in both by midday. The fact that the volume in these options was identical (and their OI was nearly so) could mean a trader was adjusting a very large straddle in the September $30 options, although there's no guarantee that's the case. (All the trades in these options have occurred since last Thursday.)
All this options activity has occurred against a volatile backdrop in the stock itself. Kenvue tumbled 10% intraday to a new low of $22.49 last Thursday after releasing its first earnings report—despite topping its numbers and forward guidance estimates1—but bounced back to close down only 2%. It then dropped 3% on Friday, fell 3.7% intraday on Monday before rallying to close up on the day, then chopped its way to a gain on Tuesday: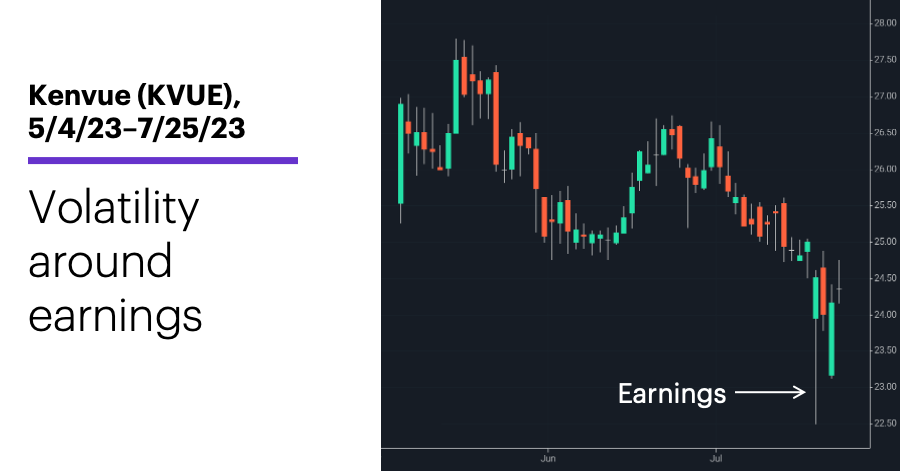 Source: Power E*TRADE. (For illustrative purposes. Not a recommendation.)
---
There's more to this story than quarterly numbers, though. Johnson & Johnson, which still owns nearly 90% of KVUE, also announced plans to divest itself of most of its holdings via a "split-off," which would allow their shareholders to exchange JNJ stock for KVUE shares at a discount (reportedly 7%).2
That development may explain at least some of the volatility since last Thursday—especially since JNJ appeared to surprise the market by announcing the split-off would start sooner rather than later, with a scheduled close date of August 18.3
Kenvue's implied volatility (IV) levels suggest the options market is pricing in more near-term uncertainty than usual. On Tuesday, implied volatility (IV) for KVUE's August options was more than two times average (52% vs. 23%), while the September IV of 43% was more than 33% above average. All else being equal, high IV often inflates premiums—something options traders will want to keep in mind as this story plays out.
Market Mover Update: "Barbie" has been big at the box office, but today traders will get a look at Mattel (MAT) earnings. On Tuesday the stock, which was trading a little below its mid-month highs, pulled back on heavier-than-average options volume (see "Welcome to the trading dollhouse").
Today's numbers include (all times ET): Mortgage applications (7 a.m.), New Home Sales (10 a.m.), EIA Petroleum Status Report 10 a.m.), Fed interest rate announcement (2 p.m.).
Today's earnings include: McDonald's (MCD), Meta (META), Boeing (BA), Fiserv (FI), General Dynamics (GD), Coca Cola (KO), Silicon Laboratories (SLAB), AT&T (T), Tower Semiconductor (TSEM), Chipotle (CMG), eBay (EBAY), Mattel (MAT), O'Reilly Automotive (ORLY), Seagate (STX).
Click here to log on to your account or learn more about E*TRADE's trading platforms, or follow the Company on Twitter, @ETRADE, for useful trading and investing insights.
---
1 StreetInsider.com. Kenvue's (KVUE) first results are solid, dividend initiated. 7/20/23.
2 CNBC.com. Johnson & Johnson to reduce its Kenvue stake by at least 80% through exchange offer. 7/24/23.
3 Fierce Pharma. After consumer split, Johnson & Johnson plans to drop 80% of Kenvue stake through exchange offer. 7/24/23.
What to read next...
07/24/23
Broad market extends breakout as traders prep for Fed meeting, Big Tech earnings, and GDP.
---
07/19/23
Big prints on the tape can sometimes distract traders from the bigger picture.
---
07/17/23
Inflation drops, stocks erase pullback as Q2 reporting season begins.
---