September stumble
Small caps and tech lead retreat as stocks fall for third week
Bond yields soar, oil prices hold above $90
This week: Fed inflation, GDP, government shutdown looms
After exhibiting relatively minor symptoms throughout the month, the stock market finally appeared to develop a full-blown case of September-itis last week.
On Wednesday morning the S&P 500 (SPX) was up for the day and down only 1% for the month. But by the end of the week that hole had deepened to 4.2%. A sell-off in the wake of the Fed's interest rate announcement left the market staring down the possibility of a fourth negative September in a row, and the seventh of the past decade: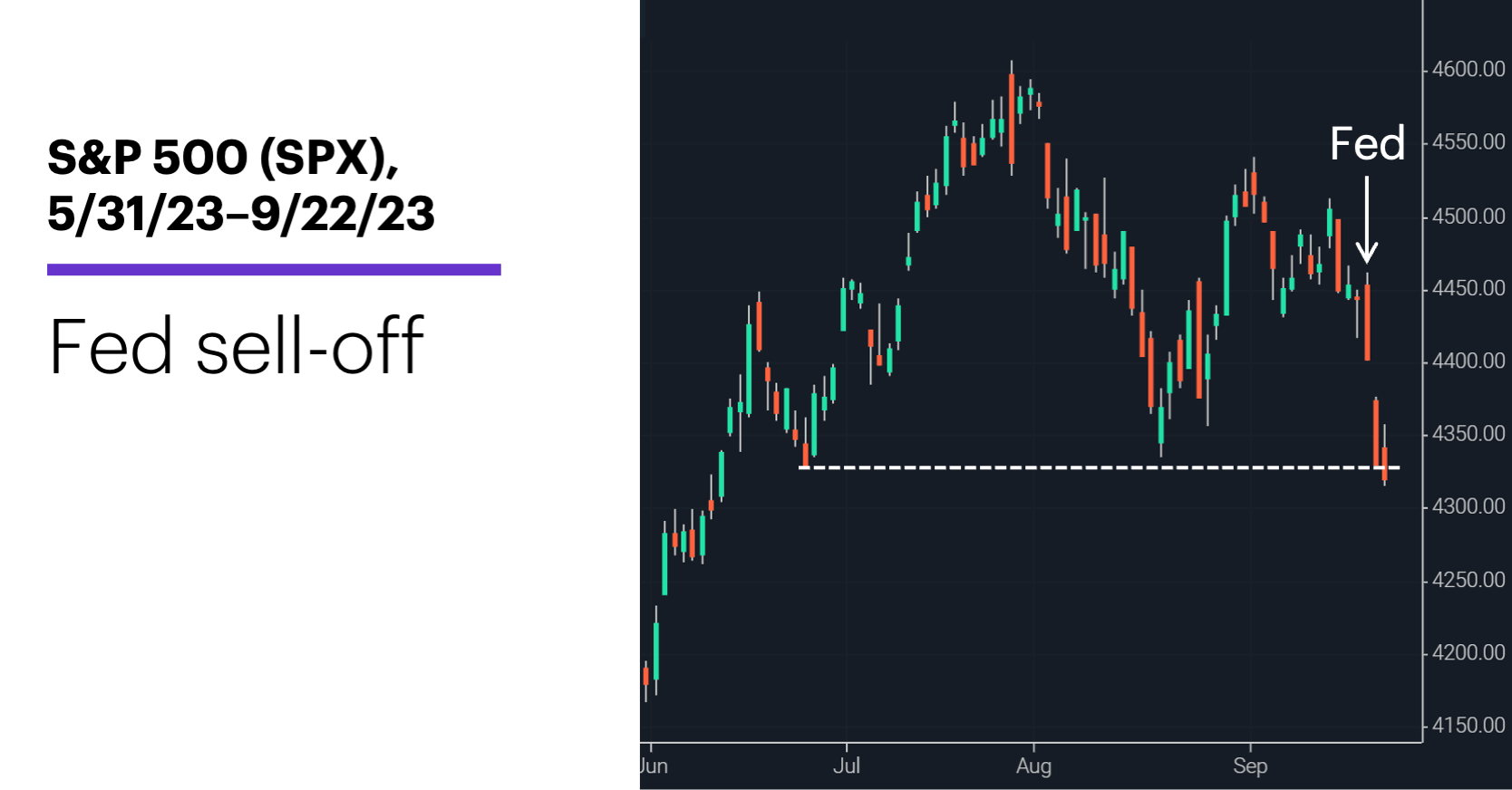 Source: Power E*TRADE. (For illustrative purposes. Not a recommendation. Note: It is not possible to invest in an index.)
---
The headline: S&P 500 slides to three-month lows.
The fine print: Last Wednesday's Fed meeting ended as expected, with interest rates unchanged. But the Fed also revealed most of its members felt it would be necessary to hike rates again by the end of the year. While this news simply reaffirmed the Fed's "higher for longer" mantra, the stock market's initial reaction spoke for itself.
The moves: The 10-year T-note yield jumped to 4.9% intraday last Thursday—higher than it's been since October 2007. The 2-year T-note yield tagged 5.2%, which was its highest level since 2006.
The number: 201,000, the number of weekly jobless claims announced last Thursday—the lowest total since January.
The scorecard: The Russell 2000 (RUT) and Nasdaq 100 (NDX) retreated the most for a second week in a row: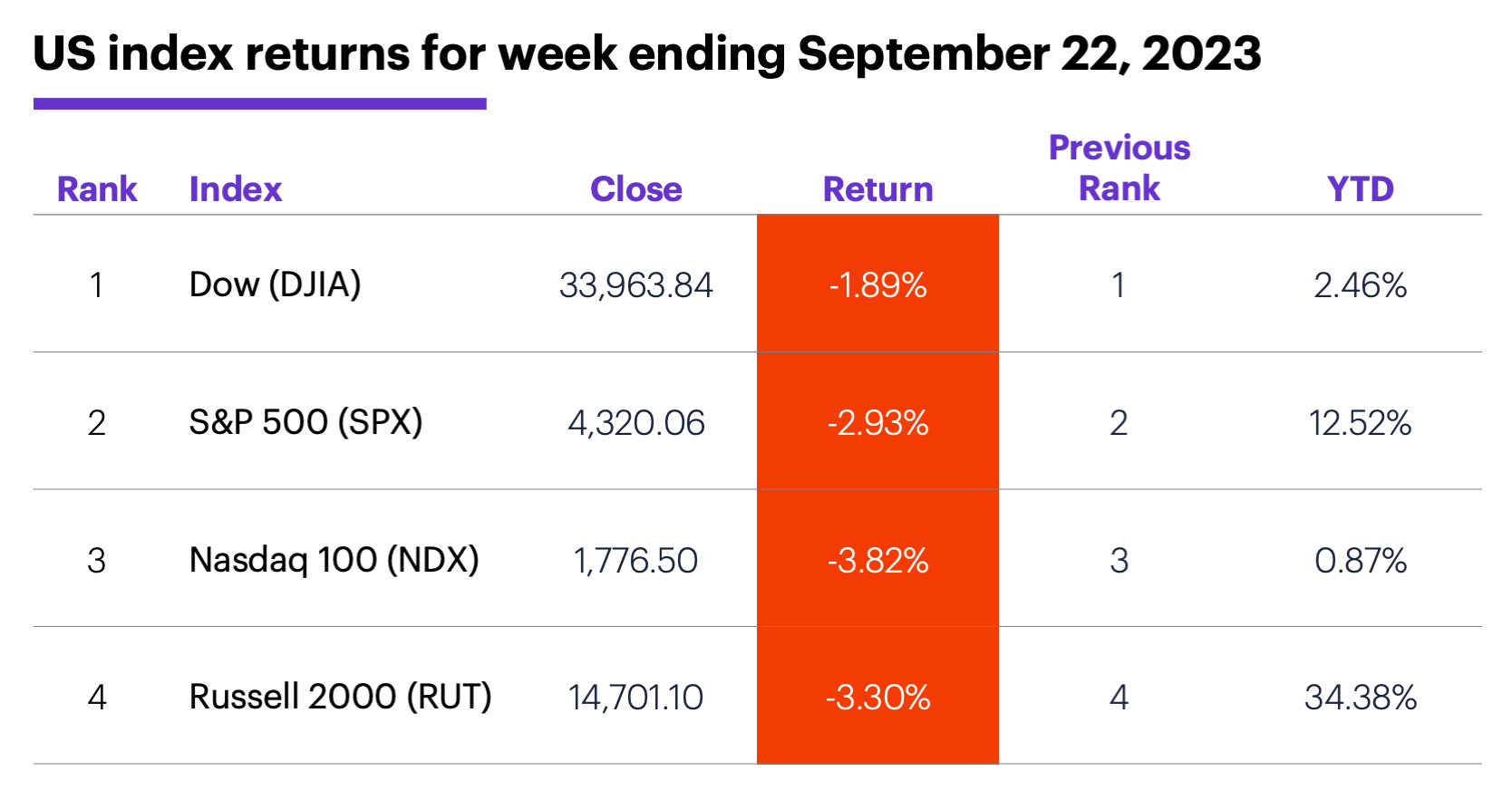 Source (data): Power E*TRADE. (For illustrative purposes. Not a recommendation.)
---
Sector returns: The strongest S&P 500 sectors last week were health care (-1.2%), utilities (-1.7%), and consumer staples (-1.8%). The weakest sectors were consumer discretionary (-6.5%), real estate (-5.5%), and materials (-3.8%).
Stock movers: Cambridge Bancorp (CATC) +26% to $61.50 on Wednesday, Splunk (SPLK) +21% to $144.43 on Thursday. On the downside, Revance Therapeutics (RVNC) -17% to $13.81 on Tuesday, Travere Therapeutics (TVTX) -41% to $7.64 on Thursday.
Futures: November WTI crude oil (CLX3) hit an intraday contract high of $92.43 last Tuesday but pulled back to end the week little changed at $90.03. While high oil prices may be a pain at the pump, Morgan Stanley & Co. analysts recently discussed one upside—their potential to boost energy stocks.1 December gold (GCZ3) hit a two-week intraday high of $1,968.90 last Wednesday, and ended the week slightly lower at $1,945.60. Week's biggest gains: October VIX (VXV3) +10.8%, November orange juice (OJX3) +3.1%. Week's biggest losses: December oats (ZOZ3) -11.3%, November cheese (CSCX3) -5.5%.
Coming this week
A busy economic calendar includes more housing data, the final estimate of Q2 GDP, durable goods, and the PCE Price Index (Fed inflation):
●Monday: Chicago Fed National Activity Index
●Tuesday: New home sales, S&P Case-Shiller Home Price Index, FHFA House Price Index, Consumer Confidence
●Wednesday: Durable Goods Orders
●Thursday: Q2 GDP (final), pending home sales
●Friday: Personal Income and Spending, PCE Price Index, Advance Retail and Wholesale Inventories, Goods Trade Balance, Chicago PMI, Consumer Sentiment
This week's earnings include:
●Monday: Thor Industries (THO)
●Tuesday: Cintas (CTAS), TD Synnex (SNX), United Natural Foods (UNFI), Costco (COST)
●Wednesday: Paychex (PAYX), Concentrix (CNXC), Micron (MU)
●Thursday: Accenture (ACN), Jabil (JBL), CarMax (KMX), Nike (NKE)
●Friday: Carnival (CCL)
Check the Active Trader Commentary each morning for an updated list of earnings announcements, IPOs, economic reports, and other market events.
The stock market and government shutdowns
Unless congressional Republicans can hammer out their differences on federal spending, the US government faces the possibility of shutting down at the end of this week.
But as potentially disruptive as a shutdown may be to the economy (especially to government workers), the past six closures haven't had much of a short-term impact on the stock market. The following table shows the SPX's net returns for the week before the government shutdown, during the shutdown, and for the first and second weeks after the government reopened: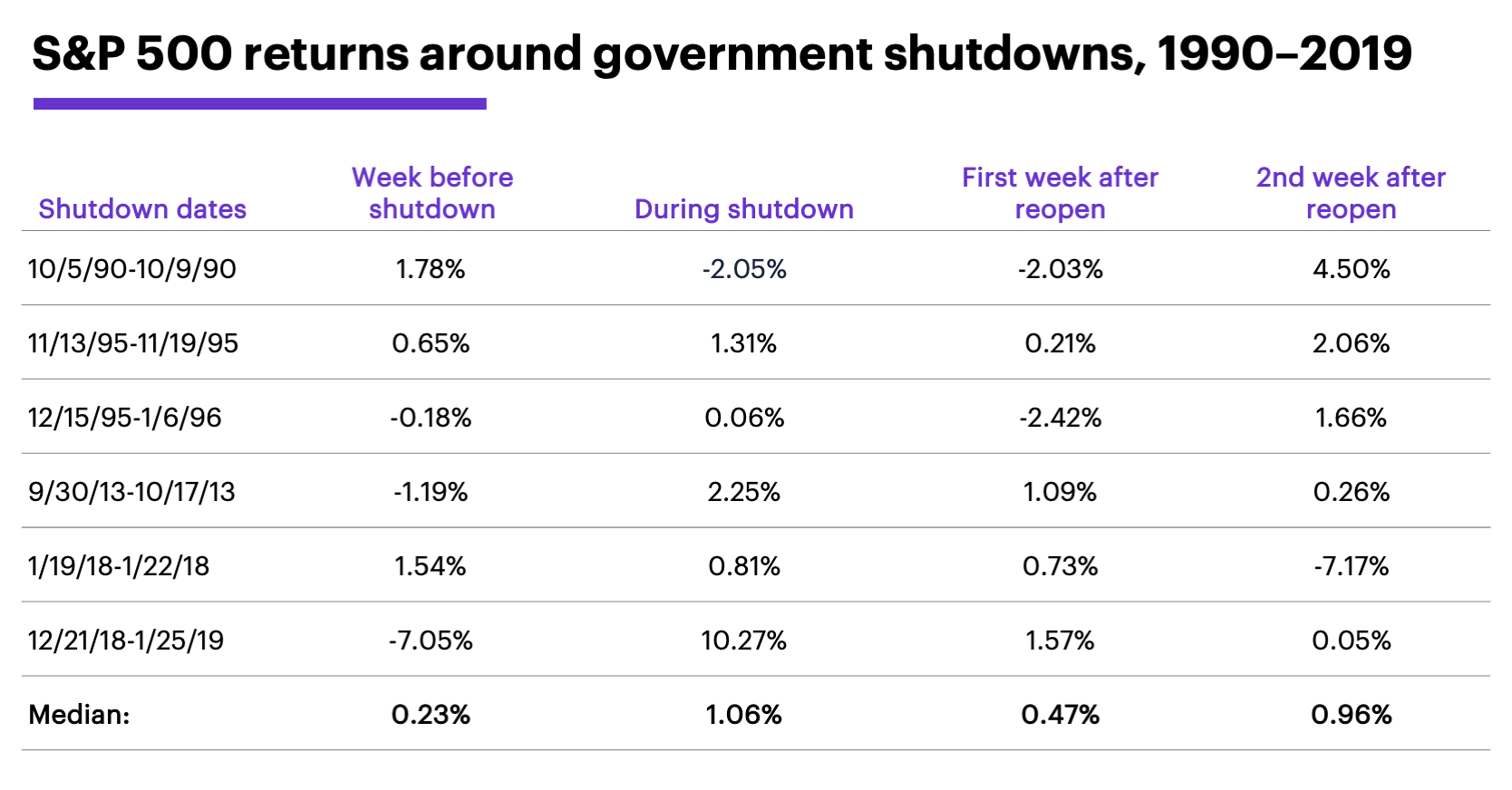 Source (data): Power E*TRADE. (For illustrative purposes. Not a recommendation.)
---
The SPX posted a net gain in the week leading up to a shutdown three out of six times, and lost ground the other three. But only one of those declines (in December 2018) was notably large. And while the shutdowns themselves ranged from a single business day to several weeks, the market lost ground during these periods only once (1990). The SPX had a positive net return four of six times in the first week after the government reopened, and five of six times in the second week after reopening.
That doesn't mean the market will behave similarly this time. Stocks have been trending lower since August, and we are still in what has historically been one of the most bearish periods of the year. It's difficult to argue the prospect of a government shutdown would improve market sentiment, but past shutdowns suggest investors and traders shouldn't overreact to them.
If you'd like to learn more, tune in to our second Market Update of September to hear Morgan Stanley Wealth Management Executive Director and Head of US Policy, Monica Guerra, discuss the current budget debate and the economic and market impact of government shutdowns.
Click here to log on to your account or learn more about E*TRADE's trading platforms, or follow the Company on Twitter, @ETRADE, for useful trading and investing insights.
---
1 MorganStanley.com. Why the Energy Sector is Attractive Again. 9/14/23.             
2 All figures reflect S&P 500 (SPX) daily prices, 1990–2019. Supporting document available upon request.
What to read next...
09/21/23
Was options activity signaling a potential "bear trap" after this biotech stock closed below support?
---
09/18/23
Stocks slump amid inflation uptick and more strong economic data.
---
09/15/23
Momentum may be enticing, but longtime traders know the pitfalls of chasing price moves.
---