Reversal pattern may point both ways
PLCE fell as much as 42% over the past 3 days
Shares rallied sharply off Monday's low
"Reversal days" more short term than long term?
The Children's Place (PLCE) may not have the same name recognition as some of the other retail companies that have released earnings over the past week or so, but its stock made one of the more eye-catching moves of the bunch.
Last Thursday, the company announced results that topped revenue estimates but disappointed on earnings and guidance.1 The stock gapped sharply lower and lost 25% for the day, then fell another 11% on Friday. Monday initially looked like it was going to be more of the same, with shares quickly dropping as much as 13.9% and hitting their lowest level ($16.46) since early June: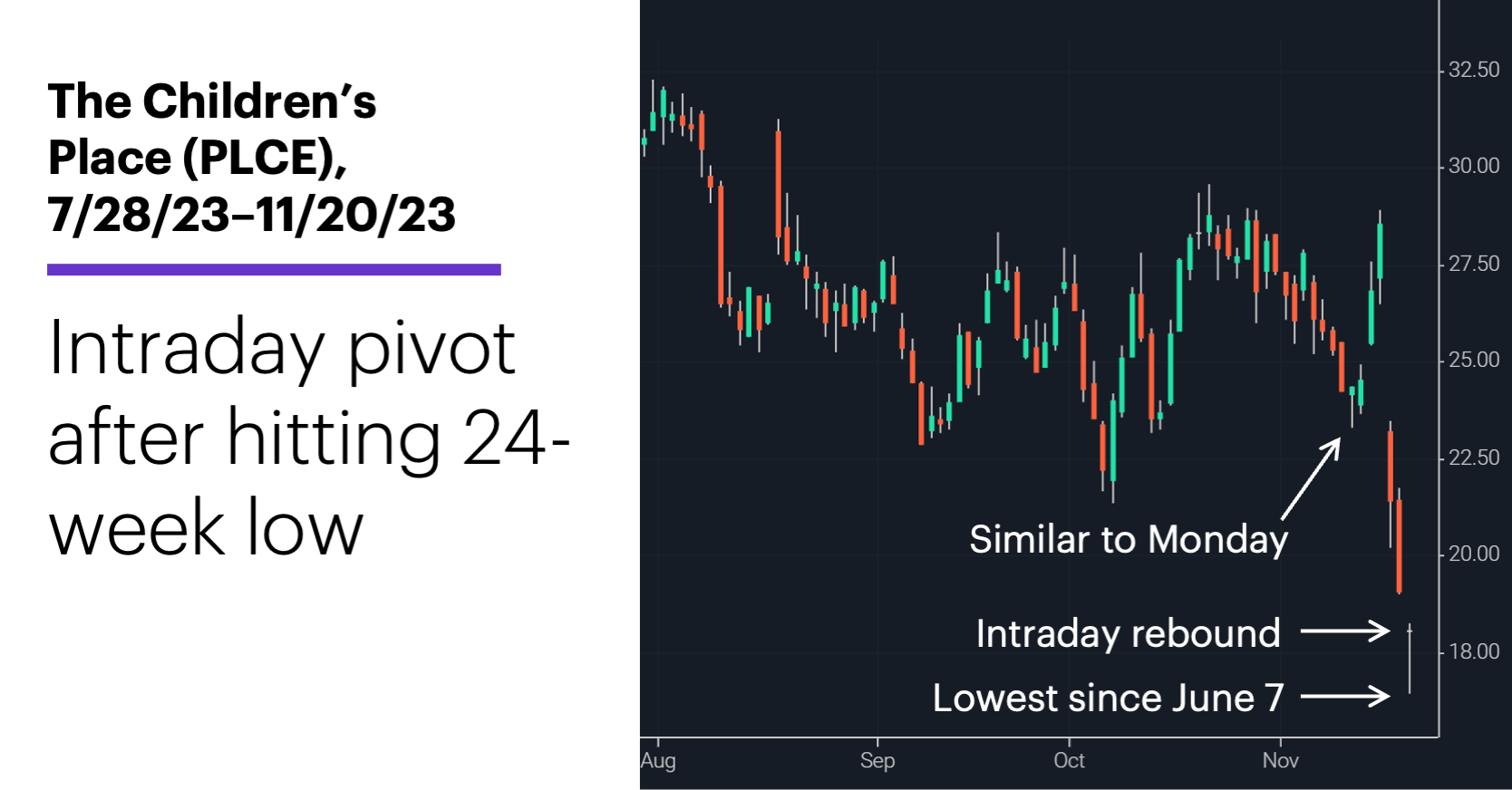 Source: Power E*TRADE. (For illustrative purposes. Not a recommendation.)
---
At Monday's low, PLCE was 42% below its November 15 close. By noon ET, though, PLCE had rallied more than 12% intraday, pushed above its opening price, and trimmed its loss to less than 5%. Meanwhile, options volume was running more than 20 times average, with calls outpacing puts.
When a stock makes a move like the one PLCE made yesterday, some traders may be tempted to label it a "reversal day." The logic is that a rally that erases a significant intraday loss means sentiment has changed during the course of the day—that is, bulls have snatched momentum from the bears. The implication is that this can produce further upside, an interpretation that can feel even more compelling when the stock recently formed a similar day (as PLCE did on November 10) that was followed by an energetic bounce.
In that instance, shares rallied more than 17% over the next three days. But it's important not to ignore what happened after those three days, because that subsequent price action was, in a way, representative of stock's historical performance after the 63 other times it formed days like Monday and November 10:
1. After five trading days, the stock's average return was 0.6%—well above its overall five-day average return of 0.4%.
2. After 10 trading days, the stock's average return was 0.3%—half its average five-day return, and well below its overall 10-day average return of 0.8%.2
In other words, the fact that PLCE's average return 10 days after the "reversal day" pattern was smaller than its return after five days means the stock, more often than not, lost ground from days 5-10. PLCE was, in fact, higher less than half the time (28 out of the 63 instances) after 10 days. Despite yesterday's reversal, the stock was still more than 20% below its November 10 close.
Finally, whenever considering short-term market performance, consulting the big picture can help traders avoid tunnel vision.
Source: Power E*TRADE. (For illustrative purposes. Not a recommendation.)
---
The monthly chart shows PLCE's recent downswing dropped the stock close to its lowest levels since 2020, which was, in turn, as low as the stock had been since 2003. Regardless of whether the stock now performs in line with the bounce-and-retreat path that followed many of its other so-called "reversal days," short-term price patterns generally have short-term implications. There are usually other, and larger, forces at work—and it's wise not to discount them.
Market Mover Update: A few days of price stabilization made their presence felt in Inspire Medical Systems' (INSP) options prices. The December $125 put is down $1.40 since last Thursday, and $7 lower than it was on December 10 (see "Trading around uncertainty").
January WTI crude oil futures (CLF4) followed Friday's 4% surge with a 2%-plus gain on Monday—the market's biggest two-day rally since early April.
Today's numbers include (all times ET): Existing Home Sales (10 a.m.), Fed minutes (2 p.m.).
Today's earnings include: Analog Devices (ADI), American Eagle Outfitters (AEO), Best Buy (BBY), Burlington Stores (BURL), Kohl's (KSS), Lowe's (LOW), Medtronic (MDT), Guess (GES), HP (HPQ), Nordstrom (JWN), Nvidia (NVDA), Urban Outfitters (URBN).
Click here to log on to your account or learn more about E*TRADE's trading platforms, or follow the Company on Twitter, @ETRADE, for useful trading and investing insights.
---
1 StreetInsider.com. Children's Place (PLCE) sinks after a huge guidance miss. 11/16/23.
2 All figures represent PLCE daily price data, 8/31/97–11/20/23. The "reversal day" pattern refers to a day the stock 1) fell to its lowest intraday low in at least 10 trading days, 2) fell at least 2.5% intraday, and 3) opened and closed in the top third of the day's range. Supporting document available upon request.
What to read next...
11/20/23
Market rides economic data to third-consecutive up week.
---
11/17/23
Why volatility doesn't always do what you expect—and what that can mean for traders.
---
11/15/23
The oil market rebound faced a test as options traders established big positions in an energy stock.
---