Retailer gets index bump
LULU added to S&P 500, rallies 10.5% intraday
Index funds need to add stock—but only once
Even if bump fades, other factors may contribute
It's officially earnings season. And while Lululemon (LULU) didn't release its numbers on Monday, it was one of the day's bigger gainers, rallying more than 10% in early trading: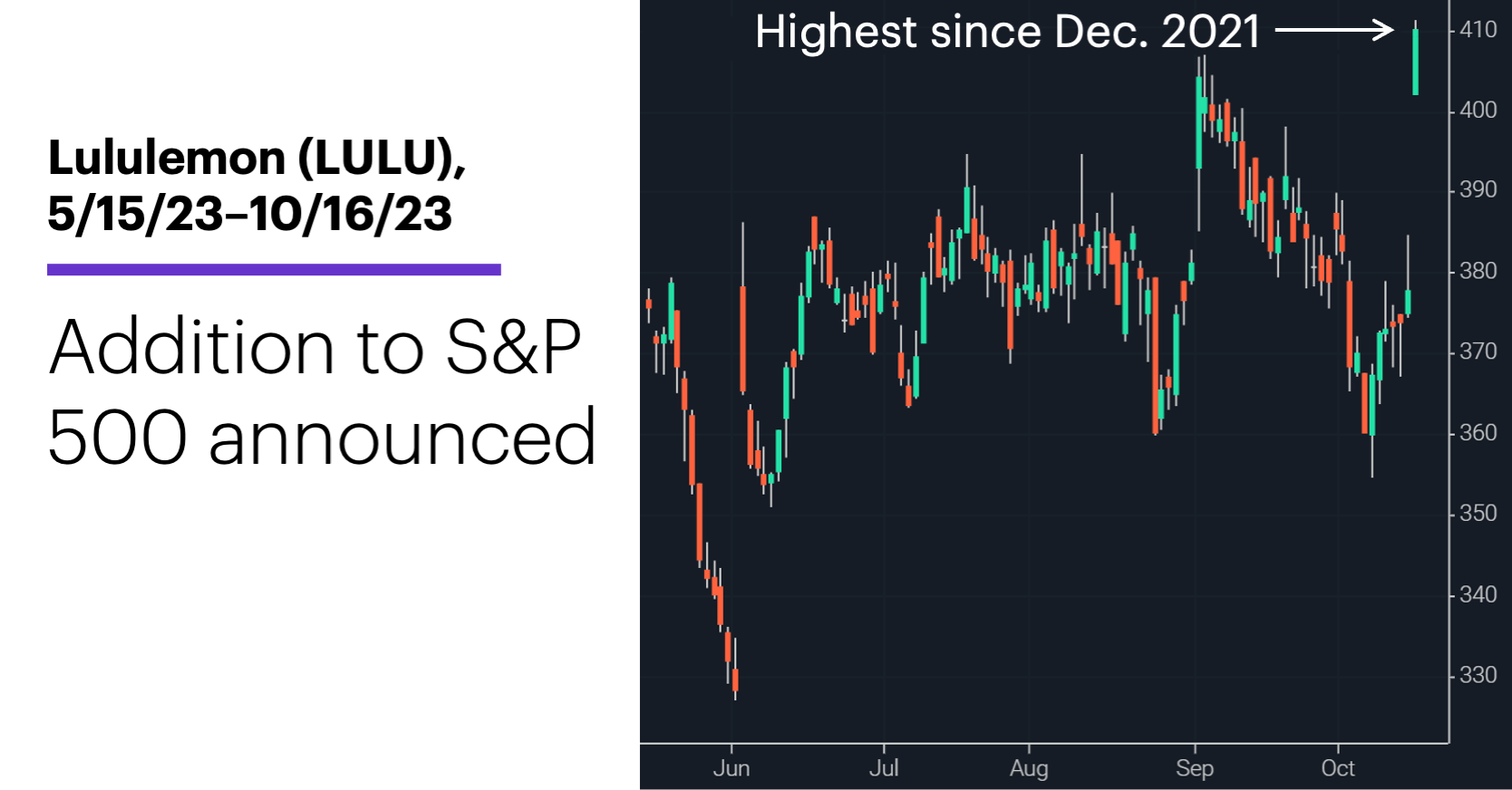 Source: Power E*TRADE. (For illustrative purposes. Not a recommendation.)
---
The company last released earnings on August 31, and it's not scheduled to do so again until early December. Yesterday's rally, which pushed shares to their highest level in nearly two years, followed a different type of news: The retailer was joining the S&P 500 (SPX).
While casual observers may think being added to a high-profile index like the SPX is primarily a public relations coup—something that raises the stock's profile and makes it more interesting to potential investors—there's also a nuts-and-bolts aspect to membership in the index club: All investment funds that track the index need to add the stock to their portfolios. So, an immediate bump in share price shouldn't be surprising.
The question is always whether that bump will have legs. While the answer depends on a few factors, it's important to remember that index funds only need to buy the stock once, so whatever boost a stock would initially get from their purchases won't necessarily last.
The following chart shows two recent additions to the SPX. After the market closed on September 1, Standard & Poor's announced they were adding Blackstone (BX) and Airbnb (ABNB) to the index, and both stocks jumped the next trading day (September 5):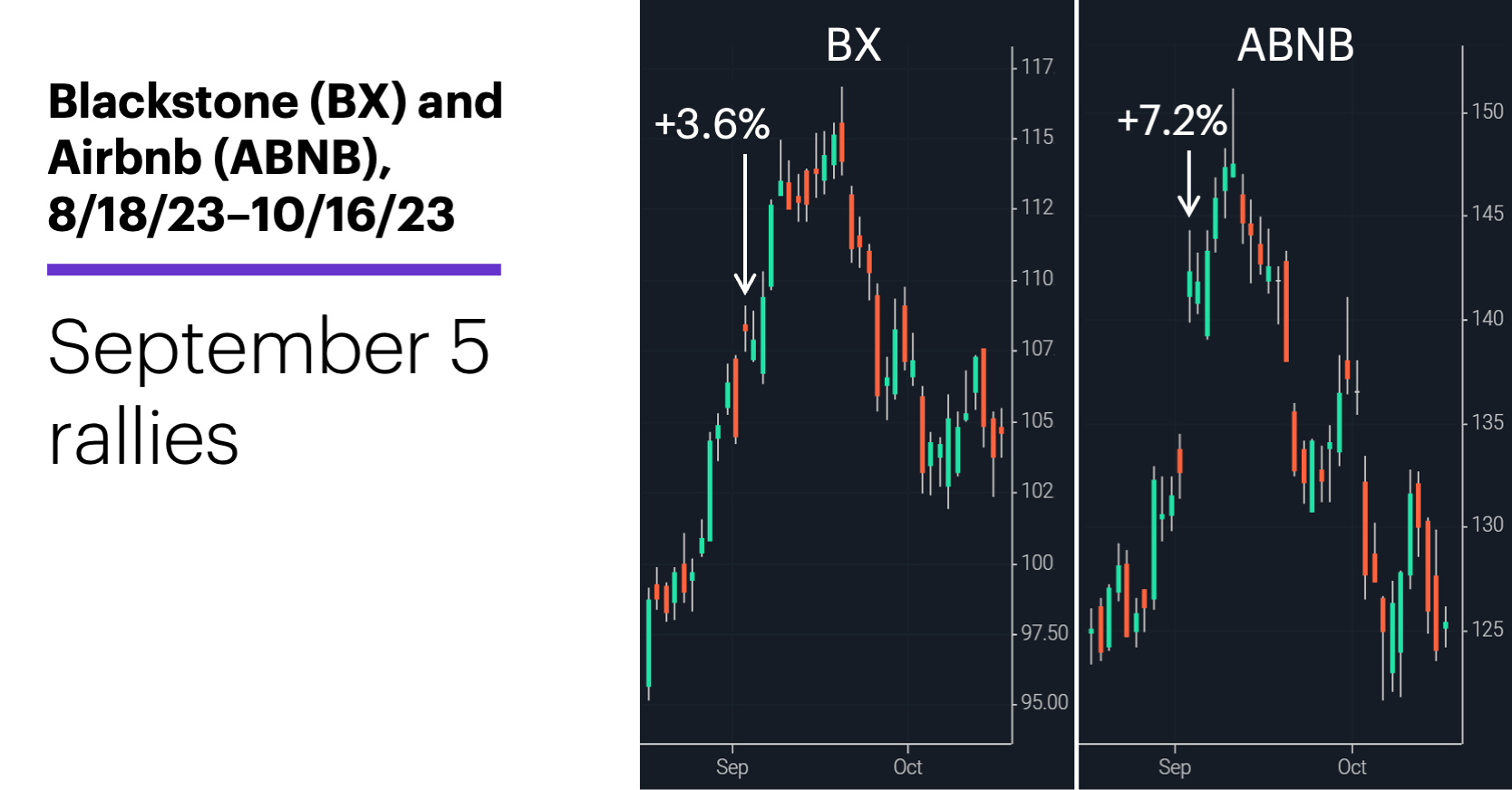 Source: Power E*TRADE. (For illustrative purposes. Not a recommendation.)
---
Although BX and ABNB are now trading lower than they were on September 5, both also continued to rally for a while after news of their addition to the SPX. Blackstone climbed an additional 6.4% by September 19 before turning lower. Airbnb rallied twice as much as BX on September 5, but it gained only 3.7% more (by September 12) before selling off.
While it's true traders shouldn't expect an "index bump" to last indefinitely, as these two examples show, additional follow-through is always possible. How much will depend on other factors, including tailwinds or headwinds from broad market and sector, the stock's trend, and any company-specific catalysts (e.g., earnings) that may occur around the same time.
Market Mover Update: DaVita (DVA) rallied more than 3% intraday on Monday, and so far has remained above its October 11 low (see "When volatility and time top price"). December WTI crude oil futures (CLZ3) cooled off—a little—on Monday after last week's big rally (see "Oil move has precedent").
Today's numbers include (all times ET): Retail Sales (8:30 a.m.), Industrial Production and Capacity Utilization (9:15 a.m.), Business Inventories (10 a.m.), Housing Market Index (10 a.m.).
Wednesday's numbers include: Mortgage applications (7 a.m.), Housing Starts and Building Permits (8:30 a.m.), EIA Petroleum Status Report (10:30 a.m.), Beige Book (2 p.m.).
Today's earnings: Bank America (BAC), Bank New York Mellon (BK), Goldman Sachs (GS), Johnson & Johnson (JNJ), Lockheed Martin (LMT), United Airlines (UAL), Wintrust (WTFC).
Wednesday's earnings: Abbott Labs (ABT), Morgan Stanley (MS), Procter and Gamble (PG), US Bancorp (USB), Alcoa (AA), Discover (DFS), Lam Research (LRCX), Netflix (NFLX), Tesla (TSLA).
Click here to log on to your account or learn more about E*TRADE's trading platforms, or follow the Company on Twitter, @ETRADE, for useful trading and investing insights.
---
What to read next...
10/16/23
Market extended upside pivot to log its second up week in a row as earnings season kicked off.
---
10/13/23
When options don't do what they're "supposed" to do, the explanation sometimes lies beneath the stock's price action.
---
10/11/23
Find out what the crude oil market has done after making moves like the one that unfolded in recent days.
---