Retail stock, wholesale volume
RL puts in play as stock tests December highs
251:1 put-call ratio Monday morning
More than 16,000 contracts traded in Feb. OTM puts
The week started out on a sour note for retailers, with the likes of Lululemon (LULU) and Macy's (M) scaling back their previous estimates of holiday sales.1 Both stocks fell more than 7% intraday on Monday.
Ralph Lauren's (RL) decline was much smaller, but the retailer stood out in terms of its options activity, topping most of Monday's put–related LiveAction scans. Put volume was around 89 times average in early trading, with the activity concentrated in February out-of-the-money (OTM) puts: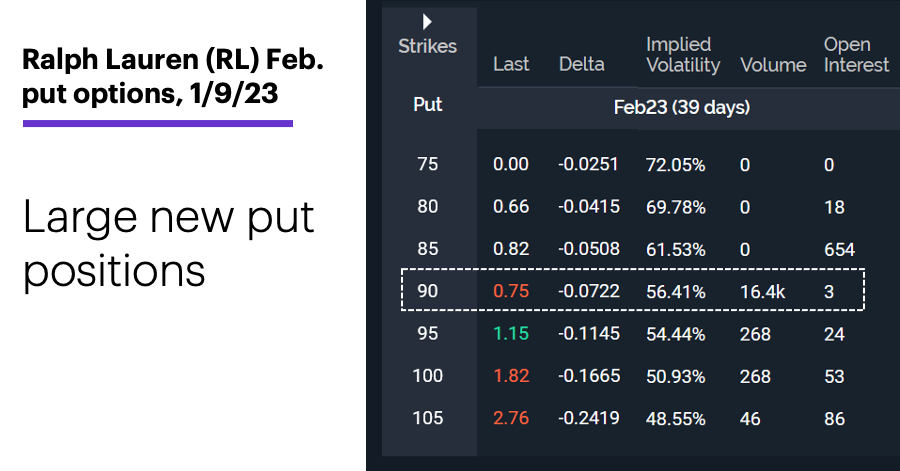 Source: Power E*TRADE. (For illustrative purposes. Not a recommendation.)
---
While volume in both the $95 and $100 puts was fairly notable (RL's average daily put volume is only around 220), the real eye grabber was 16,400 contracts in the $90 puts, representing around $147.6 million of stock. This appeared to be a (large) trader establishing a new position, since the existing open interest (OI) in the $90 put was only three contracts (volume also exceeded OI in the $95 and $100 puts).
Midday on Monday, RL was trading around 0.5% to the downside, while the S&P 500 (SPX) was up around 1%. Yesterday's pause followed a six-day, 14% rally that pushed shares to a test of their early-December highs: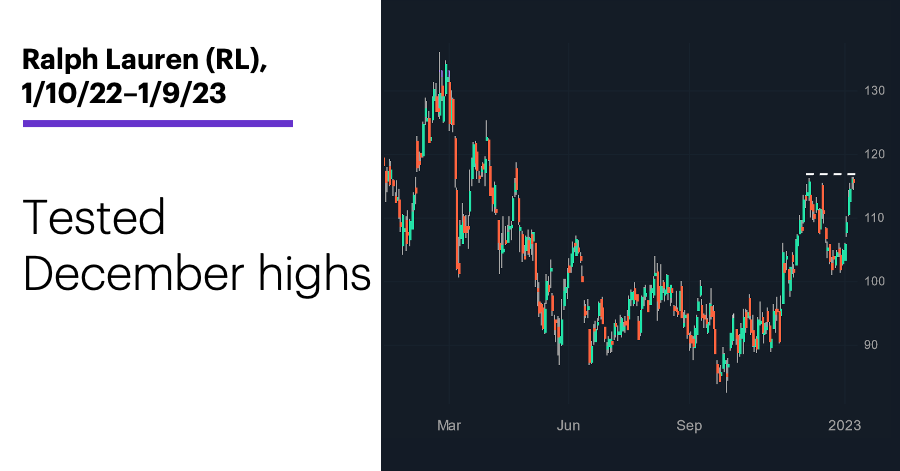 Source: Power E*TRADE. (For illustrative purposes. Not a recommendation.)
---
With shares trading around $115–$116 yesterday, RL was trading a little above the Street's average 12-month price target of $113.13.2 We know RL is currently scheduled to announce earnings on February 2. What we don't know is whether a larger trader bought the puts expecting the stock to sell off, or to hedge a stock position, or sold them to collect premium with the expectation that RL would continue to trade bullishly. Also, additional activity in the near future could mean Monday's trades were part of a larger, more complex strategy.
But large options positions established a little more than three weeks before a company announces earnings merit attention.
Industrial strength: March copper futures (HGH3) rallied more than 3% intraday on Monday to break out of a month-long consolidation: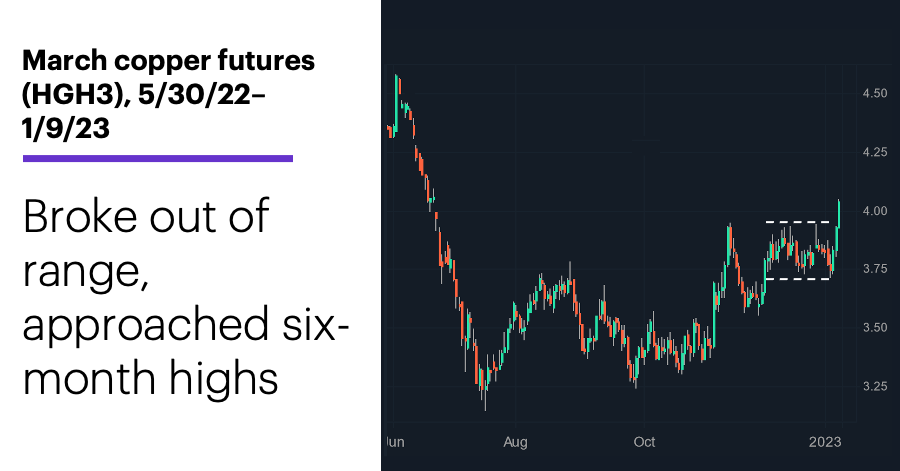 Source: Power E*TRADE. (For illustrative purposes. Not a recommendation.)
---
Other industrial metals, including aluminum and steel, also posted strong gains. Although it pulled back from yesterday's highs (and has had trouble maintaining other upsurges), copper is still up more than 6.5% over the past three days.
Today's numbers include (all times ET): NFIB Small Business Optimism Index (6 a.m.), Jerome Powell speech (9 a.m.), Preliminary Wholesale Inventories (10 a.m.).
Today's earnings include: Albertsons (ACI), TD Synnex (SNX).
Click here to log on to your account or learn more about E*TRADE's trading platforms, or follow the Company on Twitter, @ETRADE, for useful trading and investing insights.
---
1 The Wall Street Journal. Macy's, Lululemon Shares Slump After Holiday Updates. 1/9/23.
2 TipRanks.com. Ralph Lauren (RL) Stock Forecast & Price Target. 1/9/23.
What to read next...
01/09/23
Fed and inflation still center stage as Friday rally helps bulls capture the first week of 2023.
---
01/06/23
Comparing different contract months—along with open interest—can shed light on which way the options market may be leaning.
---
01/05/23
Whenever the options market signals volatility could increase, it's always a good idea to ask why.
---