Going to volatility's source
CLX options volatility jumped from last week
Shares swung in wide range for much of 2022
Longer-term, stock in correction from 2020 highs
Markets are often described as "forward looking," something that is especially apparent when discussing volatility.
Clorox (CLX) was one of the stocks on yesterday's LiveAction scan for large one-week implied volatility (IV) increases: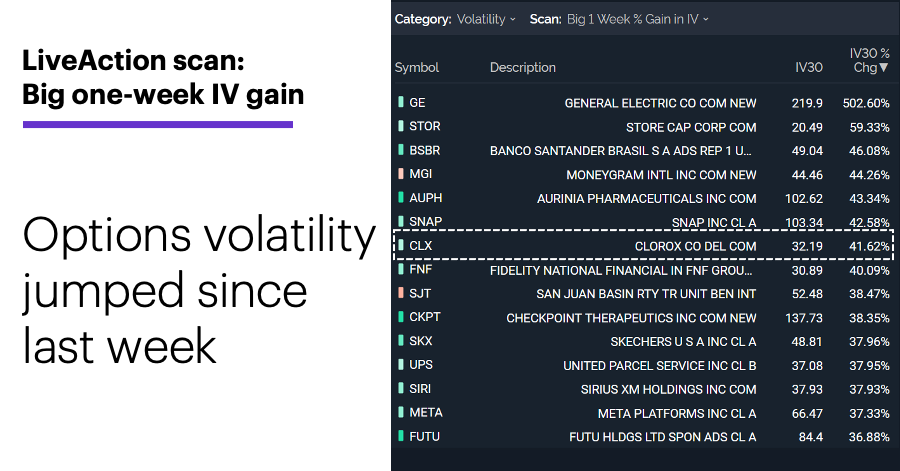 Source: Power E*TRADE. (For illustrative purposes. Not a recommendation.)
---
For traders, high or increasing IV has two important, and related, takeaways:
1. It suggests the options market is expecting a stock to be more volatile in the near future than it has been in the recent past.
2. Options prices may be inflated as a result.
The second point simply reflects the reality that when traders are less certain about where a stock will go, they'll demand higher prices for selling options that could, theoretically at least, translate into unprofitable stock positions. In other words, the higher the perceived risk, the higher the options price. The often unasked question is, why does the options market expect more volatility?
In this case, perhaps it was an extrapolation of what CLX shares have done recently. After all, many people would place CLX's price action over the past several months in the "volatile" category, since the stock has made multiple swings of 17% or more since March: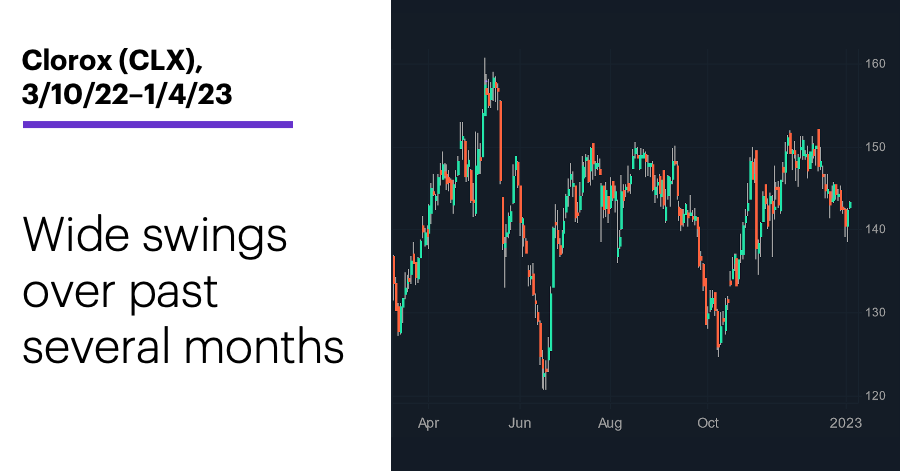 Source (data): Power E*TRADE. (For illustrative purposes. Not a recommendation.)
---
But as wide as those price swings were, a monthly chart shows they represent a consolidation after the stock's retreat from its August 2020 all-time high (around $240) following a multi-year rally: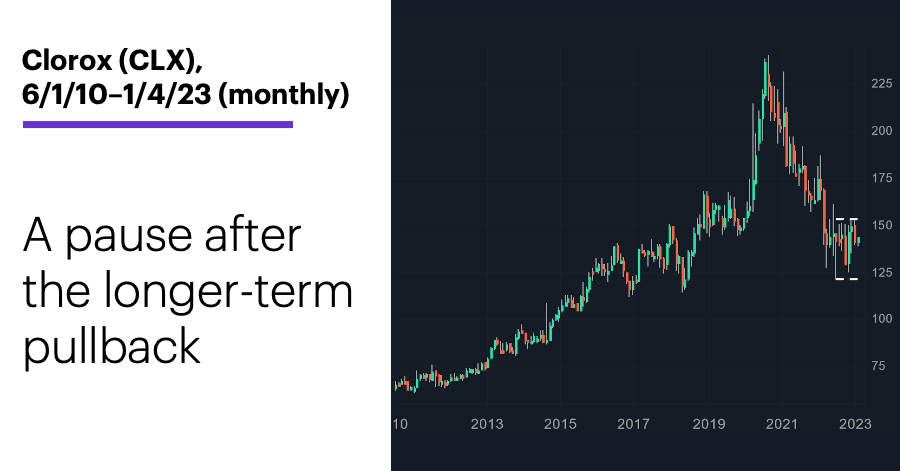 Source: Power E*TRADE. (For illustrative purposes. Not a recommendation.)
---
On Wednesday, CLX was trading around $143–$144—a little above the midpoint of that range (roughly $120–$160), having rallied approximately 21% off its October lows before pulling back in the second half of December.
The point of all this context is to highlight a possible culprit behind CLX's high IV: The company is currently scheduled to release earnings in early February, entering that window when many investors and traders begin to either hedge earnings uncertainty, or take positions based on how they think the stock will move on the announcement.
These situations can entice some traders to use non-directional options strategies like long straddles and strangles to capitalize on a big earnings move (up or down). But such traders need to be aware they could be paying a high premium—figuratively and literally—for such trades: Options that are potentially overpriced because of high IV may not rally much even if the underlying stock makes a relatively large move. After the announcement, the uncertainty is gone, and IV deflates—taking options prices with it.
Final note: Q4 reporting season kicks off next week with big bank earnings. Check out what Morgan Stanley & Co. analysts have said about this cycle, and what it could mean for the stock market this year.
Market Mover Update: Oil continued its New Year's slide on Wednesday, with February WTI crude oil (CLG3) futures tumbling 5% intrading and trading below $73/barrel for the first time since December 12.
The minutes from last month's FOMC meeting that were released yesterday simply confirmed the Fed's previous statements about holding the line on inflation, but stocks still surrendered much of the day's gains after the announcement.
Today's numbers include (all times ET): Challenger Job-Cut Report (7:30 a.m.), ADP Employment Report (8:15 a.m.), International Trade in Goods and Services (8:30 a.m.), Jobless Claims (8:30 a.m.), PMI Composite Final (9:45 a.m.), EIA Natural Gas Report (10:30 a.m.), EIA Petroleum Status Report (11 a.m.).
Today's earnings include: AngioDynamics (ANGO), Bed Bath & Beyond (BBBY), RPM International (RPM), Constellation Brands (STZ), Walgreen's (WBA).
Click here to log on to your account or learn more about E*TRADE's trading platforms, or follow the Company on Twitter, @ETRADE, for useful trading and investing insights.
---
What to read next...
01/04/23
Tuesday's price action shows why you can't read too much into a single day in the markets.
---
01/03/23
No Santa Claus rally as stocks wrap up year by extending pullback.
---