If the options fit
RL up more than 20% YTD, earnings next week
14 times more open put positions than call positions
15,000 OTM puts traded on Wednesday
A little more than three weeks ago, Ralph Lauren (RL) landed on multiple LiveAction scan for unusual options activity, thanks mostly to a 16,400-contract trade in the February $90 puts that represented nearly $148 million of the underlying stock (see "Retail stock, wholesale volume").
At the time, the company was scheduled to release earnings today, a date that was subsequently pushed back to February 9. Since then, RL extended its rally another 12% or so, hitting its highest level in nearly a year and running its year-to-date gain to more than 20%: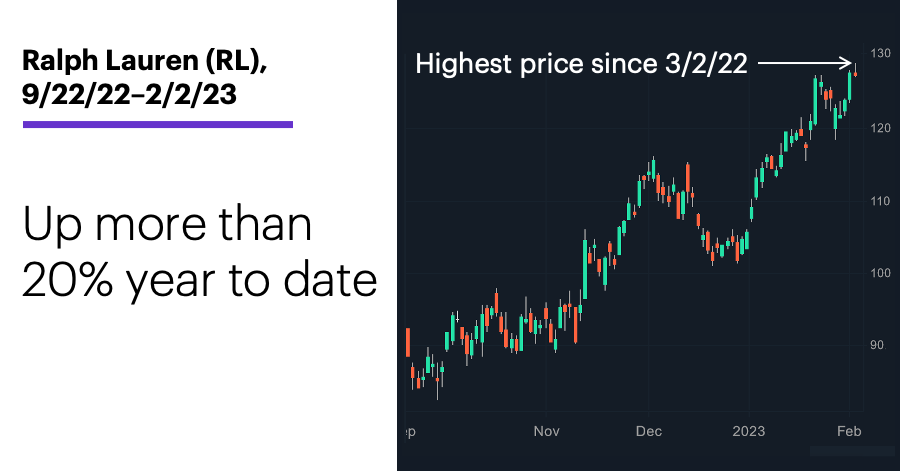 Source: Power E*TRADE. (For illustrative purposes. Not a recommendation.)
---
That put shares nearly $10 above the average Street analyst target.1 Meanwhile, the February $90 puts, which closed at $0.75 on February 9—the day of the 16,400-contract trade—were trading at $0.05 yesterday—a roughly $1,148,000 profit or loss, depending on whether the party who initiated the position was short or long: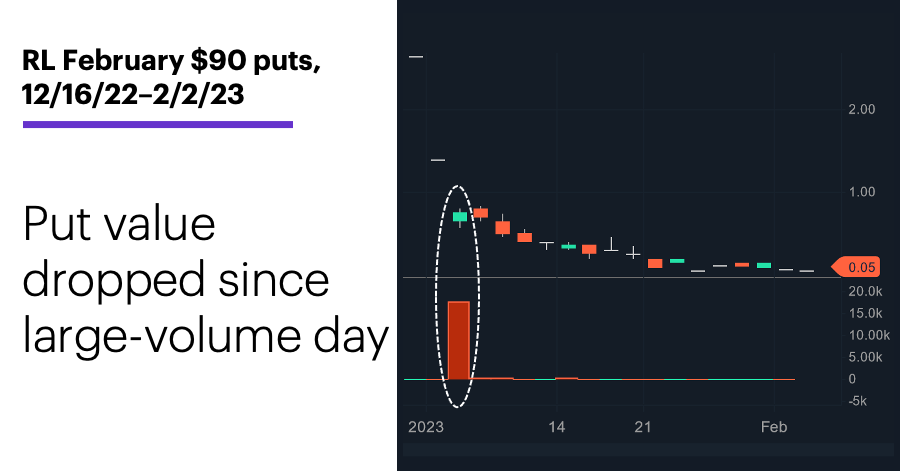 Source: Power E*TRADE. (For illustrative purposes. Not a recommendation.)
---
Interestingly, even though RL has moved quite a bit to the upside over the past few weeks, traders have remained more active in puts than calls. On Wednesday another big trade—15,000 of the April $90 puts (representing $135 million worth of stock) crossed the tape even as the stock rallied more than 3%. Here are a few highlights of the positions in the next three expirations (February, March, April):
1. Overall, total put positions outnumbered call positions approximately 14 to one (55,985 to 3,992).
2. Approximately 99% of the puts were out of the money (strike prices below the current stock price), while just 42% of the calls were out of the money (strike prices above the current stock price).
3. In addition to the positions in the February and April $90 puts, there were also large positions in the March $110 puts (8,300), and the April $100 puts (8,100).
The following chart shows a snapshot of RL's past six earnings-day moves, along with the options market's estimate for how much it will move after next week's release: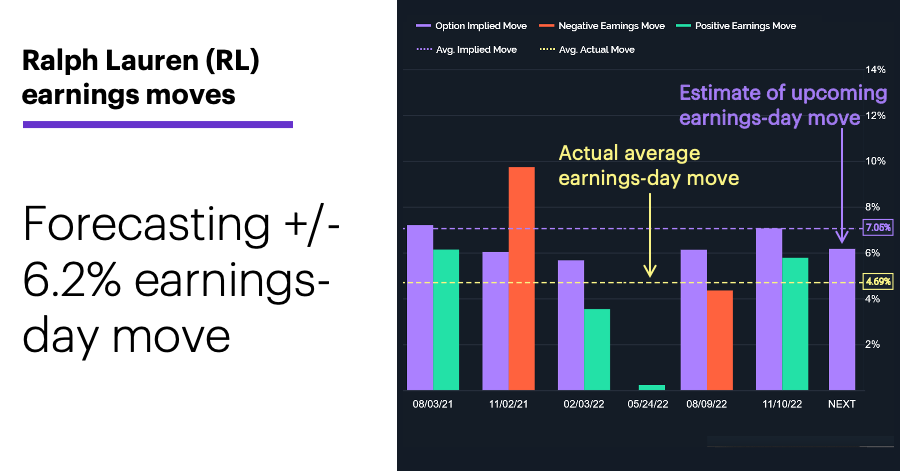 Source: Power E*TRADE. (For illustrative purposes. Not a recommendation.)
---
As the purple and yellow dashed lines suggest, the options market has, on average, tended to overestimate the size of RL earnings moves. Also, these volatility-based estimates say nothing about which direction a stock may move.
Either way, there appear to be some large traders with a heavy interest in which way RL will move—and by how much—in the near future. Those February $90 puts will, for example, expire worthless in two weeks unless RL falls round 30% from Thursday's levels.
Market Mover Update: Facebook parent Meta Platforms (META) jumped more than 28% intraday on Thursday in the wake of its earnings release.
Today's numbers include (all times ET): Employment Report (8:30 a.m.), S&P Global Services PMI (9:45 a.m.), ISM Services Index (10 a.m.).
Today's earnings include: Aon (AON), Cigna (CI), Cboe Global Markets (CBOE).
Click here to log on to your account or learn more about E*TRADE's trading platforms, or follow the Company on Twitter, @ETRADE, for useful trading and investing insights.
---
1 TipRanks. Ralph Lauren (RL) Stock Forecast & Price Target. 2/2/23.
What to read next...
02/01/23
A chip stock's run-up shows why deciding whether to buy or sell options requires balancing multiple risks and rewards.
---
01/31/23
February has been more bullish than bearish for stocks over the past three decades, but its returns have also been fairly volatile.
---
01/30/23
Stocks extend New Year's rally as focus shifts to Fed, jobs.
---