Aligning stock and options activity
FYBR fell to fresh one-year low on heavy put volume
Bearish confirmation or options head fake?
Stock at one-year high as recently as February
The stock market pushed higher on Thursday morning, but telecom stock Frontier Communications (FYBR) wasn't along for the ride. In fact, it had fallen to a fresh 52-week low—the latest of many since retreating from a series of 52-week highs in January and early February: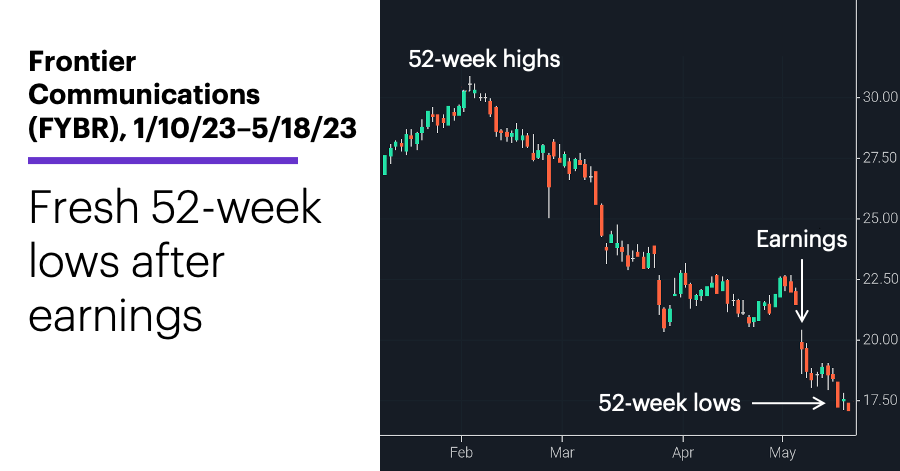 Source: Power E*TRADE. (For illustrative purposes. Not a recommendation.)
---
It wasn't a particularly bullish picture, and it looked even less so over the past couple of weeks. The stock, which actually began hitting 52-week lows in March, slid more than 8% after its May 5 earnings release and, as of yesterday, had fallen an additional 13%.
Adding to this apparent bearishness was FYBR's appearance on Thursday's LiveAction scan for high put-call ratios, with a little more than 167 puts changing hands for every call:
Source: Power E*TRADE. (For illustrative purposes. Not a recommendation.)
---
However, what's "apparent" in the markets is sometimes misleading. Heavier-than-average put volume could indicate an uptick in bearish sentiment, but that's far from a given. Some traders short puts to collect premium if they believe the underlying stock will rally (and especially if they think the options are overpriced because of high implied volatility).
In this case, though, FYBR's options chain revealed some important details about Thursday's trades. The high put-call ratio was almost exclusively driven by 2,000 contracts in the May $17.50 puts: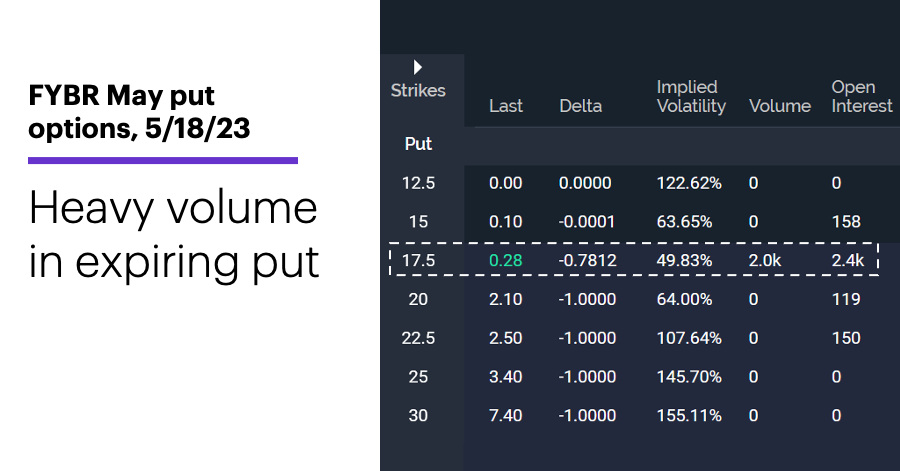 Source: Power E*TRADE. (For illustrative purposes. Not a recommendation.)
---
2,400 contracts, which means a trader (or traders) may have been getting out of existing positions rather than opening new trades. If that's the case (check to see whether today's OI is higher or lower), what may have looked like exceptionally bearish activity yesterday morning may have been neutral, or even possibly bullish—if only on a two-day horizon.
However, this doesn't mean FYBR's downtrend has run its course. Identifying tops and troughs in real time is impossible, but traders can help themselves sidestep possible "head fakes" with a little due diligence—such as finding out the nature of the numbers behind seemingly bearish or bullish options activity.
Market Mover Update: Edwards Lifesciences (EW) dropped for a fourth day on Thursday, although it formed an "inside day" by trading entirely within Wednesday's range (see "The right spread at the right time").
Today's numbers include (all times ET): Fed Chairman Jerome Powell discussion with Ben Bernanke at the Thomas Laubach Research Conference (11 a.m.).
Today's earnings include: Deere (DE), Foot Locker (FL).
Click here to log on to your account or learn more about E*TRADE's trading platforms, or follow the Company on Twitter, @ETRADE, for useful trading and investing insights.
---
What to read next...
05/17/23
Options spreads can give traders flexibility—and sometimes offset drawbacks of long-only options trades.
---
05/15/23
Stocks haven't done much lately, and they did even less last week.
---
05/12/23
Options volatility appears low as sell-off drops travel stock to key price level.
---