The sound of misdirection?
WMG had market's highest put-call ratio early Tuesday
Stock down more than 25% from Oct. all-time high
P/C ratio not confirmed by other potentially "bearish" signals
Imagine you've been watching a stock that has been trending lower for nearly four months and just closed at a six-month low—a little more than a week after falling 6.9% after releasing earnings. The next morning your stock has the market's highest put-call ratio, with 250 puts trading for every call.
That was the scenario roughly 30 minutes into Tuesday's trading session for Warner Music Group (WMG), which was on top of the LiveAction scan for highest put-call ratio: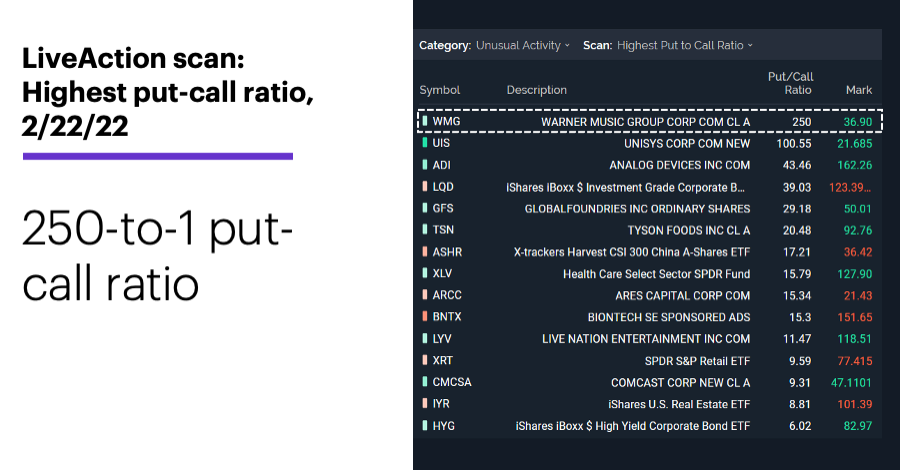 Source: Power E*TRADE. (For illustrative purposes. Not a recommendation.)
---
That's not all: Traders who had checked the scan a few minutes earlier would have seen a WMG put-call ratio of 1,000-to-1.
It may have looked somewhat troublesome to WMG bulls, but as is usually the case in the markets, the headlines didn't necessarily do justice to the larger story.
For starters, here's a list of the LiveAction scans WMG wasn't on:
1. Unusual options volume
2. Unusual put volume
3. Largest number of trades
4. Unusual open interest
That means even though WMG put volume outnumbered call volume significantly on Tuesday morning, 1) total options volume wasn't out of the ordinary, 2) neither was put volume, 3) WMG wasn't generating an exceptional number of individual options trades, and 4) the number of existing options positions wasn't unusual. While these details wouldn't definitively rule out the possibility that the high put-call ratio indicated something potentially bearish was happening in WMG, they certainly didn't support that thesis.
Second, the options chain shows the big trade was in the March $38 puts. (On Tuesday, WMG opened at $36.21 and traded between $36.17 and $37.08 in the first three hours of trading.) That means when WMG's put-call ratio was 250-to-1, only four calls had traded: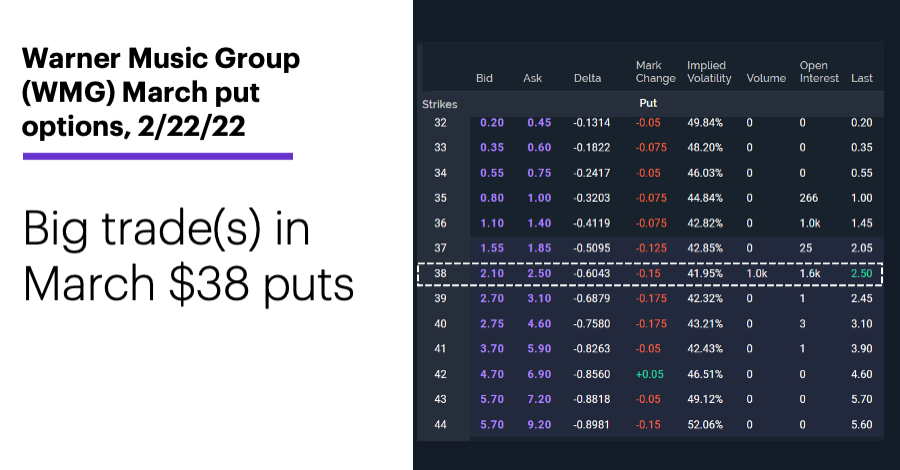 Source: Power E*TRADE. (For illustrative purposes. Not a recommendation.)
---
In other words, while a 1,000-contract options trade is worth noting, the exceptionally high put-call ratio  it produced was mostly a function of the low number of call options that changed hands (remember, WMG's put volume itself wasn't unusually high). Also, the existing open interest (OI) in the March $38 puts was 1,600, so it's possible some or all of yesterday's volume was the result of traders closing existing positions, which would also weaken a bearish hypothesis.
Bottom line, higher OI today in the March $38 puts means new positions in these options were being established, while lower OI would mean positions were being liquidated. (See "Breaking down the options chain" for a recent example of the interaction between OI and stock movement.)
Finally, WMG's put-call ratio fell below 60-to-1 by late morning and below 30-to-1 by early afternoon (although it remained on the LiveAction scan), a reminder that in addition to making sure one element of unusual options activity is corroborated by others, traders should avoid rushing to judgment about unusual options activity early in a trading session, since it sometimes become less unusual as the day wears on.
Market Mover Update: The US stock market initially rallied off its early lows on Tuesday, but weakened later amid comments from NATO officials and others that Russia may still launch a full-scale invasion of Ukraine.1 Among the first sanctions announced against Russia came from the UK, which announced it was targeting five Russian banks (along with three wealthy individuals), in line with the framework Morgan Stanley & Co. strategists outlined in "All eyes on Ukraine."2
Today's numbers include (all times ET): Mortgage applications (7 a.m.).
Today's earnings include: eBay (EBAY), Five9 (FIVN), Lowe's (LOW), Molson Coors (TAP), TJX (TJX), Booking Holdings (BKNG), Lemonade (LMND), iRhythm Technologies (IRTC), Revolve (RVLV).
Click here to log on to your account or learn more about E*TRADE's trading platforms, or follow the Company on Twitter, @ETRADE, for useful trading and investing insights.
---
1 Reuters.com. NATO chief sees 'every indication' Russia still planning full-scale assault on Ukraine. 2/22/22.
2 CNBC.com. UK announces first tranche of Russia sanctions, targets banks and wealthy individuals. 2/22/22.