Breakdown of a breakout
Crude oil prices jumped to a seven-year high this week
Oil sector has led market over past month (and year)
Recent price action highlights support-resistance principles
There's been one major patch of blue in the stock market's mostly cloudy skies over the past month or so.
Yesterday morning, energy was one of only two S&P 500 (SPX) sectors in positive territory over the past 30 days, and it was in first place by a country mile—up nearly 17% while financials were up less than 2% and the SPX itself was down around 4%:
Source: Power E*TRADE (For illustrative purposes. Not a recommendation.) *Reflects 30-day performance as of 11:30 a.m. ET on 10/5/21.
---
The not-so-mysterious catalyst, of course, has been the oil gusher that pushed the price of November WTI crude oil futures (CLX1) up nearly 30% between August 20's close of $61.55/barrel (a three-month low) to yesterday's high of $79.48—the market's highest point since late 2014. In short, business has been good for companies who have seen the price of the product they sell increase by nearly a third in less than two months, and more than 60% so far this year.
The move also highlights some price-action principles that both oil and energy stock traders may have been taking into account as the market broke out to new highs.
The market's most recent upswing—a 6% gain over the past five days—occurred as OPEC and its allies decided to maintain the pace at which they have been increasing oil production (400,000 barrels per day),1 despite calls from many countries, including the US, to ramp up output. That was just a couple of days after the market broke out above four short-term highs that had functioned as price resistance since early July: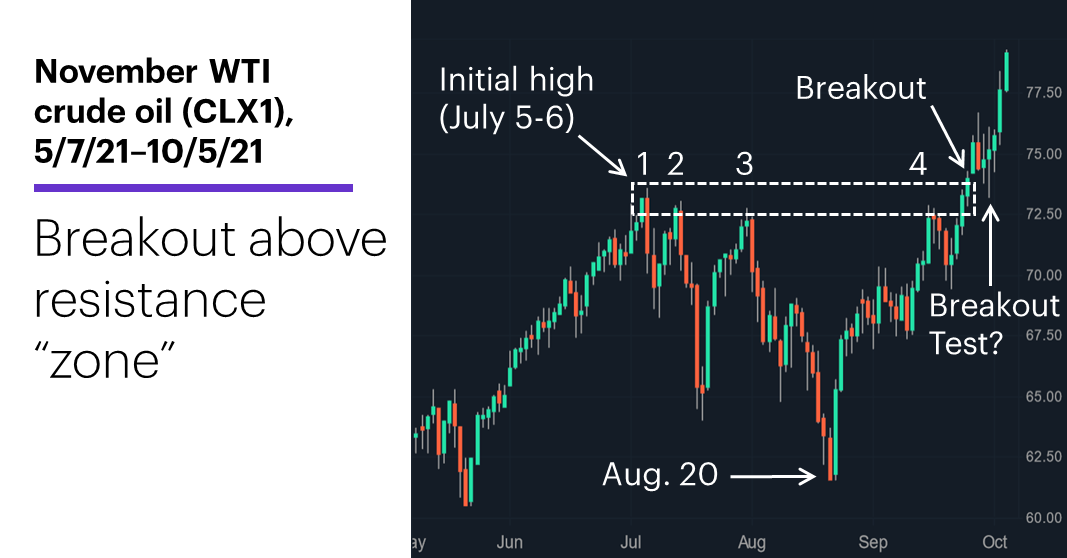 Source: Power E*TRADE (For illustrative purposes. Not a recommendation.)
---
The market closed at $73.12 on July 5 and hit an intraday high of $73.58 on July 6 (1) before pulling back, rebounding, and then turning sharply lower after hitting an intraday high of $73 on July 14 (2). Then, after tumbling more than 12% in five days, the market again rebounded to hit an intraday high of $72.71 on July 30 (3) before suffering its biggest sell-off (-15.4%) of the past several months. It took prices nearly a month to climb back to September 15's high of $72.87 (4), at which point the market pulled back more than 4% over the next four days before breaking out to the upside.
The oil market clearly retreated at the points highlighted on this chart—meaning, sellers entered the market at these levels, buyers backed off, or both. That's precisely what "resistance" represents—a level at which buyers are repelled by more aggressive selling, regardless of the reason. But the chart highlights a key principle:
Resistance (or support) is almost never a precise price level—it's more often a general "zone."
While you can certainly find examples of markets that return a few times to within a few ticks of the same price level before breaking out, the slightly messier conditions in the crude oil chart better represent the majority of situations traders confront in real time.
A direct corollary of this principle is that just because a market trades a few ticks above resistance (or below support), that doesn't mean a level has been broken. Experienced traders have seen their share of "false breakouts"—a move slightly beyond such a level that quickly reverses and traps traders who piled in on the initial breakout move.
That's why some energy traders may be considering a second principle associated with breakouts. "Playing the breakout" discussed the tendency for prices to pull back and test a recent breakout level. In this case, the question traders may be asking themselves is whether September 30's intraday dip constituted such a test, or whether oil is likely to make another move into (or beyond) the resistance zone now that the market has had a chance to digest the OPEC news and prices have separated more significantly from the breakout.
Today's numbers include (all times ET): Mortgage applications (7 a.m.), ADP Employment Report (8:15 a.m.), EIA Petroleum Status Report (10:30 a.m.).
Today's earnings include: Acuity Brands (AYI), Constellation Brands (STZ), Levi Strauss (LEVI), RPM (RPM).
Click here to log on to your account or learn more about E*TRADE's trading platforms, or follow the Company on Twitter, @ETRADE, for useful trading and investing insights
---
1 Reuters. Oil settles above $81 with OPEC+ sticking to output increase. 10/4/21.
What to read next...
10/04/21
Market will head into Q4 looking to rebound after September sell-off gives back almost all of Q3 rally.
---