Tracking options
Traders exited large INVH call positions on Monday
Stock consolidating after late-August rebound
Heavy volume in ABBV calls on Tuesday
To illustrate the advantages of tracking options activity over time, let's take a look at a couple of large trades that occurred in two unrelated stocks this week.
On Monday, Invitation Homes' (INVH) options volume was nearly 29 times average, thanks mostly to 7,300 contracts in the October $37.50 calls changing hands. Meanwhile, the stock was trading a little above $34: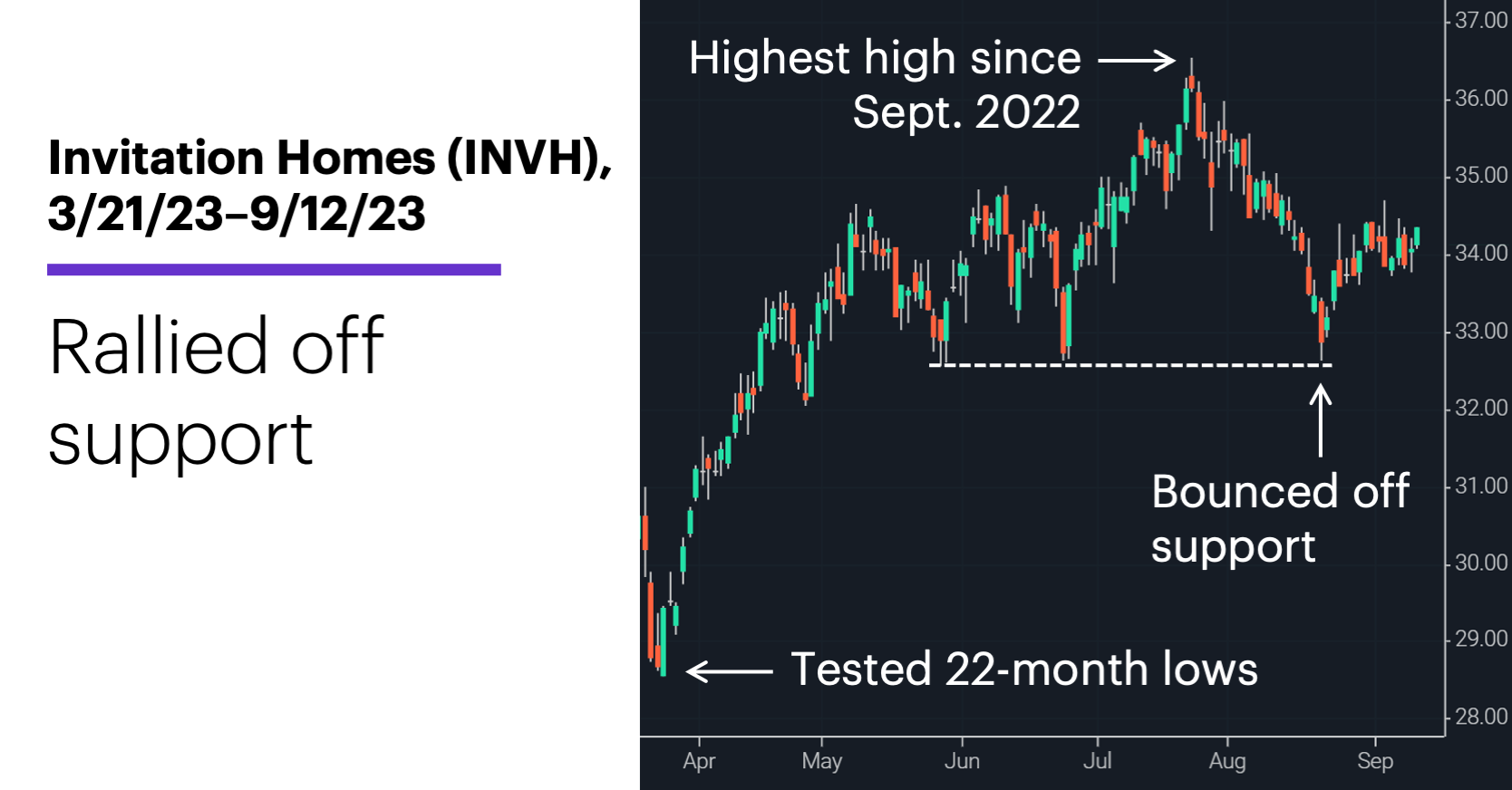 Source: Power E*TRADE. (For illustrative purposes. Not a recommendation.)
---
The stock has been moving sideways for nearly two weeks since bouncing off the support level defined by its May and June lows. While Monday's volume in the $37.50 calls may have "felt" bullish to the casual observer, those who looked closely would have noticed the contract's open interest (OI) was 8,600 contracts. And those who checked in on Tuesday would have seen OI had fallen to 2,100 contracts, which means more traders were getting out of existing positions than getting into new ones.
Also, reviewing the rest of INVH's OI for the October expiration showed there were more open put positions (7,722) on Tuesday than open call positions (7,345), and the overwhelming majority of those put positions (7,231) were out of the money (i.e., their strike prices were below the current stock price). That means these options would have no value at expiration unless the stock price declined from current levels.
With that in mind, take a look at Tuesday's activity in AbbVie (ABBV), which appeared on the LiveAction scan for highest call-put ratios, with 5,500 contracts trading in the October $155 calls:
Source: Power E*TRADE. (For illustrative purposes. Not a recommendation.)
---
Unlike the INVH example, the volume in this contract was higher than the existing OI, which means at least some of the volume could represent traders getting into new positions.
These trades occurred against a backdrop that was somewhat similar to INVH's, in that ABBV has been in consolidation mode recently. As of Tuesday, it was trading a little above where it closed after the company's July 27 earning beat: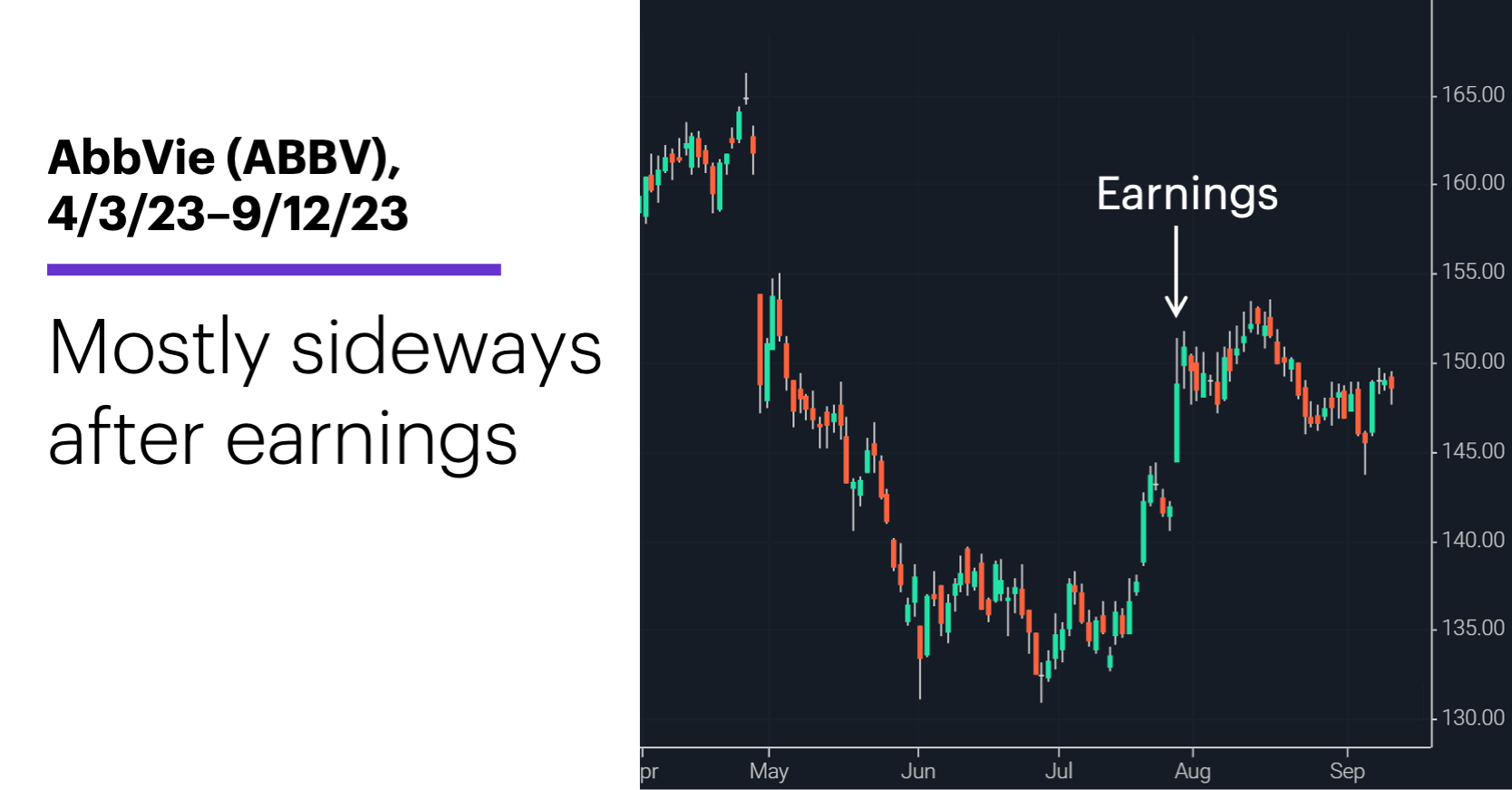 Source: Power E*TRADE. (For illustrative purposes. Not a recommendation.)
---
Wednesday's OI should indicate how much of Tuesday's call trading represented new positions. On Tuesday, though, it appeared traders had gotten out of INVH calls while they may have been getting into ABBV calls. But that won't be the end of the story. A big position one day can be offset by another tomorrow. There will be more trades today, and the next day, and the next.
It's only by tracking and analyzing data over time that traders can develop some perspective about how large players may be positioning themselves, and its potential implications for the underlying stock.
Market Mover Update: On Tuesday, October WTI crude oil futures (CLV3) broke out of a short-term consolidation to hit an intraday high of $89.37. (Brent crude oil is already trading above $90/barrel.) Meanwhile, Constellation Brands (STZ) has shown no signs of breaking out of its consolidation. Tuesday marked the 10th day of the past 12 that the stock (which is trading around $260) had a daily range of less than $3 (see "Volatility jumps despite trading range").
Today's numbers include (all times ET): CPI (8:30 a.m.), Atlanta Fed Business Inflation Expectations (10 a.m.), EIA Petroleum Status Report (10:30 a.m.).
Today's earnings include: Cracker Barrel (CBRL), Semtech (SMTC).
Click here to log on to your account or learn more about E*TRADE's trading platforms, or follow the Company on Twitter, @ETRADE, for useful trading and investing insights.
---
What to read next...
09/11/23
Bulls cautious in early September as markets get ready for inflation numbers.
---
09/08/23
A consumer stock's recent consolidation hasn't prevented the options market from forecasting heightened volatility.
---
09/07/23
Tech stock's AI-fueled rally is met by some higher-than-normal put options volume.
---