Stocks extend upswing
Market pads gain after best week of year
Tech leads, small caps and crude oil retreat
This week: Inflation, retail sales, Biden-Jinping
Coming off their biggest up week of the year, US stocks had a tough act to follow.
What started out as a ho-hum week ended with a flourish, as the S&P 500 (SPX) rallied more than 1% on Friday to erase a Thursday pullback (as Treasury yields turned higher) and end last week at its highest level since September 20: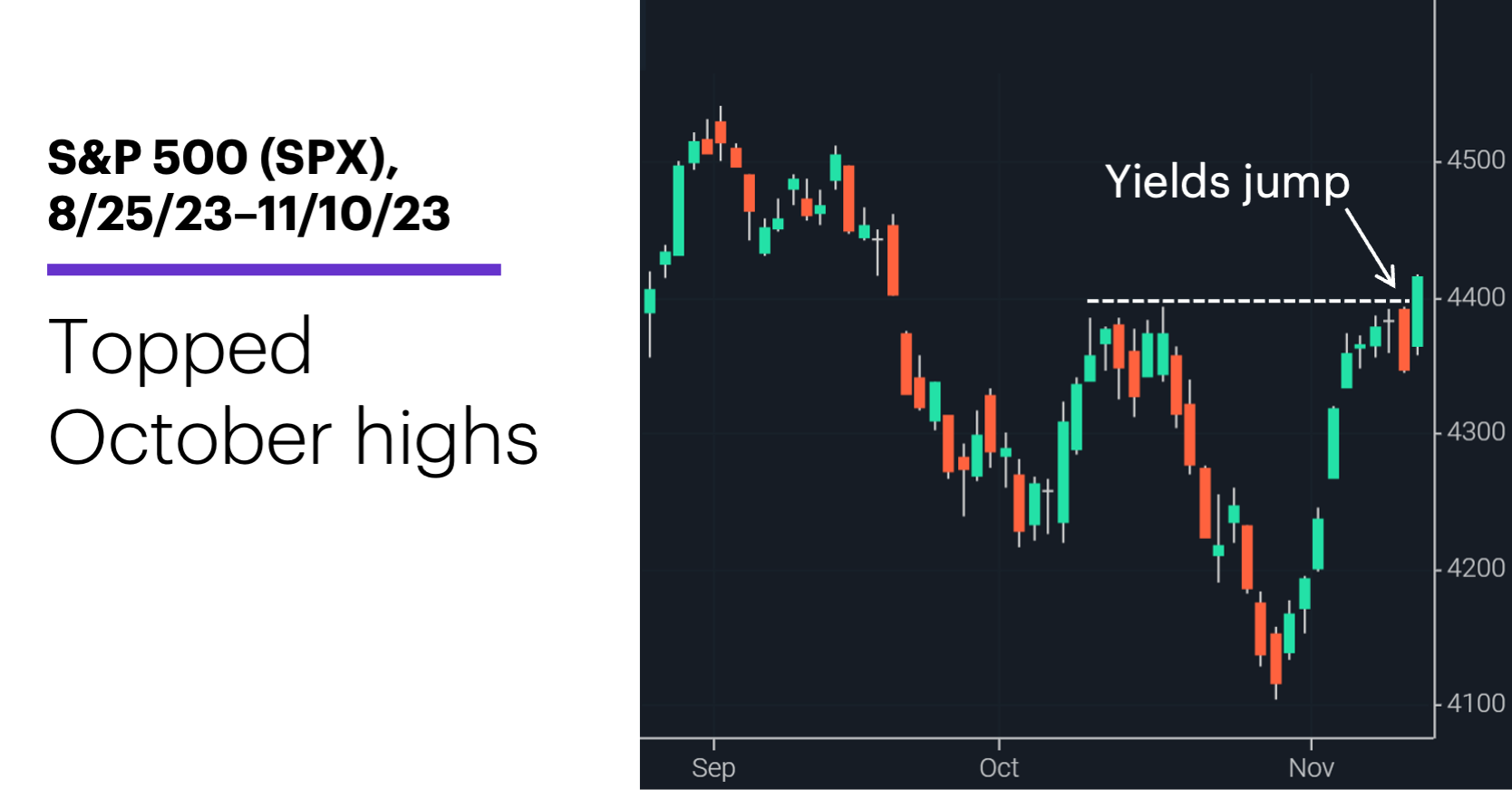 Source: Power E*TRADE. (For illustrative purposes. Not a recommendation. Note: It is not possible to invest in an index.)
---
The headline: Market tops October highs.
The fine print: Given how much the market rallied the previous week, and the fact that this week features eagerly awaited inflation data, it may not be surprising the SPX appeared to take a breather for much of last week. Reaction to Tuesday's Consumer Price Index (CPI) may be key to whether bulls can—in the near term—sustain a move above last month's highs.
The move: Six weeks ago, market chatter was all about "$100 oil." Last week, WTI crude oil tumbled below $75 intraday, which is the lowest it's been since July. Since October 20, oil has fallen nearly $11—its second-biggest three-week dollar decline of the year.
The scorecard: The Nasdaq 100 (NDX) tech index pushed its year-to-date gain back above 40%, while the small cap Russell 2000 (RUT) posted one of its bigger weekly losses of the year: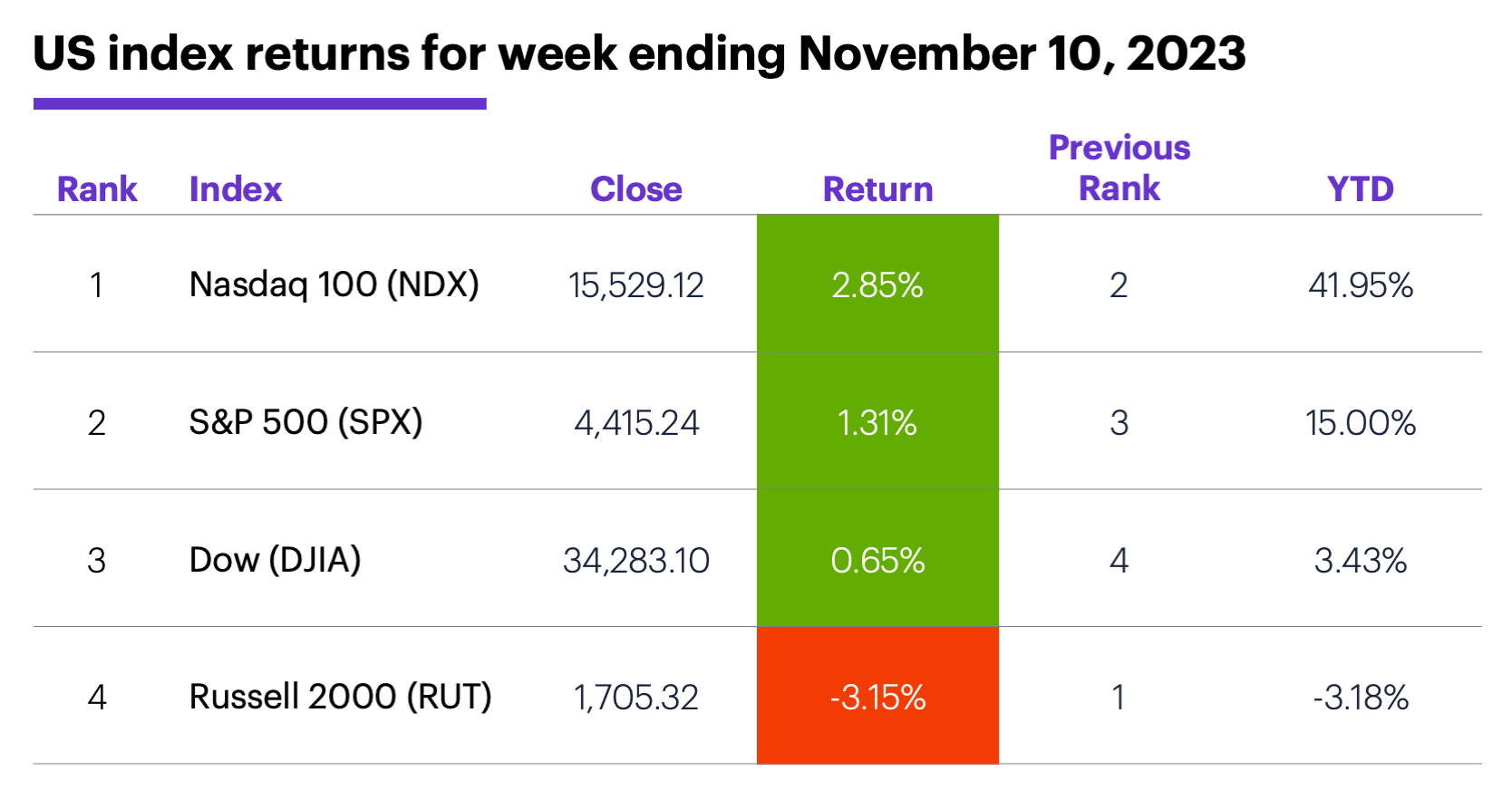 Source (data): Power E*TRADE. (For illustrative purposes. Not a recommendation.)
---
Sector returns: The strongest S&P 500 sectors last week were information technology (+4.8%), communication services (+2.2%), and consumer discretionary (+0.9%). The weakest sectors were energy (-3.9%), utilities (-2.6%), and real estate (-2.2%).
Stock movers: Bluegreen Vacations (BVH) +107% to $73.45 on Monday, TransMedics (TMDX) +51% to $60.76 on Tuesday. On the downside, EchoStar (SATS) -31% to $10.61, Zentalis Pharmaceuticals (ZNTL) -30% to $12.48, both on Monday.
Futures: December WTI crude oil (CLZ3) traded as low as $74.91 last Wednesday before closing Friday at $77.33, down more than $3 for the week. December gold (GCZ3) also retreated, ending last week down more than $58 at $1,941.
Coming this week
A busy week features the latest CPI and PPI numbers, along with retail sales, industrial production, and housing data:
●Monday: Consumer Inflation Expectations
●Tuesday: NFIB Business Optimism Index, Consumer Price Index (CPI)
●Wednesday: Producer Price Index (PPI), Retail Sales, Empire State Manufacturing Index, Business and Retail inventories
●Thursday: Industrial Production and Capacity Utilization, Home builder confidence index
●Friday: Housing Starts and Building Permits
This week also kicks off the retail portion of the earnings calendar. A few highlights:
●Monday: Monday (MNDY), Tower Semiconductor (TSEM), Tyson Foods (TSN), XP (XP)
●Tuesday: Canadian Solar (CSIQ), Home Depot (HD)
●Wednesday: Advance Auto Parts (AAP), Target (TGT), TJX (TJX), Cisco (CSCO), Maxeon Solar (MAXN), Palo Alto Networks (PANW)
●Thursday: Macy's (M), Walmart (WMT), Williams Sonoma (WSM), Applied Materials (AMAT), Gap (GPS), Ross Stores (ROST)
●Friday: BJ'S Wholesale Club (BJ), Buckle (BKE), Foot Locker (FL)
Check the Active Trader Commentary each morning for an updated list of earnings announcements, IPOs, economic reports, and other market events.
Obesity drug race heats up
Eli Lilly (LLY) closed at a new record high last Wednesday, the same day the Food and Drug Administration approved its obesity treatment, Zepbound, which (like its rival, Ozempic) is already on the market as a diabetes drug under the name Mounjaro.
Meanwhile, NovoNordisk (NVO), maker of Ozempic, is also trading just below its recent record highs, while AstraZeneca (AZN) is working on an anti-obesity pill (Zepbound and Ozempic are injectables).
Morgan Stanley & Co. strategists recently looked at some of the possibilities and challenges facing the companies competing in the anti-obesity space.1  While most of the attention has, understandably, been focused on the health impact for patients, the analysts point out these drugs could have significant ripple effects across a wide range of industries, including food, alcohol, and arthritis treatments.
Click here to log on to your account or learn more about E*TRADE's trading platforms, or follow the Company on Twitter, @ETRADE, for useful trading and investing insights.
---
1 MorganStanley.com. Weight Loss Drugs and the Global Economy. 11/9/23.
What to read next...
11/10/23
A price pattern with seemingly bearish implications turns out to have a more nuanced history.
---
11/08/23
Traders active in calls as tech stock reverses off 52-week lows.
---
11/06/23
Market rebounds, yields drop as Fed remains on hold and jobs numbers dip.
---