Tech and everything else
Tech extends gains as AI momentum propels NDX
Sticky inflation puts spotlight on Fed, bond yields climb
This week: Jobs report, home prices, debt-ceiling vote
A week after US stocks rallied after positive comments out of Washington about the debt-ceiling negotiations, last week the market slipped, briefly, as talks dragged on and the deadline for a possible debt default drew nearer.
But after the S&P 500 (SPX) tagged an eight-day low last Wednesday, it rebounded to end the week in positive territory—and near the top of its months-long consolidation—amid an AI-fueled tech rally and hopes the debt-ceiling debate was about to end: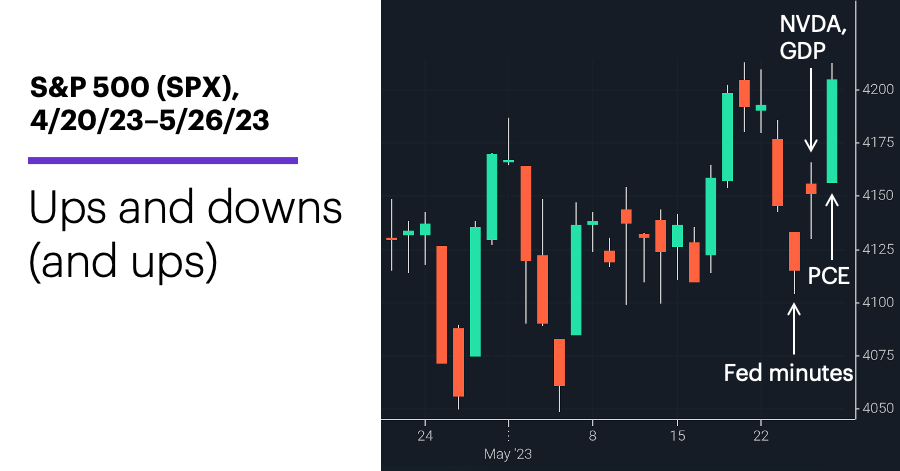 Source: Power E*TRADE. (For illustrative purposes. Not a recommendation.) Note: It is not possible to directly invest in an index.
---
The headline: AI drives tech, tech drives market gains—despite inflation uptick.
The fine print: The minutes from the Fed's May policy meeting showed members were split about the need for further rate hikes. Previously, the prevailing consensus was that the Fed would leave rates unchanged after its June 13-14 meeting, but after last week's upward revision of GDP, lower-than-expected weekly jobless claims, and higher-than-expected PCE Price Index (the Fed's go-to inflation gauge), the odds of a 0.25% rate hike next month jumped to 66%.1
The moves: Nvidia's (NVDA) 24.4% rally last Thursday and Marvell Technology's (MRVL) 32.4% gain on Friday—with both semiconductor companies citing the growth potential in artificial intelligence (AI). They weren't the week's biggest moves, but they underscored the recent momentum underlying all things AI.

The scorecard: The NDX led the US market for a fifth week in a row (longest streak since July 2020), ended the week with back-to-back gains larger than 2% (first time since February 2, and only the seventh time since 2016), and continued to distance itself from the other major indexes: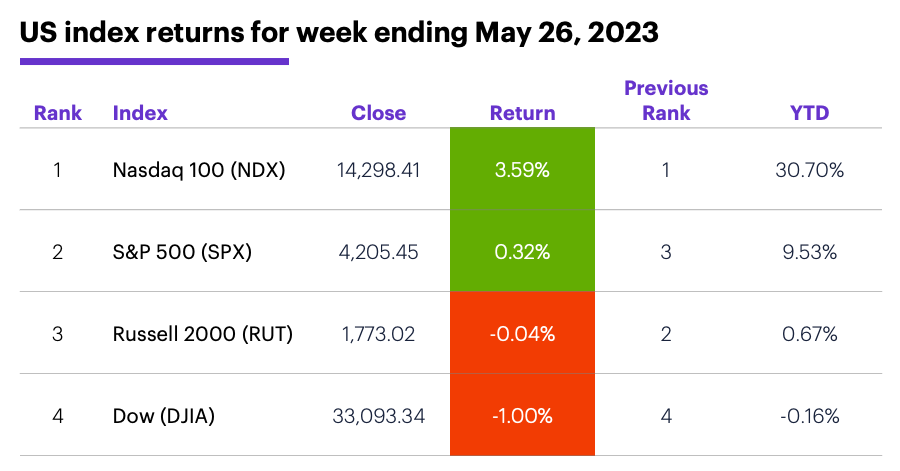 Source (data): Power E*TRADE. (For illustrative purposes. Not a recommendation.)
---
Sector returns: The strongest S&P 500 sectors last week were information technology (+5.1%), communication services (+1.2%), and consumer discretionary (+0.4%). The weakest sectors were consumer staples (-3.2%), materials (-3.1%), and health care (-2.8%).

Stock movers: Hepion Pharmaceuticals (HEPA) +118% to $19.38 and Greenhill (GHL) +116% to $14.66, both on Monday. Intercept Pharmaceuticals (ICPT) -30% to $9.53 on Monday, Genesco (GCO) -32% to $20.19 on Thursday.
Futures: July WTI crude oil (CLN3) ended a choppy week modestly higher at $72.67. June gold (GCM3) slumped to its lowest level since mid-March, closing Friday at $1,944.30. Week's biggest up moves: July orange juice (OJN3) +13%, July corn (ZCN3) +8.7%, July oats (ZON3) +6.8%. Week's biggest down moves: July natural gas (NGN3) -11.4%, July hogs (HEN3) -10.1%, July pork cutout (PRKN3) -9.6%.
Coming this week
The labor market remains at the center of the inflation story, and this week is all about jobs data:
●Tuesday: S&P Case-Shiller Home Price Index, FHFA House Price Index, Consumer Confidence
●Wednesday: ADP Employment Change report, Chicago PMI, Job Openings and Labor Turnover Survey (JOLTS)
●Thursday: Challenger Job Cuts, Productivity and Labor Costs, S&P Global Manufacturing PMI, ISM Manufacturing Index, Construction Spending
●Friday: Employment Report, vehicle sales
Retail and tech again dominate the week's earnings calendar:
●Tuesday: Ambarella (AMBA), Box (BOX), HP (HPQ)
●Wednesday: Advance Auto Parts (AAP), C3 AI (AI), Chewy (CHWY), Salesforce.com (CRM), CrowdStrike (CRWD), Nordstrom (JWN), NetApp (NTAP), PVH (PVH)
●Thursday: Designer Brands (DBI), Dollar General (DG), Macy's (M), Broadcom (AVGO), Five Below (FIVE), Lululemon (LULU), VMware (VMW)
Check the Active Trader Commentary each morning for an updated list of earnings announcements, IPOs, economic reports, and other market events.
Memorial Day market pattern
Since Memorial Day became a Federal holiday in 1971, the four trading days after it have tended to be slightly more bullish than average for stocks. While the SPX had a positive return in 55.7% of all four-day periods from May 1971–May 2022 (with an average return of 0.14%), it had a positive return in 61.5% of the four-day periods following Memorial Day, with an average gain of 0.5%:
Source (data): Power E*TRADE. (For illustrative purposes. Not a recommendation.)
---
But as the chart shows, over the most recent 26 years (and especially since 2010) declines have been more common and, on average, larger. From 1971-1996 the SPX gained ground in the four days after Memorial Day 17 times, with an average return of 0.67%. But from 1997-2022, the SPX gained ground during this period just 15 times, and its average return was only 0.31%.2
Click here to log on to your account or learn more about E*TRADE's trading platforms, or follow the Company on Twitter, @ETRADE, for useful trading and investing insights.
---
1 CME Group (www.cmegroup.com). FedWatch Tool. 5/26/23.
2 All figures reflect S&P 500 (SPX) daily price data, May 1971–May 2022. Supporting document available upon request.
What to read next...
05/26/23
A biotech's options activity takes on a different appearance after breaking down the numbers.
---
05/24/23
Medical stock's rally slows near resistance level, but options market appears to expect more volatility.
---
05/23/23
A fintech company sees heavy options volume as the market waits for news about the debt-ceiling debate.
---