Market adjusting to rate reality?
Stocks trip on Powell, financial sector turmoil, jobs report
Double-digit loss for bank index, small caps fall more than 8%
This week: Inflation (CPI and PPI), retail sales
Get ready for this week's inflation data.
The S&P 500 (SPX) sold off sharply last Tuesday as Fed Chairman Jerome Powell told a Senate panel that not only were interest rates likely to go higher than previously expected, but the Fed was prepared to use larger-than-expected rate hikes to stifle inflation.1
The market's attempt to bounce back after Friday's jobs report hit a roadblock as a prominent bank failure dragged on the financial sector, leaving the SPX at its lowest level of the past nine weeks: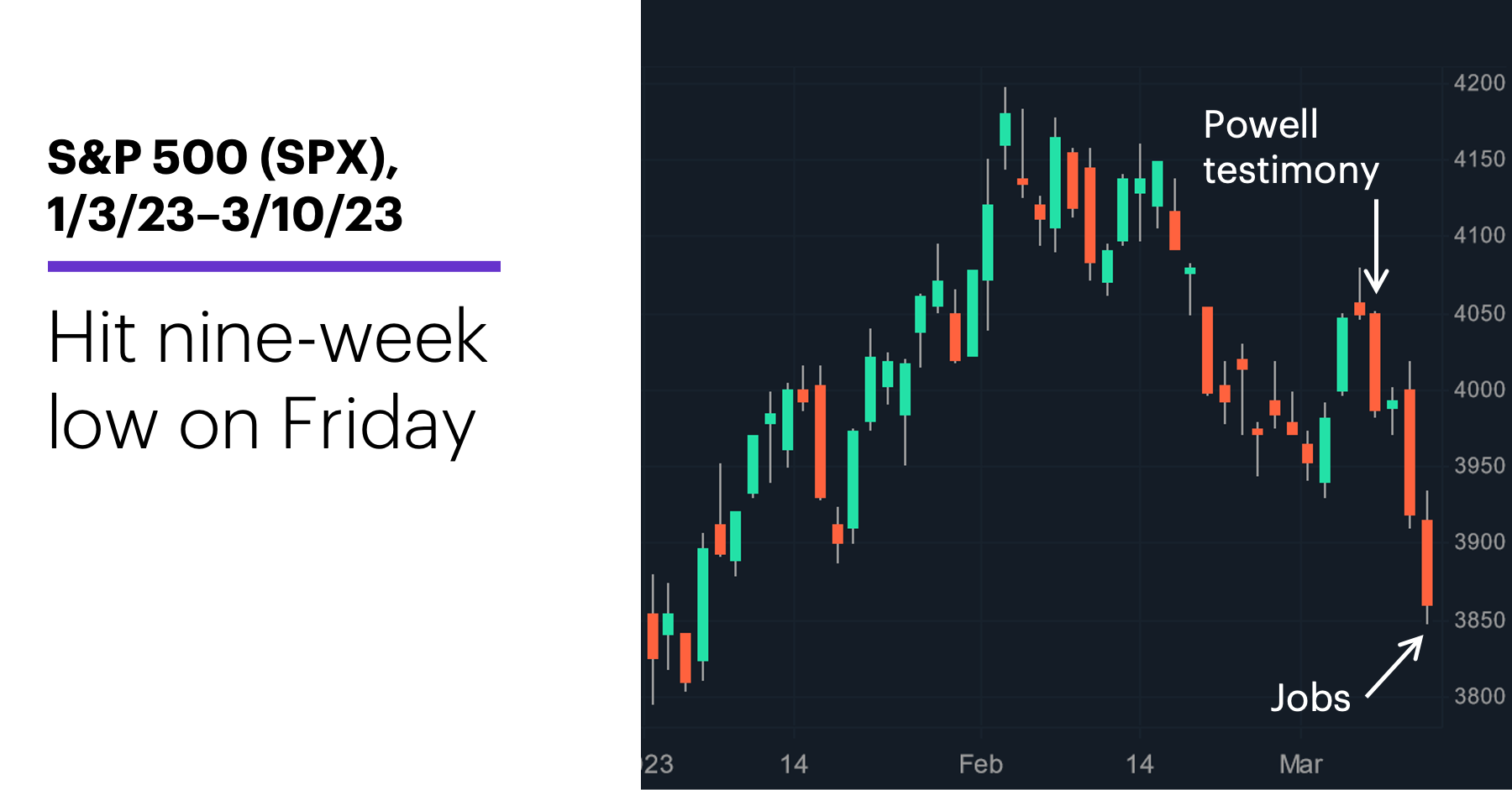 Source: Power E*TRADE. (For illustrative purposes. Not a recommendation.) Note: It is not possible to directly invest in an index.
---
The headline: Stock market suffers worst week since September.
The fine print: Even before the bank-stock turmoil ratcheted higher on Friday, traders didn't appear to know what to do with the monthly jobs report. Stock index futures jumped immediately after its release, but the rally didn't stick. While wage growth appeared to be "anti-inflationary"—it slowed from January to February—the economy added significantly more jobs than expected for a second month in a row (311,000 vs. 233,000).
The move: The S&P commercial banks index fell nearly 12% last week, led by losses in regional banks, highlighted by the sell-off—and eventual collapse, on Friday—of SVB Financial (see "Stock movers," below).
The number: 38%, the odds (as of Friday) the Federal Reserve will hike interest rates by 0.5% (rather than 0.25%) on March 22.2  On Thursday, the odds of a 0.5% increase had stood at 64%, and had pushed above 80% earlier in the week after Powell's testimony.
The scorecard: The small-cap Russell 2000 (RUT) took the biggest hit, while the Dow Jones Industrial Average (DJIA) slipped back into negative territory for the year: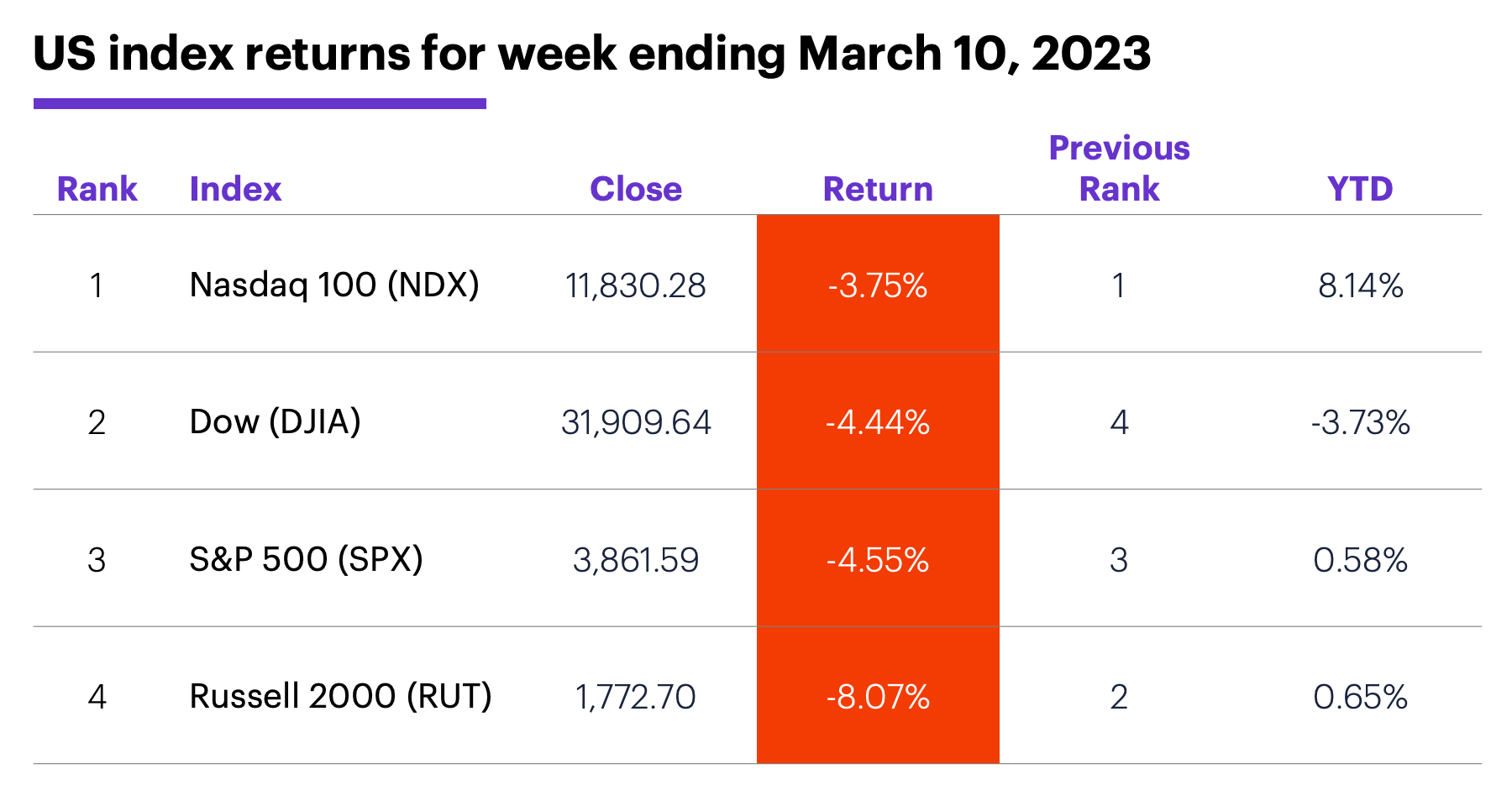 Source (data): Power E*TRADE. (For illustrative purposes. Not a recommendation.)
---
Sector returns: The strongest S&P 500 sectors last week were consumer staples (-1.9%), utilities (-2.9%), and information technology (-3.1%). The weakest sectors were financials (-8.5%), materials (-7.7%), and real estate (-6.9%).
Stock movers: BridgeBio Pharma (BBIO) +52% to $16.52 on Monday, Protagonist Therapeutics (PTGX) +52% to $23.09 on Tuesday. Aclaris Therapeutics (ACRS) -45% to $7.07 on Monday, SVB Financial Group (SIVB) -60% to $106.04 on Thursday (trading was halted on Friday as federal regulators took over administration of the bank).
Futures: Despite rebounding on Friday, April WTI crude oil (CLJ3) fell $3 last week to $76.68/barrel. After falling to a new 2023 low last Tuesday, April gold (GCJ3) jumped more than 2% on Friday to end the week at a nearly one-month high of $1,867.20. Week's biggest up moves: March VIX (VXH3) +24%, March Russian ruble (R6H3) +15%. Week's biggest down moves: May natural gas (NGK3) -18.5%, March Micro bitcoin (MBTH3) -10.6%.
Coming this week
This week's numbers include:
●Monday: NY Fed Consumer Inflation Expectations
●Tuesday: NFIB Business Optimism Index, Consumer Price Index (CPI)
●Wednesday: Producer Price Index (PPI), Retail Sales, Empire State Manufacturing Index, NAHB Housing Market Index
●Thursday: Housing Starts and Building Permits, Import and Exports
●Friday: Industrial Production, Capacity Utilization, Consumer Sentiment, Leading Economic Indicators Index
This week's earnings include:
●Monday: ZIM Integrated Shipping (ZIM), Gitlab (GTLB)
●Tuesday: J.Jill (JILL), Skillz (SKLZ), Smartsheet (SMAR), Lennar (LEN)
●Wednesday: Adobe (ADBE), Array Technologies (ARRY), Williams Sonoma (WSM), Guess (GES)
●Thursday: Dollar General (DG), Jabil (JBL), Lithium Americas (LAC), FedEx (FDX), G III Apparel (GIII), Scholastic (SCHL)
●Friday: On Holding (ONON), Ballard Power Systems (BLDP)
Check the Active Trader Commentary each morning for an updated list of earnings announcements, IPOs, economic reports, and other market events.
A penny for your AI-generated thoughts
The ups and downs of artificial intelligence (AI)-related stocks in recent weeks provides a vivid illustration of the excitement—and uncertainty—surrounding the space. C3 AI (AI), for example, was up more than 100% for the year in early February, quickly pulled back more than 23%, jumped to a new high in early this month, then staged another 20%-plus retreat in a matter of days (see "Nothing artificial about options intelligence").
The technology is compelling, but it's also important to remember we're still in the early days of the "AI industry," so to speak. Morgan Stanley Research analysts think the current excitement could be more than hype—and they highlight some of the areas AI may (and may not) impact—but they also note there are still plenty of unknowns in terms of tangible economic benefits.
As is always the case with "disruptive" technologies, there's a gap between expectation and realization—the translation of an idea or product into a profitable business (and, presumably, a rising stock price). That's something for both traders and investors to keep in mind, regardless of the industry.
Click here to log on to your account or learn more about E*TRADE's trading platforms, or follow the Company on Twitter, @ETRADE, for useful trading and investing insights.
---
1 Reuters. Fed's Powell opens door to higher and possibly faster rate increases. 3/7/23.
2 CME Group FedWatch tool. Target Rate Probabilities For 22 March 2023 Fed Meeting. 3/10/23.
3 MorganStanley.com. The Age of AI and Other Trends in Tech and Beyond. 3/3/23.
What to read next...
03/10/23
The options market signaled more volatility in this financial stock, but options traders faced an unexpected challenge.
---
03/09/23
The oil patch may not run entirely on crude momentum, but it can face an uphill battle without it.
---
03/08/23
A real-world example shows some of the key differences between these related strategies.
---