Market takes rare vacation
Stocks slip, Fed doubles down on higher rates
Small caps cool, oil below $70, gold hits 14-week low
This week: Fed inflation, durable goods, home prices
Summer may have officially begun last week, but the stock market dialed down the temp on what has been a hotter-than-average June.
So far, though, the pullback has been relatively mild. The S&P 500 (SPX) ended the holiday-shortened week at a seven-day low, but down only a little more than 2% from the 14-month high it hit on June 16: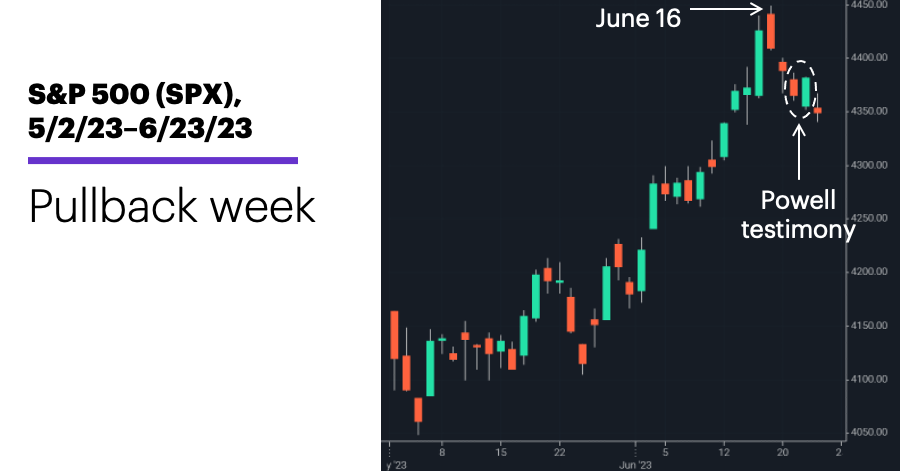 Source: Power E*TRADE. (For illustrative purposes. Not a recommendation.) Note: It is not possible to directly invest in an index.
---
The headline: June rally takes a breather.
The fine print: In a week light on economic data, Fed Chair Jerome Powell's Wednesday–Thursday testimony on Capitol Hill was the marquee event for market watchers. There were no surprises, though—Powell stuck to the hawkish script he laid out after the June 13–14 FOMC meeting, reminding everyone the Fed was prepared to hike interest rates by another 0.5%. But as Morgan Stanley analysts explain, the path for rates may not be as carved in stone as Powell's comments would suggest.1
The number: 4, the number of times the SPX closed lower over the past five trading days. It was the first time since early May the index closed down four times in a five-day span, and only the third time since March 16.
The scorecard: The small-cap Russell 2000 (RUT) pulled back the most last week: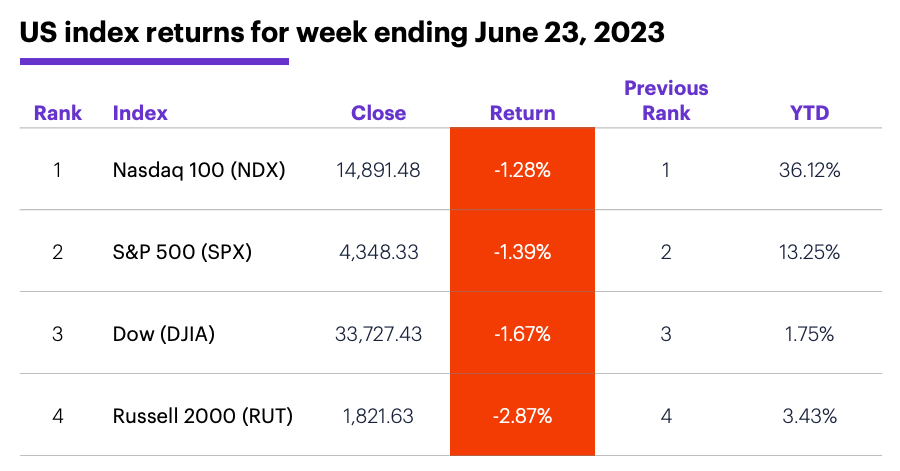 Source (data): Power E*TRADE. (For illustrative purposes. Not a recommendation.)
---
Sector returns: The strongest S&P 500 sectors last week were health care (+0.2%), consumer discretionary (-0.3%), and consumer staples (-0.4%). The weakest sectors were real estate (-4.1%), energy (-3.6%), and information technology (-2.9%).     
Stock movers: Dice Therapeutics (DICE) +37% to $46.44 on Tuesday, Root (ROOT) +60% to $9.62 on Wednesday (then +34% to $12.90 on Thursday and -15% to 10.98 on Friday). On the downside, uniQure (QURE) -40% to $11.62 and Trupanion (TRUP) -18% to $21.81, both on Wednesday.
Futures: August WTI crude oil (CLQ3) ended last week at $69.16 after a Thursday–Friday sell-off. August gold (GCQ3) fell out of the bottom of its range, closing Friday at $1,929.60, near its 14-week lows. Week's biggest up moves: June Micro bitcoin (MBTM3) +22%, June Micro ether (ETHM3) +14%. Week's biggest down moves: September coffee (KCU3) -9.9%, September palladium (PAU3) -8.4%.
Coming this week
Along with the Fed's preferred inflation barometer (PCE Price Index), traders will get fresh looks at durable goods orders and home prices:
●Monday: Dallas Fed Manufacturing Index
●Tuesday: Durable Goods Orders, S&P Case-Shiller Home Price Index, FHFA House Price Index, New Home Sales, Consumer Confidence
●Wednesday: Retail and Wholesale Inventories (advance), Trade Balance in Goods (advance)
●Thursday: Q1 GDP (final revision), Pending Home Sales
●Friday: Personal Income and Spending, Personal Consumption Expenditures (PCE) Price Index, Chicago PMI, Consumer Sentiment, quarterly grain stocks (corn, wheat, soybeans)
This week's earnings include:
●Monday: Carnival (CCL)
●Tuesday: Walgreen's (WBA), AeroVironment (AVAV)
●Wednesday: General Mills (GIS), Micron (MU)
●Thursday: Acuity Brands (AYI), Paychex (PAYX), Simply Good Foods (SMPL), Nike (NKE), Progress Software (PRGS), Smart Global (SGH)
●Friday: Constellation Brands (STZ)
Check the Active Trader Commentary each morning for an updated list of earnings announcements, IPOs, economic reports, and other market events.
Earnings: Bad news, good news?
What to read next...
06/22/23
Big options trades put spotlight on stock's support level.
---
06/20/23
So far, no June swoon—stocks shrug off prospect of higher interest rates.
---
06/12/23
Market extends rally as Street awaits inflation data and Fed rate announcement.
---