Decision time
Market edges upward, SPX highest since August 2022
Small caps pad recent gains, tech treads water
This week: CPI and PPI, Fed rate decision, quarterly expiration
Given what's in store for traders this week—the latest inflation numbers followed by a Fed interest rate decision—it may make sense that the market mostly sat on its hands last week.
Nonetheless, stocks managed to extend their streak of up weeks to four. The S&P 500 (SPX) traded sideways for most of the week before staging a mini-breakout early Friday, although the move lost momentum and the market ended the day in the lower portion of the day's range: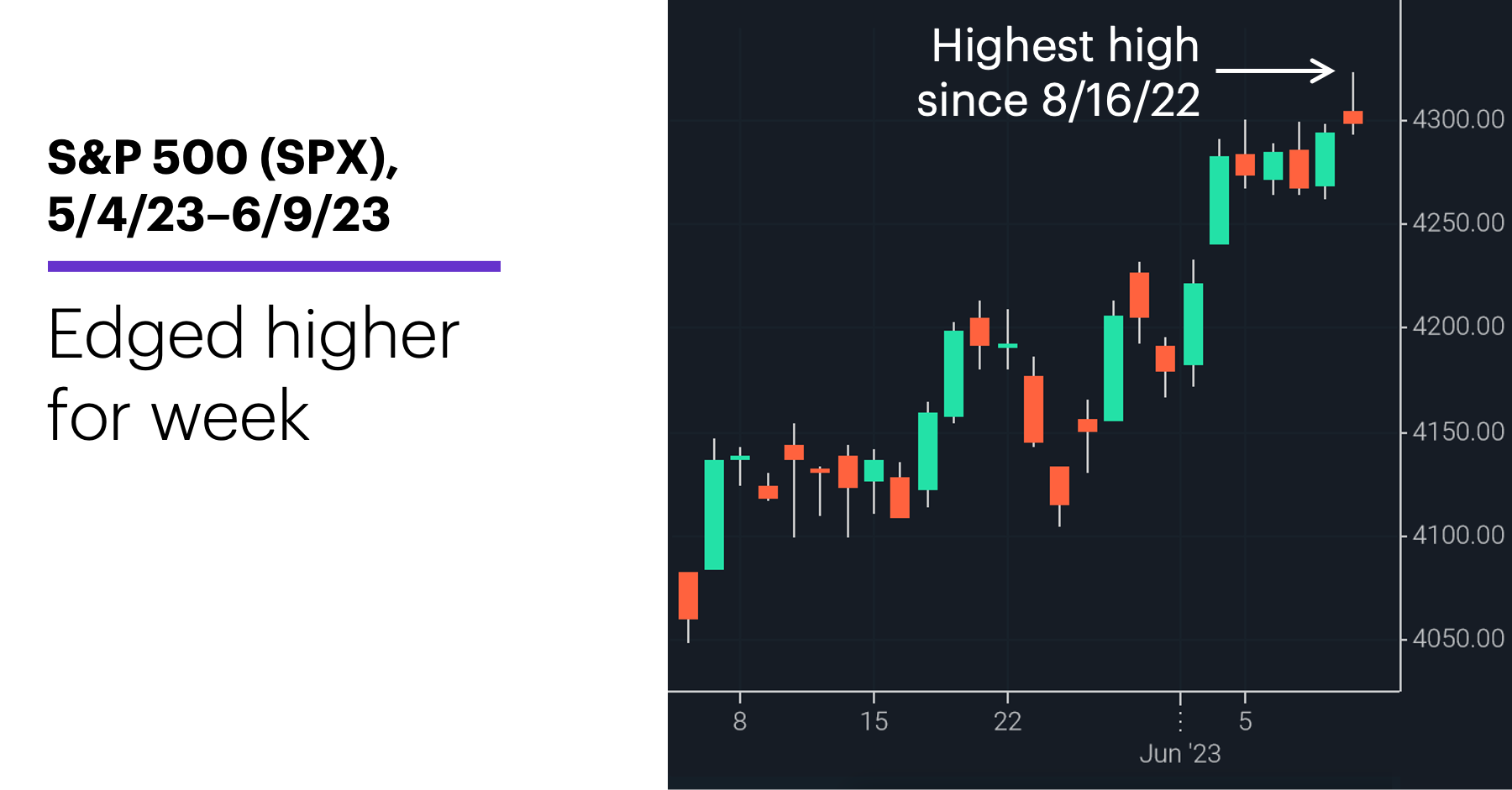 Source: Power E*TRADE. (For illustrative purposes. Not a recommendation.) Note: It is not possible to directly invest in an index.
---
The fine print: While tech has fueled this year's bull move, the sector slowed for a second-straight week. Also, the week ended on a cautious note: The SPX closed higher on Friday (barely), but so did the Cboe Volatility Index (VIX), which suggested the market may have been anticipating higher volatility on Friday despite the SPX's rise from Thursday to Friday. (A day earlier, the VIX closed at its lowest level since January 2020.)
The number: 6, the number of down weeks this year for the Nasdaq 100 (NDX) tech index. By comparison, the SPX has had nine down weeks, the small cap Russell 2000 (RUT) has had 10, and the Dow Jones Industrial Average (DJIA) has had 11.
The scorecard: For the second week in a row, the RUT led the charge and the NDX brought up the rear:
Source (data): Power E*TRADE. (For illustrative purposes. Not a recommendation.)
---
Sector returns: The strongest S&P 500 sectors last week were consumer discretionary (+2.4%), utilities (+1.9%), and energy (+1.7%). The weakest sectors were information technology (-0.7%), consumer staples (-0.5%), and communication services (-0.4%).
Stock movers: Circor International (CIR) +51% to $47.84 on Monday, Gitlab (GTLB) +31% to $46.44 on Tuesday. Castle Biosciences (CSTL) -49% to $11.66 on Monday, NovoCure (NVCR) -43% to $47 on Tuesday.
Futures: Last Monday Saudi Arabia announced it would reduce production by one million barrels per day,1 but July WTI crude oil's (CLN3) initial rally fizzled and prices ended a choppy week modestly lower at $70.17. August gold (GCQ3) closed Friday at $1,977.20, up slightly after a week of up-and-down trading. Week's biggest up moves: July soybean oil (ZLN3) +10.3%, July oats (ZON3) +6.2%. Week's biggest down moves: June VIX (VXM3) -10%, July orange juice (OJN3) -7.8%.
Coming this week
A day after the latest CPI data, the Fed will announce whether or not it will hike interest rates. As of Friday, the odds of no change in rates stood at 72%:2
●Monday: New York Fed consumer inflation expectations
●Tuesday: NFIB Business Optimism Index, Consumer Price Index (CPI)
●Wednesday: Producer Price Index (PPI), Fed interest rate decision
●Thursday: Retail Sales, Empire State Manufacturing Index, Industrial Production, Capacity Utilization, Business Inventories
●Friday: Consumer sentiment (preliminary)
This week's earnings include:
●Monday: Oracle (ORCL)
●Wednesday: Lennar (LEN), Anterix (ATEX)
●Thursday: Jabil (JBL), Kroger (KR), Adobe (ADBE), John Wiley & Sons (WLY)
Check the Active Trader Commentary each morning for an updated list of earnings announcements, IPOs, economic reports, and other market events.
AI, tech, and earnings
While tech has only hinted at a slowdown, Morgan Stanley & Co. analysts recently argued the sector's expected earnings-growth reacceleration may already be baked into the market.3 And in discussing the excitement surrounding AI that helped fuel the most recent portion of the tech rally, they note that while individual stocks will likely deliver accelerating growth from AI spending this year, it may not be enough to meaningfully change the trajectory for the sector as a whole.
Click here to log on to your account or learn more about E*TRADE's trading platforms, or follow the Company on Twitter, @ETRADE, for useful trading and investing insights.
---
1 CNBC.com. Oil prices rise after Saudi Arabia pledges more voluntary production cuts. 6/4/23.
2 CME Group. FedWatch Tool. 6/9/23.
3 MorganStanley.com. Earnings Cycle Still Running Short and Hot. 6/5/23.
What to read next...
06/07/23
High volatility readings shine light on stock that has taken a low profile lately.
---