Stocks swing into New Year
Market pushes toward top of recent range, interest rates ease
Stocks slump after FOMC minutes, jump after jobs report
This week: Consumer Price Index (CPI), earnings season begins

If last week was any indication, the factors that drove so much of 2022's market action—inflation and the Fed's response to it—will continue to exert their influence this year.
The S&P 500 (SPX) kicked off 2023 by extending the consolidation that wrapped up last year, but it still managed to gain ground for the week—thanks in large part to a strong (2.3%) rally after Friday's jobs report: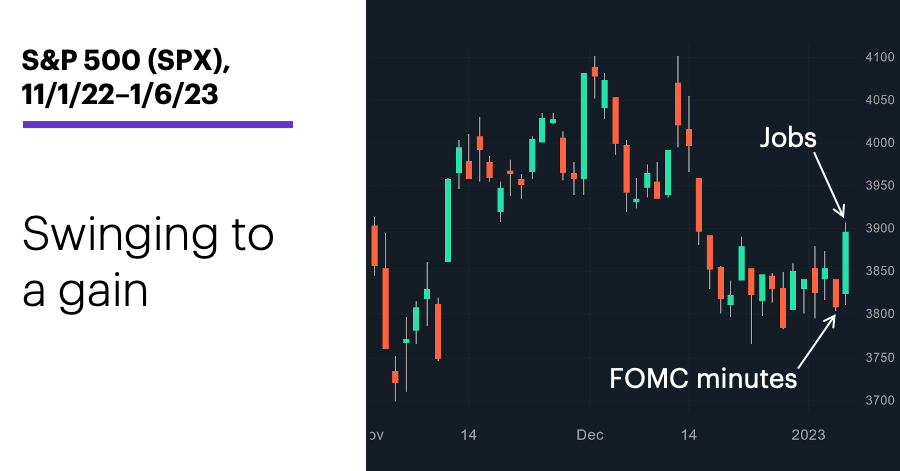 Source: Power E*TRADE. (For illustrative purposes. Not a recommendation.)
---
The headline: Stocks gain ground in choppy trade.
The fine print: A too-strong (i.e., inflationary) jobs market is supposed to be a negative for this stock market, and that's what Friday's report appeared to show: The US economy added more jobs than expected (223,000 vs. 200,000) in December and the unemployment rate dropped to 3.5%. But average hourly wages increased only 0.3%—less than the 0.4% estimate, and half the size of November's increase—which appeared to cheer investors looking for signs of easing inflation.
The move: Good news for winter heating bills? February natural gas futures (NGG3) tumbled 15.1% last week. Prices are down roughly 50% since late November, and more than 60% below their August highs.
The scorecard: The small-cap Russell 2000 (RUT) led the market for a second week, while the Nasdaq 100 (NDX) tech index trailed for a fourth-straight week: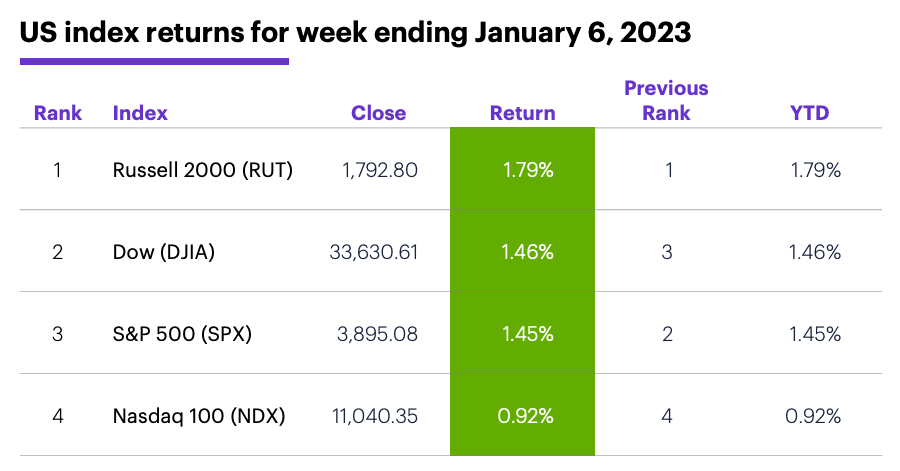 Source (data): Power E*TRADE. (For illustrative purposes. Not a recommendation.)
---
Sector roundup: The strongest S&P 500 sectors last week were communication services (+3.7%), materials (+3.5%), and financials (+3.3%). The weakest sectors were utilities (-0.7%), information technology (-0.2%), and health care (+0.2%).

Stock movers: On Wednesday Kala Pharmaceuticals (KALA) +32% to $42.09 (after falling 16% on Tuesday). On Thursday, NovoCure (NVCR) +68% to $118.81 and Zai Lab (ZLAB) +42% to $48.1 after announcing the success of their joint cancer-fighting therapy. On the downside, Enovix (ENVX) -41% to $7.15 on Wednesday, Silvergate Capital (SI) -43% to $12.57 on Thursday.
Futures: February WTI crude oil (CLG3) plunged below $73/barrel last Monday–Tuesday, then stabilized to end the week at $73.77. February gold (GCG3) rallied for a third-straight week, closing Friday at $1,869.70/ounce—as high as it's been since last June.
Coming this week
Traders will get a look at the first inflation data of 2023 this week:
●Monday: Consumer Inflation Expectations, Consumer Credit
●Tuesday: NFIB Business Optimism Index, Wholesale Inventories (revised)
●Thursday: Consumer Price Index (CPI), quarterly grain stocks (corn, wheat, soy)
●Friday: Import and Export Prices, Consumer Sentiment (preliminary)
Earnings season officially kicks off with big banks on Friday:
●Monday: Acuity Brands (AYI), PriceSmart (PSMT), VOXX International (VOXX), WD-40 (WDFC)
●Tuesday: Albertsons (ACI), TD Synnex (SNX)
●Wednesday: KB Home (KBH)
●Thursday: Infosys (INFY), Taiwan Semiconductor (TSM)
●Friday: Bank of America (BAC), BlackRock (BLK), Citigroup (C), Delta Air Lines (DAL), JPMorgan Chase (JPM), UnitedHealth (UNH), Wells Fargo (WFC)
Check the Active Trader Commentary each morning for an updated list of earnings announcements, IPOs, economic reports, and other market events.
Market Mover Update: XP (XP) rallied more than 5% intraday on Friday, and open interest totals suggested large positions in the January puts were, in fact, rolled into February (see "Options trade inventory").
Lessons from Week 1
Friday's rally after the monthly jobs report showed at least some inflationary pressures in the employment market had eased in December. That, of course, occurred a day after the SPX sold off more than 1% after the release of the minutes from the Federal Reserve's December 14–15 policy meeting. Those notes confirmed the Fed is prepared to keep interest rates elevated for quite some time before it even thinks about cutting them.
The market's day-to-day swings last week may symbolize a larger, longer-term tug-of-war that could play out this year. In addition to the probability of interest rates remaining high and a possible economic slowdown, Morgan Stanley Wealth Management strategists point out that US stocks face headwinds in the form of still-high valuations and overly optimistic earnings expectations.1
Those factors could continue to offset bullishness triggered by continued evidence of slowing inflation—a possible recipe for a choppy week to be followed by a choppy year.
Click here to log on to your account or learn more about E*TRADE's trading platforms, or follow the Company on Twitter, @ETRADE, for useful trading and investing insights.
---
1 MorganStanley.com. Investing in 2023: A Year to be Patient and Selective. 1/5/23.
What to read next...
01/06/23
Comparing different contract months—along with open interest—can shed light on which way the options market may be leaning.
---
01/05/23
Whenever the options market signals volatility could increase, it's always a good idea to ask why.
---
01/04/23
Tuesday's price action shows why you can't read too much into a single day in the markets.
---