Bulls poised to take January
SPX presses Dec. highs, 2022 laggards continue to lead market
GDP surprises to upside, Fed inflation downticks
This week: Jobs, Fed rate decision, and big tech earnings
As traders get ready for a packed week of economic data and earnings—and the transition to a new month—few probably expected the stock market to be within shouting distance of one of its best Januaries of the past three decades.
The S&P 500 (SPX) ended the final full week of the month at its highest close since December 2, up 6% for the month, and near the resistance level implied by its December intraday highs: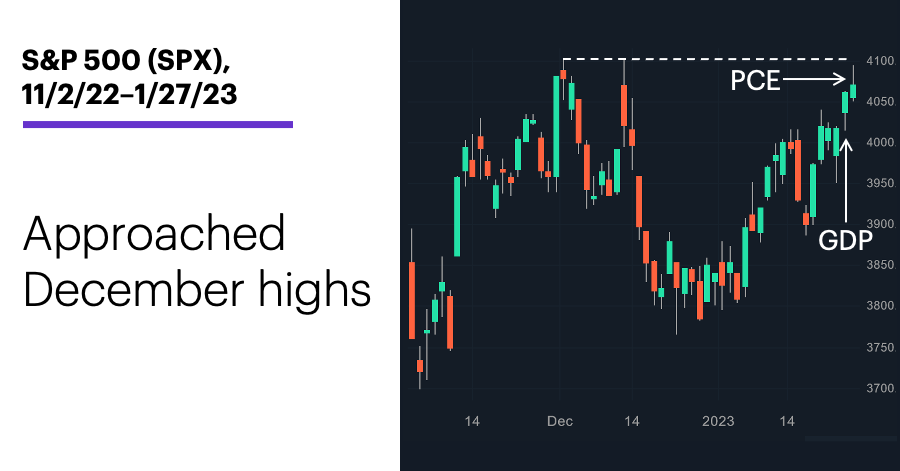 Source: Power E*TRADE. (For illustrative purposes. Not a recommendation.) Note: It is not possible to directly invest in an index.
---
The headline: GDP surprises, bulls press forward in run-up to Fed announcement.
The fine print: The initial estimate of Q4 GDP topped estimates at 2.9%, but that marked a decline from Q3's 3.2% pace. Also, while the headline increase in December's Durable Goods report (5.6%, twice the consensus estimate) appeared to echo the stronger-than-expected GDP, the "core" reading, which excludes civilian aircraft orders,1 fell 0.2% and was weaker than November.
The number: 4.4%, the year-over-year increase in the PCE Price Index (the Fed's default inflation barometer) reported on Friday—in line with estimates, and down from 4.7% the previous month.
The scorecard: The Nasdaq 100 (NDX) led the market for a second week in a row: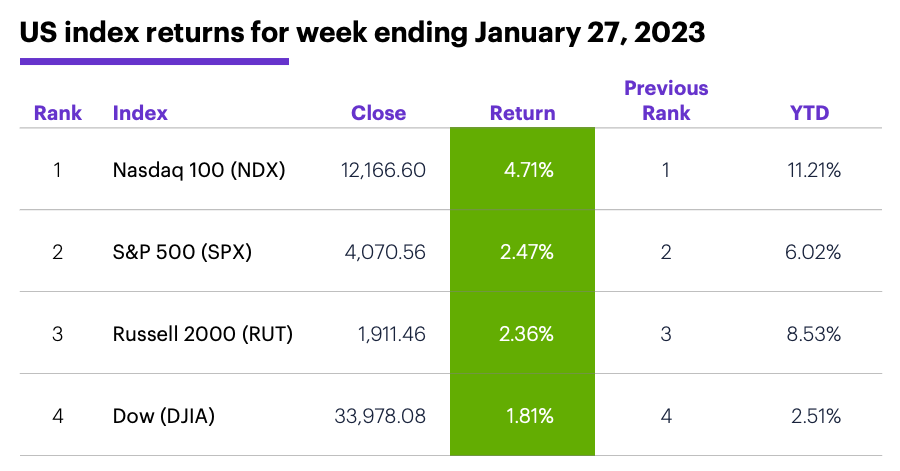 Source (data): Power E*TRADE. (For illustrative purposes. Not a recommendation.)
---
Sector roundup: The strongest S&P 500 sectors last week were consumer discretionary (+6.4%), information technology (+4.1%), and communication services (+3.3%). The weakest sectors were health care (-0.9%), utilities (-0.5%), and consumer staples (+0.4%).
Stock movers: Pliant Therapeutics (PLRX) +35% to $30.28 on Monday, World Acceptance Corporation (WRLD) +35% to $108.49 on Thursday. On the downside, Catalyst Pharmaceuticals (CPRX) -29% to $14.76 on Monday, Lucid (LCID) +43% to $12.87 on Friday.
Futures: February gold (GCG3) traded as high as $1,949.80/ounce last Thursday before pulling back to close Friday at $1,929.40. After hitting a seven-week intraday high of $82.64/barrel last Monday, March WTI crude oil (CLH3) ended the week lower at $79.68. Week's biggest up moves: March lumber (LBSH3) +13.9%, March coffee (KCH3) +9.8%. Week's biggest down moves: February VIX (VXG3) -8%, March palladium (PAH3) -6.6%.
Coming this week
Wednesday's Fed announcement (a 0.25% hike is expected2) and Friday's jobs report highlight a crowded economic calendar:
●Monday: Dallas Fed Manufacturing Index
●Tuesday: Employment Cost Index, Case-Shiller Home Price Index, FHFA House Price Index, Chicago PMI, Consumer Confidence
●Wednesday: ADP Employment Change, S&P Global Manufacturing PMI, ISM Manufacturing Index, Job Openings and Labor Turnover Survey, Construction Spending, Fed interest rate decision
●Thursday: Challenger Job Cuts, Productivity and Labor Costs, Factory Orders
●Friday: Employment Report, S&P Global Services PMI, ISM Services Index
It's a big week for earnings—big tech, big pharma, big oil, and big auto:
●Monday: Whirlpool (WHR), NXP Semiconductors (NXPI), Helmerich & Payne (HP)
●Tuesday: Caterpillar (CAT), Dover (DOV), General Motors (GM), McDonald's (MCD), Pfizer (PFE), Pulte Group (PHM), Phillips 66 (PSX), Spotify (SPOT), United Parcel Service (UPS), Exxon Mobil (XOM), Advanced Micro Devices (AMD), Amgen (AMGN), Electronic Arts (EA), Edwards Lifesciences (EW), Juniper Networks (JNPR), Match Group (MTCH), Snap (SNAP)
●Wednesday: Humana (HUM), Johnson Controls (JCI), Altria Group (MO), Peloton (PTON), Thermo Fisher Scientific (TMO), Waste Management (WM), Meta Platforms (META), Meritage Homes (MTH), Qorvo (QRVO)
●Thursday: Eli Lilly (LLY), Alphabet (GOOGL), Amazon.com (AMZN), Apple (AAPL), Bill.com (BILL), Bristol-Myers Squibb (BMY), Hershey (HSY), United States Steel (X), ConocoPhillips (COP), Ford Motor (F), Starbucks Corp (SBUX), Clorox (CLX), Merck (MRK), Honeywell (HON)
●Friday: Aon (AON), Cigna (CI), Cboe Global Markets (CBOE)
Check the Active Trader Commentary each morning for an updated list of earnings announcements, IPOs, economic reports, and other market events.
Changing of the guard: January 2023 edition
Although January—contrary to popular perception—is not a particularly reliable barometer of a year's stock market performance, the first month of 2023 has marked a rather notable departure from last year's trends.
It's not just that stocks have rallied, it's the way they've done it. At the index level, the Nasdaq 100 (NDX) tech index, which fell 33% last year, has led the US market with a 11.2% year-to-date (YTD) return through Friday. Meanwhile, the Dow Jones Industrial Average (DJIND), which was the strongest index last year (shedding a modest 8.8%), is trailing the field with a 2.5% return.
A similar story has played out at the sector level. The second- and third-strongest sectors of 2022, utilities and consumer staples, are currently two of the three-weakest sectors of the New Year, while the two-weakest sectors of 2022, communications services and consumer discretionary, have been the two-strongest of January: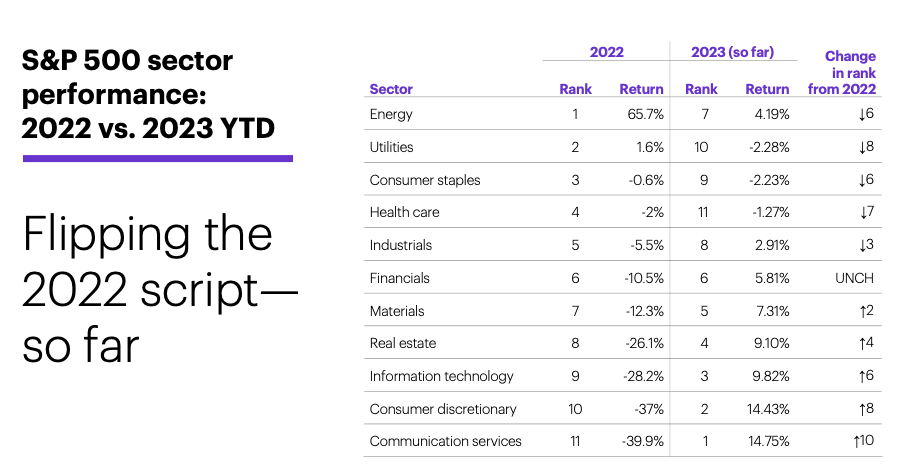 Source (data): Power E*TRADE. (For illustrative purposes. Not a recommendation.)
---
Energy, the strongest sector for past two years, is in seventh place so far this year, while health care, which was the fourth-strongest in 2022, is currently in last place.
Financials, on the other hand, have been a model of stability, holding firm at sixth place into January. Only one other sector (materials) has shifted fewer than three places, up or down, in the rankings.
It's far too early to know where things will stand at the end of the year—for the market as a whole, or its leadership—but January's performance is a good reminder that regardless of the direction the market takes, the stocks doing most of the heavy lifting can shift over time.
Click here to log on to your account or learn more about E*TRADE's trading platforms, or follow the Company on Twitter, @ETRADE, for useful trading and investing insights.
---
1 The Wall Street Journal. Airplanes Boost U.S. Durable-Goods Orders. 1/24/23.
2 CMEGroup.com. FedWatch Tool: Target Rate Probabilities for 1 Feb 2023 Fed Meeting. 1/27/22.
What to read next...
01/27/23
With a few days until it releases its numbers, a railroad stock with a history of rallying after earnings sees a spike in call volume.
---
01/25/23
An options trader may have been adjusting some large positions as this tech stock enters the final two weeks before expiration.
---
01/23/23
Stocks pull back despite seemingly good news on the inflation front.
---