Market mulls economic signals
Broad market dips as inflation eases, economic data misses
NDX notches weekly gain, gold hits 9-month high
This week: GDP, Fed inflation, durable goods
After starting 2023 on an upswing, the US stock market enters the final full week of January on the heels of its first pullback of the year, despite signs of cooling inflation.
The market's tendency for weakness after the MLK holiday was on full display last week, with the S&P 500 (SPX) falling to a five-day low last Thursday before rebounding on Friday: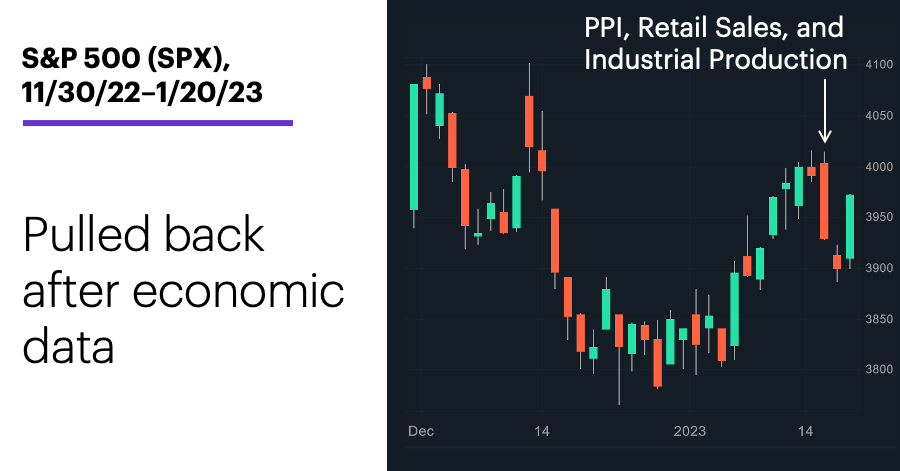 Source: Power E*TRADE. (For illustrative purposes. Not a recommendation.)
---
The headline: Stocks pull back amid soft economic data.
The fine print: Last Wednesday's milder-than-expected Producer Price Index (PPI) wasn't the only sign of easing inflation—or, more accurately, the only sign of economic weakness that often accompanies easing inflation. Industrial Production and Retail Sales both came in below expectations, while on Tuesday the Empire State Manufacturing Index posted its biggest decline since May 2020.
The number: 19, the number of weeks Congress has to raise the debt ceiling (by June 5) to avoid a first-ever US debt default.
The move: When it hit last Thursday's low of 3,885.54, the SPX had given back half its December 22–January 17 upswing, testing the breakout level of its former short-term consolidation in the process.
The scorecard: The Nasdaq 100 (NDX) led the market, and closed the week with a gain thanks to Friday's strong rally: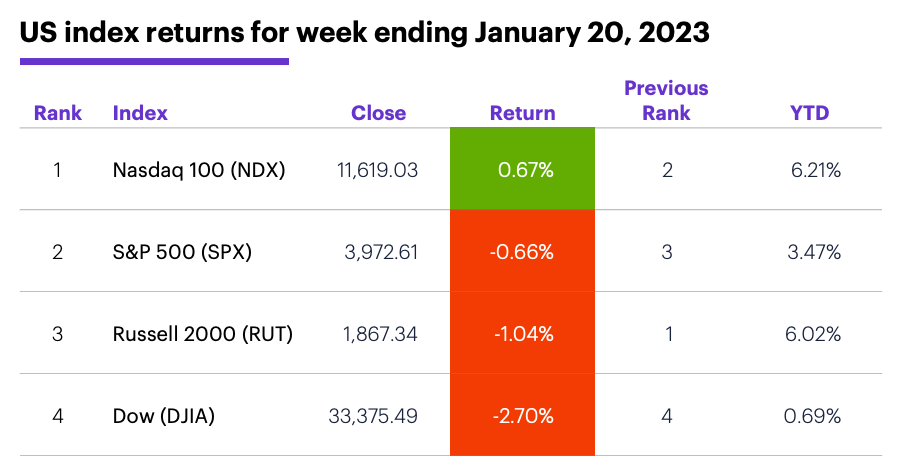 Source (data): Power E*TRADE. (For illustrative purposes. Not a recommendation.)
---
Sector roundup: The strongest S&P 500 sectors last week were communication services (+3%), energy (+0.7%), and information technology (+0.68%). The weakest sectors were consumer staples (-2.9%), utilities (-2.9%), and industrials (-3.4%)
Stock movers: GoHealth (GOCO) +23% to $16.20 on Tuesday, Nuzee (NUZE) +52% to $15.55 on Wednesday. On the downside, Surmodics (SRDX) -29% to $26.38 on Thursday, FARO Technologies (FARO) -21% to $27.87 on Friday.
Futures: February gold (GCG3) rallied to an intraday high of $1,939/ounce on Friday—its highest level since April 2022—before closing at $1,928.20. March WTI crude oil (CLH3) mostly consolidated last week, but still closed at its highest level since mid-November ($81.64/barrel) on Friday. Week's biggest up moves: January Micro bitcoin (MBTF3) +14.9%, January Micro ether (ETHF3) +13.5%. Week's biggest down moves: March natural gas (NGH3) -10.6%, March dry whey (DYH3) -5.5%.
Coming this week
The first estimate of Q4 GDP is the marquee number this week, but Friday's Fed inflation number (the PCE Price Index) should also garner some attention:
●Monday: Leading Economic Indicators Index
●Tuesday: S&P Global Manufacturing and Services PMIs (flash)
●Thursday: Durable Goods Orders, Trade in Goods (advance), GDP (Q4, initial estimate), Chicago Fed national activity index, New Home Sales
●Friday: Personal Income and Spending, PCE Price Index, Michigan Consumer Sentiment (final), Pending Home Sales
The second week of earnings season has a bit of everything, including big tech, big pharma, more airlines, and Tesla:
●Monday: Baker Hughes (BKR), Synchrony Financial (SYF)
●Tuesday: General Electric (GE), Raytheon Technologies (RTX), Halliburton (HAL), Lockheed Martin (LMT), Union Pacific (UNP), Danaher (DHR), Verizon (VZ), D.R. Horton (DHI), F5 (FFIV), Intuitive Surgical (ISRG), Johnson & Johnson (JNJ), Microsoft (MSFT)
●Wednesday: Abbott Laboratories (ABT), AT&T (T), US Bancorp (USB), International Business Machines (IBM), Boeing (BA), BOK Financial (BOKF), Kimberly-Clark (KMB), CSX (CSX), General Dynamics (GD), Freeport-McMoRan (FCX), ServiceNow (NOW), Tesla (TSLA), Teledyne (TDY), Crown Castle (CCI), Teradyne (TDY)
●Thursday: Rockwell Automation (ROK), American Airlines (AAL), Southwest Airlines (LUV), JetBlue Airways (JBLU), Archer-Daniels-Midland (ADM), Intel (INTC), Northrop Grumman (NOC), Eagle Materials (EXP), Mastercard (MA), Visa (V), L3harris Technologies (LHX)
●Friday: American Express (AXP), Chevron (CVX), Colgate-Palmolive (CL)
Check the Active Trader Commentary each morning for an updated list of earnings announcements, IPOs, economic reports, and other market events.
Debt ceilings, market floors
As if inflation and recession concerns weren't enough for investors, they now have a possible US debt-ceiling showdown to think about.
The US technically hit its debt ceiling last Thursday, at which point Treasury Secretary Janet Yellen invoked so-called "extraordinary measures" to allow the US to keep borrowing money for the next several months to pay its bills.1 Crunch time will arrive in early June, at which point Congress must formally raise the debt ceiling or face default.
While it's important to note the US has always managed to avoid default—and Congress has adjusted the debt ceiling 78 times since 19602—some market watchers are concerned a small group of Republicans in the House of Representatives may balk at raising the debt ceiling without extracting budget cuts from the Biden Administration—concessions the White House has said are not currently on the table.
Even if an agreement is—again—reached in time, the longer a debt stalemate drags on, the greater the risk of triggering an event like the one that unfolded in 2011, when the SPX fell 17% over the course of 13 trading days in late July and early August as Congress delayed approval of the debt-ceiling increase until the last minute:
Source: Power E*TRADE. (For illustrative purposes. Not a recommendation.)
---
As the chart also shows, a significant portion of the sell-off occurred after Congress struck a deal to avoid default. The SPX fell from 1,345.02 on July 22 to 1,120.76 on August 10, but the Budget Control Act of 2011 was signed into law on August 2 (an agreement had actually been reached two days earlier).
Even though the US didn't default, the crisis spurred some financial rating agencies to downgrade US debt on August 5, and the SPX chopped its way another 4% to the downside before hitting its low for the year in early October.
Click here to log on to your account or learn more about E*TRADE's trading platforms, or follow the Company on Twitter, @ETRADE, for useful trading and investing insights.
---
1 CNN.com. US hits debt ceiling, prompting Treasury to take extraordinary measures. 1/19/23.
2 U.S. Department of the Treasury (treasury.gov). Debt Limit.
What to read next...
01/20/23
Stock's earnings move shows why something that "looks" bullish or bearish may be the opposite.
---
01/18/23
Some of the biggest names in tech will be reporting their numbers in the next two weeks.
---
01/17/23
Biggest weekly gain since November, market hits four-week high.
---