Trading around uncertainty
INSP options volatility fell despite recent stock sell-off
Scenario played out much differently a month ago
Option sellers can benefit from falling IV
Not all volatility is created equal. And as a recent market example shows, the difference between a stock's historical volatility (HV) and its options implied volatility (IV) has important real-world consequences for traders.
Keeping in mind that HV shows what a stock has done in the past and IV represents what the options market thinks it will do in the future, let's compare two short-term sell-offs in medical device maker Inspire Medical Systems (INSP). When the stock sold off sharply (-20%) on October 11-12, both HV and IV turned higher. But when it experienced a slightly larger sell-off (-21.5%) on November 8-9, IV declined even though HV jumped again: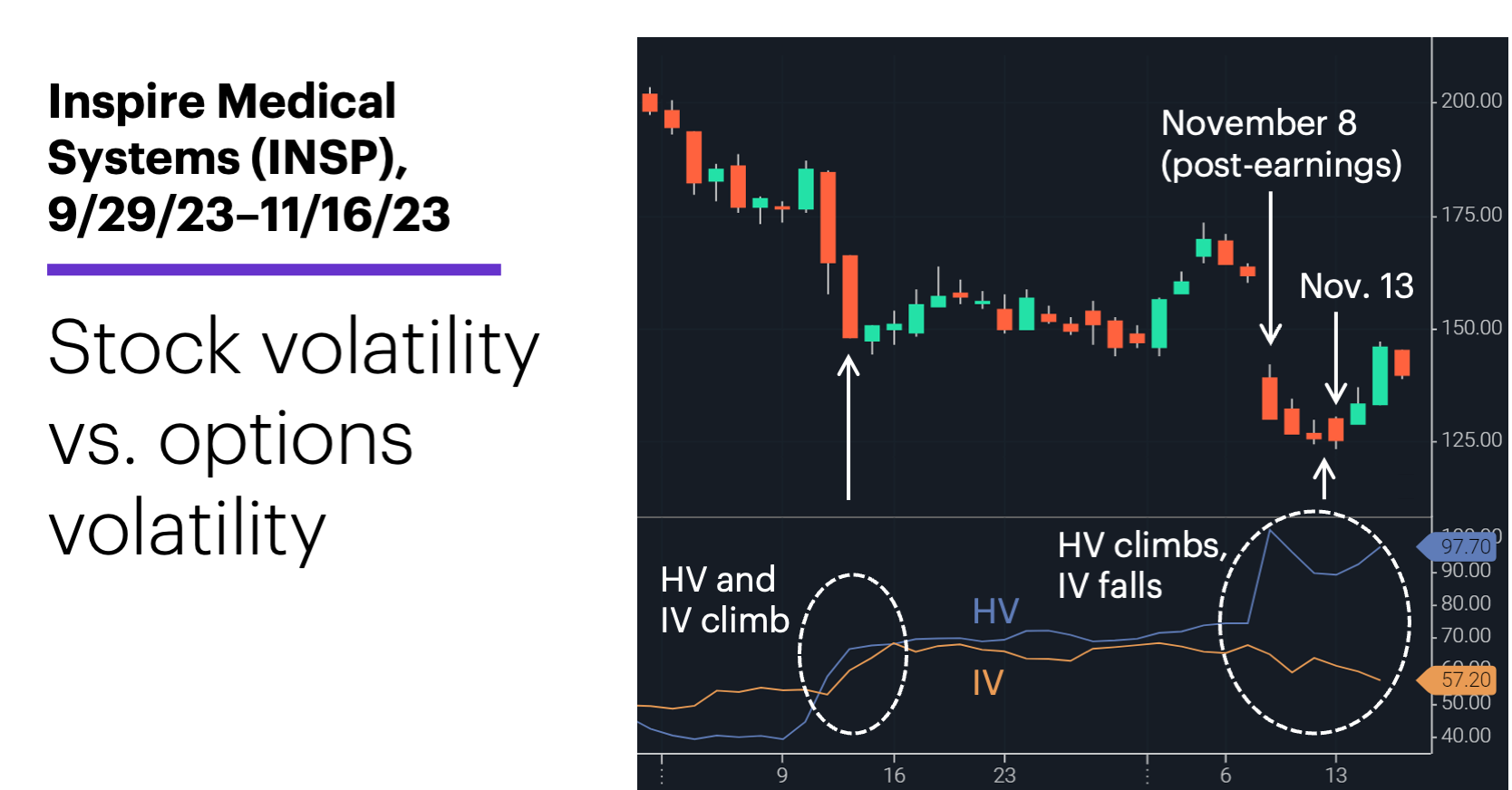 Source: Power E*TRADE. (For illustrative purposes. Not a recommendation.)
---
Why the difference? First, INSP's mid-October IV surge occurred as the stock was entering the final month before its November 7 (after-hours) earnings release. A stock's IV often climbs (and can remain elevated) in the runup to earnings because of the uncertainty surrounding the announcement.
In this case, though, the anti-obesity drug (AOD) story may have also played a role. As Morgan Stanley & Co. analysts explain, these drugs don't just represent potential upside for the companies that make them, they have implications for other companies that treat a wide range of weight-related conditions.1 For example, INSP makes devices to treat sleep apnea, a common problem among obesity patients. If the new anti-obesity drugs are successful, it could mean less demand for INSP's products. It's probably no coincidence that many medical device stocks like INSP sold off last month after Novo Nordisk (NVO) released data showing its AOD, Ozempic, had yet another potential application—slowing the progression of kidney disease.2
Although it may be years before we know whether the different applications of the new AODs will become medical realities, the key point is that such potential disruption introduces uncertainty into the market—and that tends to inflate IV and produce higher options prices. In contrast, earnings announcements, good or bad, usually remove or reduce uncertainty, which can result in falling IV and lower options prices—hence the decline in INSP's IV during its November sell-off.
A chart of the INSP December $125 put shows how this can play out on a practical level. The option's price jumped as the stock's sell-off kicked in on October 8, peaking (above $9) on October 10. But notice the premium fell by almost $2 the next trading day (October 13) even though INSP shares closed lower: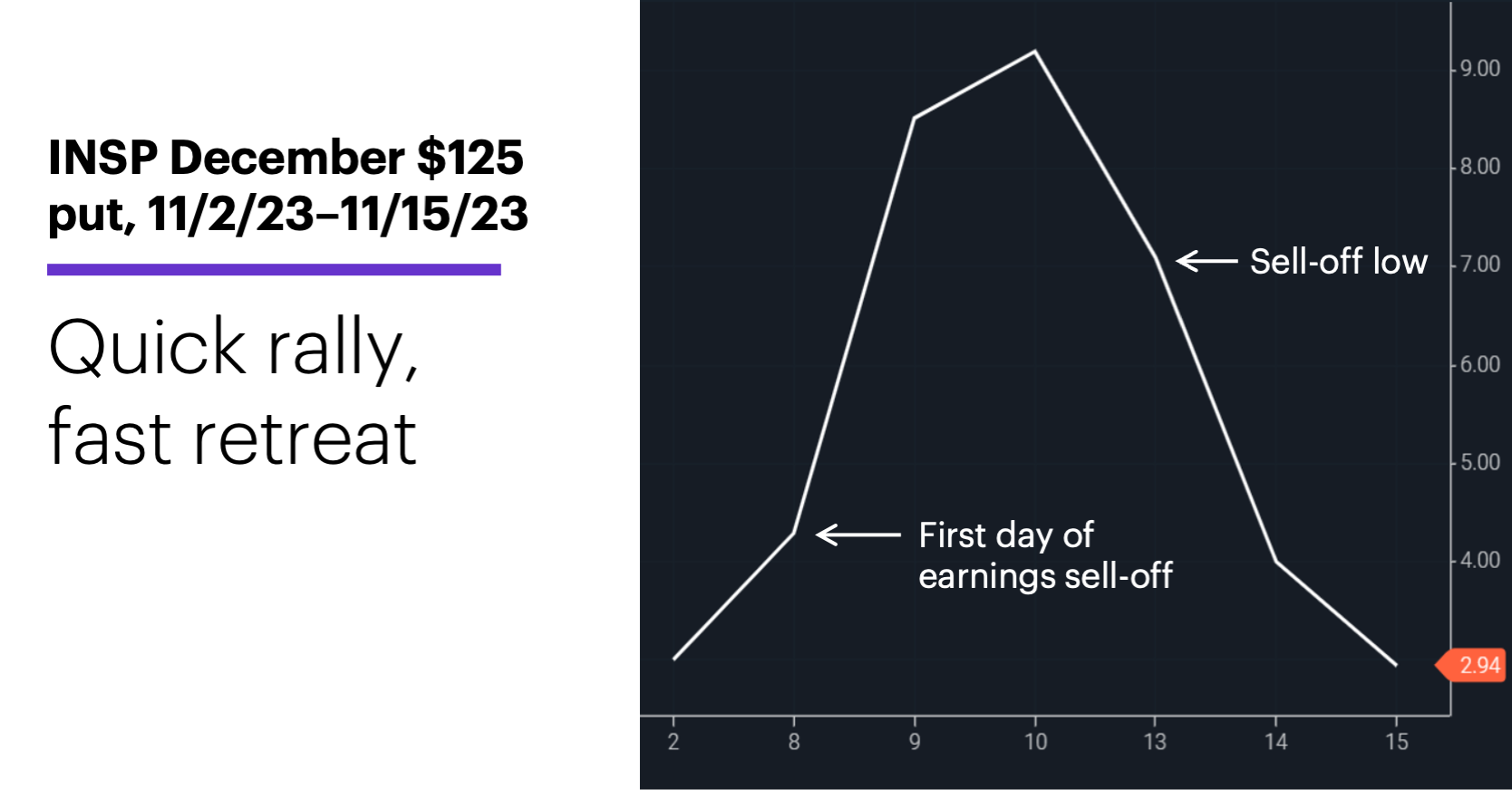 Source: Power E*TRADE. (For illustrative purposes. Not a recommendation.)
---
Two days later the option was trading below $3 as IV continued to decline and the stock rebounded.
It's a lesson all options traders need to remember: While buyers are helped by the prospect of rising IV that can inflate premiums, options sellers get a tailwind from falling IV that deflates premiums. Uncertainty often pumps up IV, and earnings announcements tend to reduce uncertainty.
Market Mover Update: January WTI crude oil futures (CLF4) failed their first test of a support-turned-resistance level around $80, following up Tuesday's downside pivot with a lower close on Wednesday, and a 5%-plus intraday sell-off on Thursday that dropped the market below $73 for the first time since July. Patterson-UTI Energy (PTEN) and other energy stocks followed suit (see "Energy gets a test").
Today's numbers include (all times ET): Housing Starts and Building Permits (8:30 a.m.), E-Commerce Retail Sales (10 a.m.).
Today's earnings include: BJ'S Wholesale Club (BJ), Buckle (BKE).
Note: If you'd like to learn more about anti-obesity drugs (AOD), tune in to our Market Update on November 28 to hear Morgan Stanley Wealth Management's Head of Market Research and Strategy, Dan Skelly, break down the impact of anti-obesity medications on the market.
Click here to log on to your account or learn more about E*TRADE's trading platforms, or follow the Company on Twitter, @ETRADE, for useful trading and investing insights.
---
1 MorganStanley.com. Weight Loss Drugs and the Global Economy. 11/9/23.
2 Reuters. Ozempic's early success in kidney disease trial drags down dialysis stocks. 10/11/23.
What to read next...
11/15/23
The oil market rebound faced a test as options traders established big positions in an energy stock.
---
11/13/23
As traders await the latest inflation numbers, the S&P 500 tests its October highs.
---
11/10/23
A price pattern with seemingly bearish implications turns out to have a more nuanced history.
---