Liquidity traps
Options market signaling possible move in MVBF?
Volatility near one-year high, April IV particularly elevated
Low-volume stocks, options increase risk
Last month when the broad market was giving back a good chunk of January's rally, regional bank MVB Financial (MVBF) rallied 25%—part of a 30% rally off its late-January low around $21, which was as low as the stock had been since late 2020.
That's notable volatility, not to mention the type most people prefer—to the upside. On Thursday, options implied volatility (IV) in MVBF was at a 52-week high: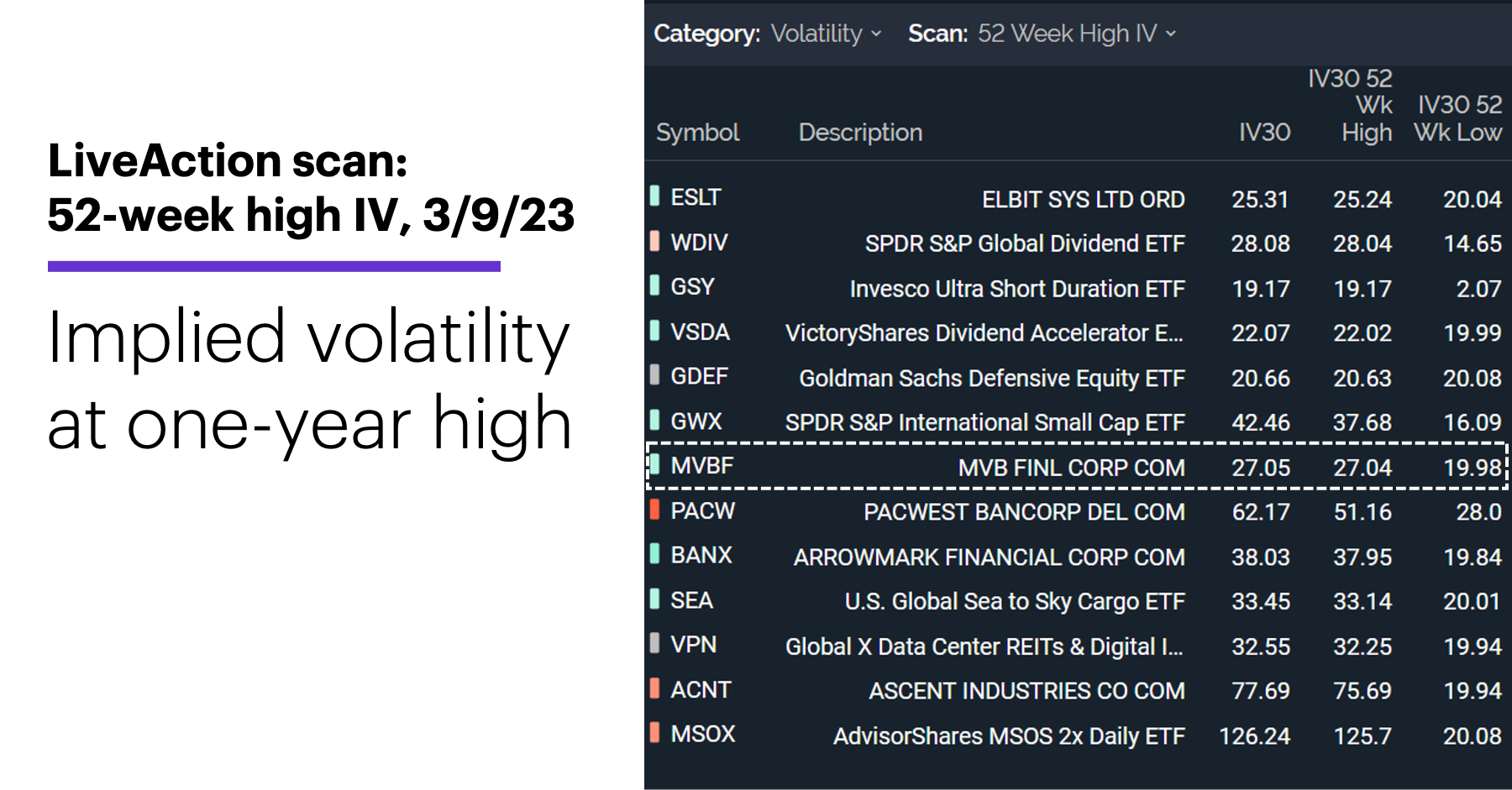 Source: Power E*TRADE. (For illustrative purposes. Not a recommendation.)
---
Meanwhile, MVBF's volatility constellation showed IV was particularly elevated in its April options, relative to the 30-day average: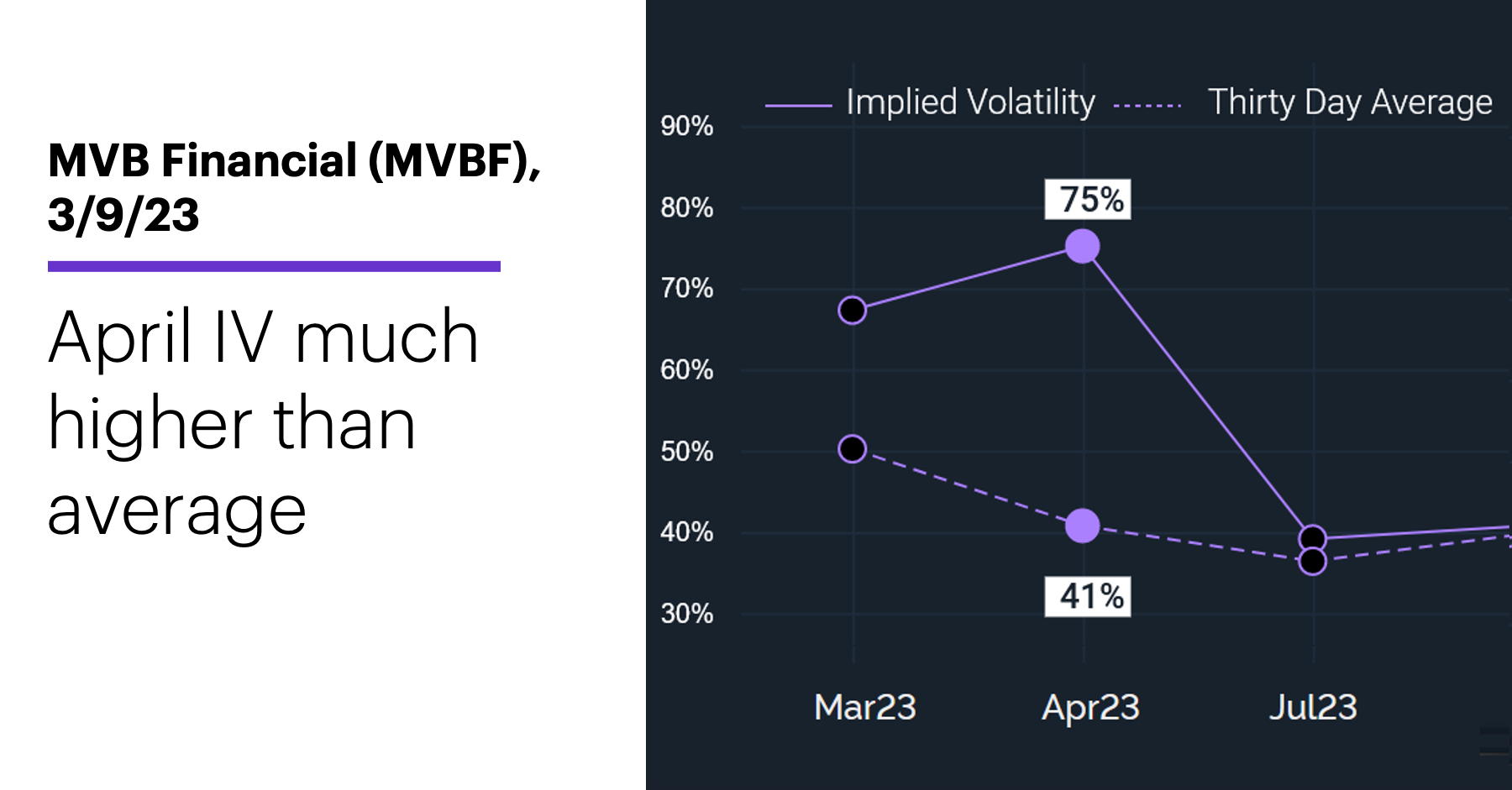 Source: Power E*TRADE. (For illustrative purposes. Not a recommendation.)
---
Let's say some traders saw this as an opportunity to collect premium by selling potentially overpriced April MVBF options. Traders expecting the stock to rally could sell puts, those looking for it to drop could sell calls, while those who thought it would move mostly sideways may have considered selling both.
Halfway through Wednesday's trading session, though, total MVBF options volume was zero. Not only that, the total open interest across four expiration months was two—one open contract in the March $30 calls and one in the July $17.50 puts.
Yesterday was a fairly active day for MVBF stock, by the way. Around 12:45 p.m. ET, more than 54,000 shares had changed hands—well above its 33,000 daily average. With the stock trading around $25.80, the April $25 call had a bid price of $0.20 and an ask price of $3.10—very wide bid–ask spreads for at-the-money options.
In other words, our options sellers may have needed to significantly lower their asking prices to make a trade, assuming any buyers would materialize at all. That means they'd likely be collecting much less premium and exposing themselves to potentially disproportional risk in the event the stock moved against them.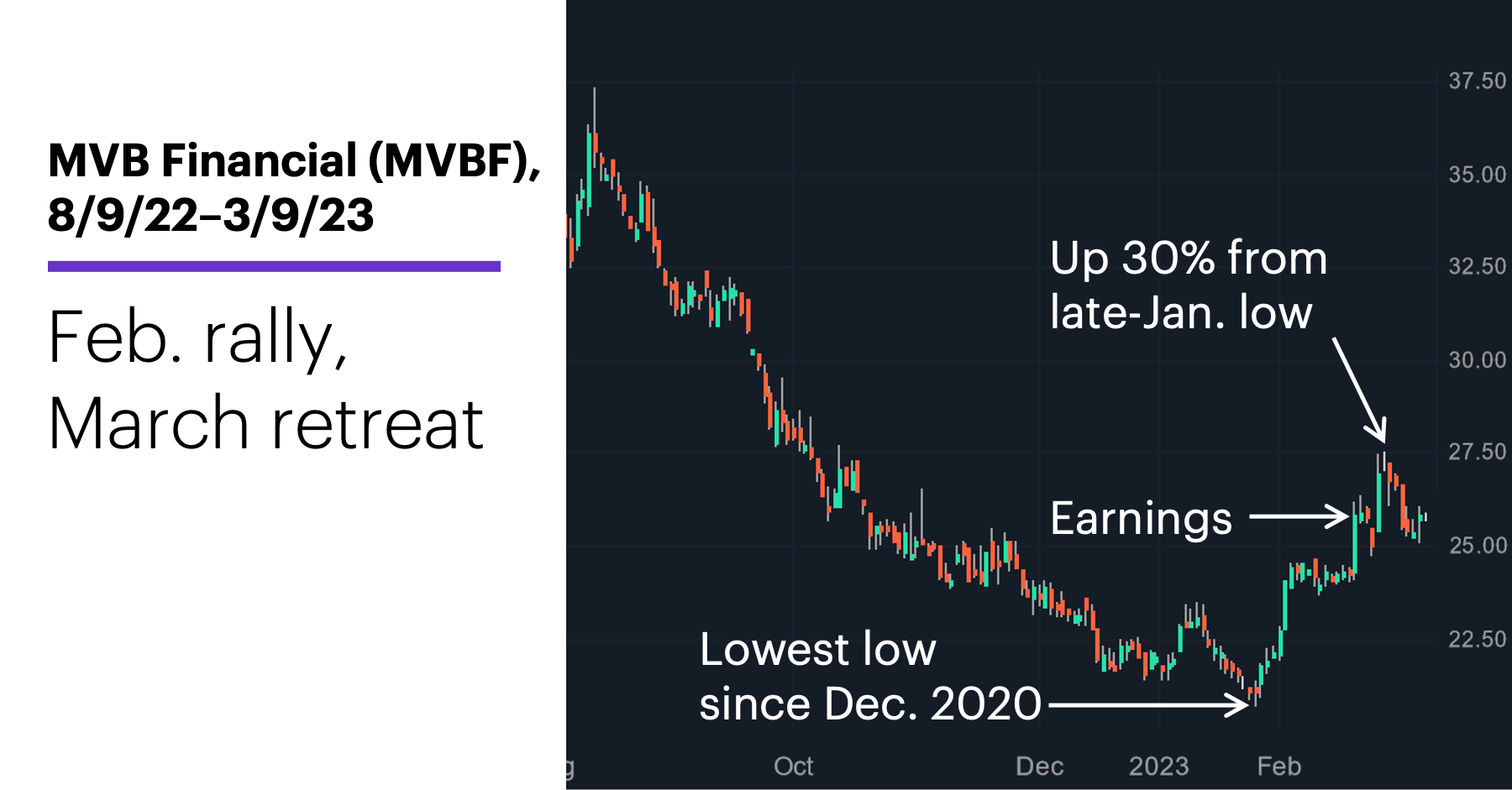 Source: Power E*TRADE. (For illustrative purposes. Not a recommendation.)
---
Of course, if MVBF's high IV level is "correct"—and there's never any guarantee it is—the options market is expecting more near-term volatility in MVBF than it has at any time in the past year. The stock's recent rally has been punctuated by several big up days, including on February 21 after it topped earnings estimates.
But that doesn't mean the stock is fertile ground for options traders. Bottom line, illiquid markets can put traders at an immediate disadvantage, even in situations where other factors appear to be providing an edge.
Market Mover Update: Crude oil prices dropped again on Thursday—April WTI oil futures (CLJ3) slipped into the red after being up more than 2% intraday (see "Energy sector seeks oil momentum").
Today's numbers include (all times ET): Employment Report (8:30 a.m.).
Today's earnings include: Buckle (BKE).
Click here to log on to your account or learn more about E*TRADE's trading platforms, or follow the Company on Twitter, @ETRADE, for useful trading and investing insights.
---
What to read next...
03/09/23
The oil patch may not run entirely on crude momentum, but it can face an uphill battle without it.
---
03/08/23
A real-world example shows some of the key differences between these related strategies.
---
03/06/23
Market halts skid as traders prepare for jobs report and key congressional testimony.
---