Have volatility, will travel
PLNT sold off sharply after omicron variant news
Stock jumped 20% in two days in early November to hit record high
High put volume when stock made lower low on Tuesday
Although recent market volatility following revelations about the COVID omicron variant was felt in most corners of the market, some corners felt it more than others.
It's no coincidence that airlines have been the weakest group in the S&P 500 industrial sector over the past five days, since the industry suffers when people are hesitant to travel—or think they may be prevented from doing so—because of virus restrictions.
Fitness clubs and related "socialization" businesses are similarly vulnerable, which is why it was unsurprising to see a stock like Planet Fitness (PLNT)—which jumped 20% in two days earlier this month after topping earnings estimates1—drop nearly 10% between last Thursday and Tuesday of this week: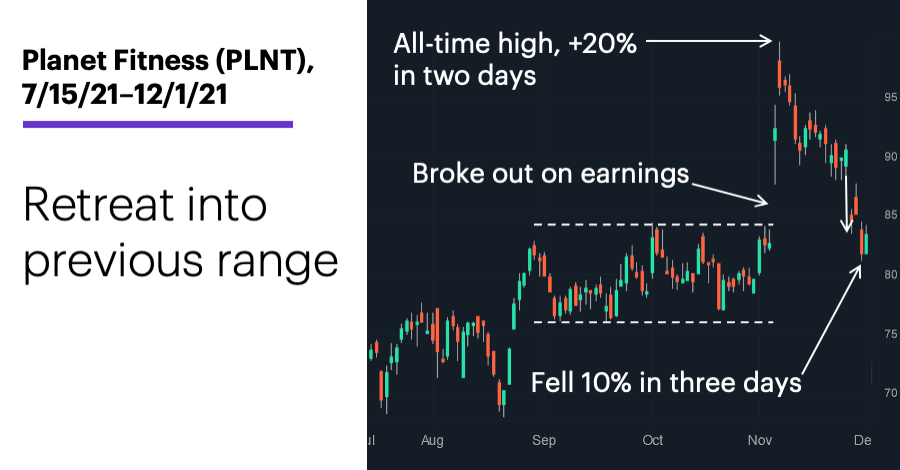 Source: Power E*TRADE (For illustrative purposes. Not a recommendation.)
---
And although the stock rebounded early in Wednesday's trading session, it later gave back those gains—spending a second-straight day back within the trading range it broke out of in early November.
On Tuesday, when it first pulled back below its former breakout point, LiveAction scans showed put options volume was nearly 29 times average (top), thanks to three large trades in the December monthly contracts (bottom):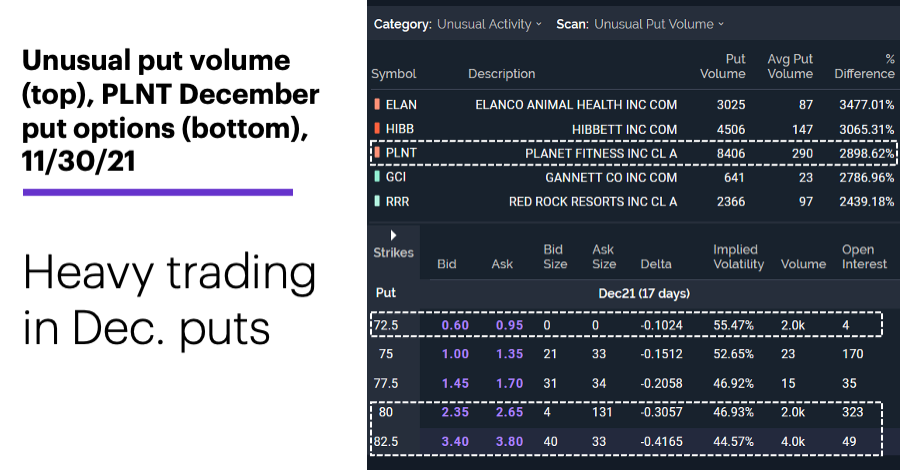 Source: Power E*TRADE (For illustrative purposes. Not a recommendation.)
---
This type of seemingly bearish activity often attracts the attention of contrarian traders. Less than a month ago, for example, PLNT was riding fairly high amid reports that Americans were heading back to the gym—the company's earnings call included the news that membership was 97% of pre-pandemic levels.2
The markets are still in the early stages of processing the omicron variant, but if the current uncertainty turns out to be worse than the reality—and other factors don't interfere—traders may be closely watching areas of the market that bore the brunt of the recent volatility.
Profiling December's stock market: If the S&P 500 (SPX) wants to get into its seasonal groove, it may need to reverse its recent sell-off over the next several days.
While "Viral setback" showed that December has been one of the more reliable up months for the US stock market, the following chart shows the SPX's typical path throughout the month in more detail. The lines map the SPX's median returns from the last trading day of November to each trading day of December, for three periods—1961–1980, 1981–2000, and 2001–2020: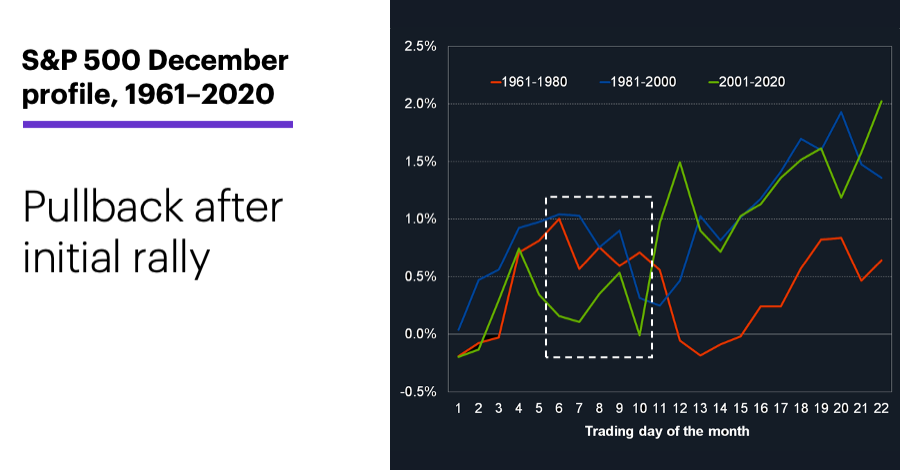 Source: Power E*TRADE. (For illustrative purposes. Not a recommendation.)
---
The chart highlights a couple of things. First, the market was a little more bullish in the two most recent 20-year periods (green and blue lines) than it was from 1961–1980 (red line). Second, regardless of the time window, the SPX tended to rally in the first several days of the month, and then pull back (dashed rectangle) before trending higher for the remainder of the month.
Today's numbers include (all times ET): Weekly jobless claims (8:30 a.m.).
Today's earnings include: Dollar General (DG), Marvell Technology (MRVL), Kroger (KR).
Click here to log on to your account or learn more about E*TRADE's trading platforms, or follow the Company on Twitter, @ETRADE, for useful trading and investing insights
---
1 StreetInsider.com. Planet Fitness (PLNT) Earnings. 12/1/21.
2 Time. America's Going to the Gym Again. That's Bad News for Peloton, But Great News for Mental Health. 11/12/21.
What to read next...
12/01/21
Find out what the market's recent volatility may signal as we head into year-end.
---
11/30/21
When it comes to options, sentiment extremes, and market turning points, it's all about context.
---
11/29/21
Stocks and oil pull back as COVID makes an unwelcome return to the headlines.
---