Traders drill down on energy options
PTEN put volume and OI heavy before earnings
16,000 contracts opened in OTM May option
Shares testing longer-term support?
A week before its April 20 earnings announcement, Knight-Swift Transportation (KNX) put trades outnumbered call trades by roughly 137 to one—the highest put-call ratio of any stock trading above $20 on Thursday. Two strikes, the May $55 and $45 puts, accounted for the majority of the activity: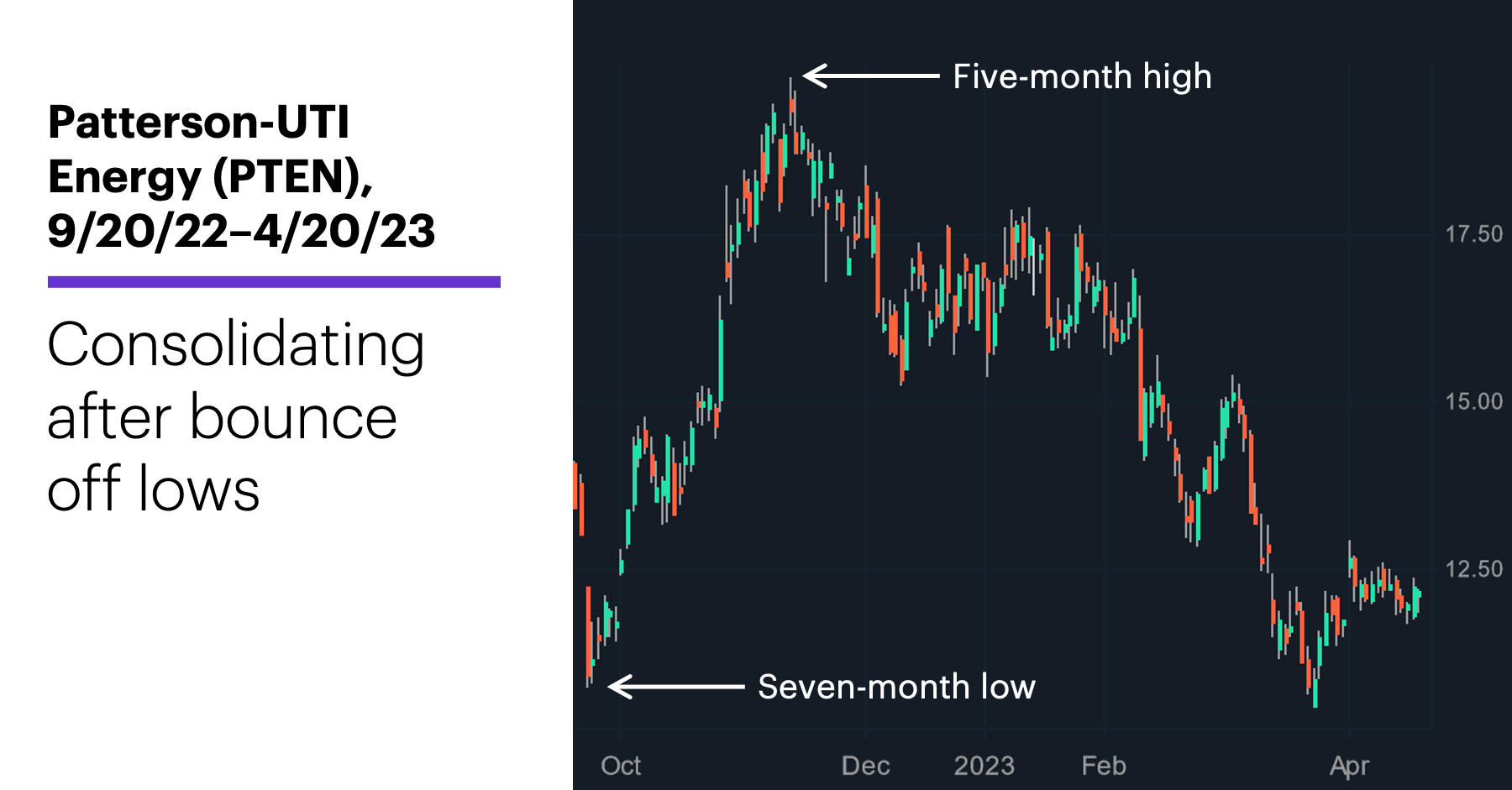 Source: Power E*TRADE. (For illustrative purposes. Not a recommendation.)
---
The stock has stagnated over the past few weeks after bouncing off those March lows, but yesterday produced a large print on the options tape—16,000 of the May $10 puts, representing a $16,000,000 stock position: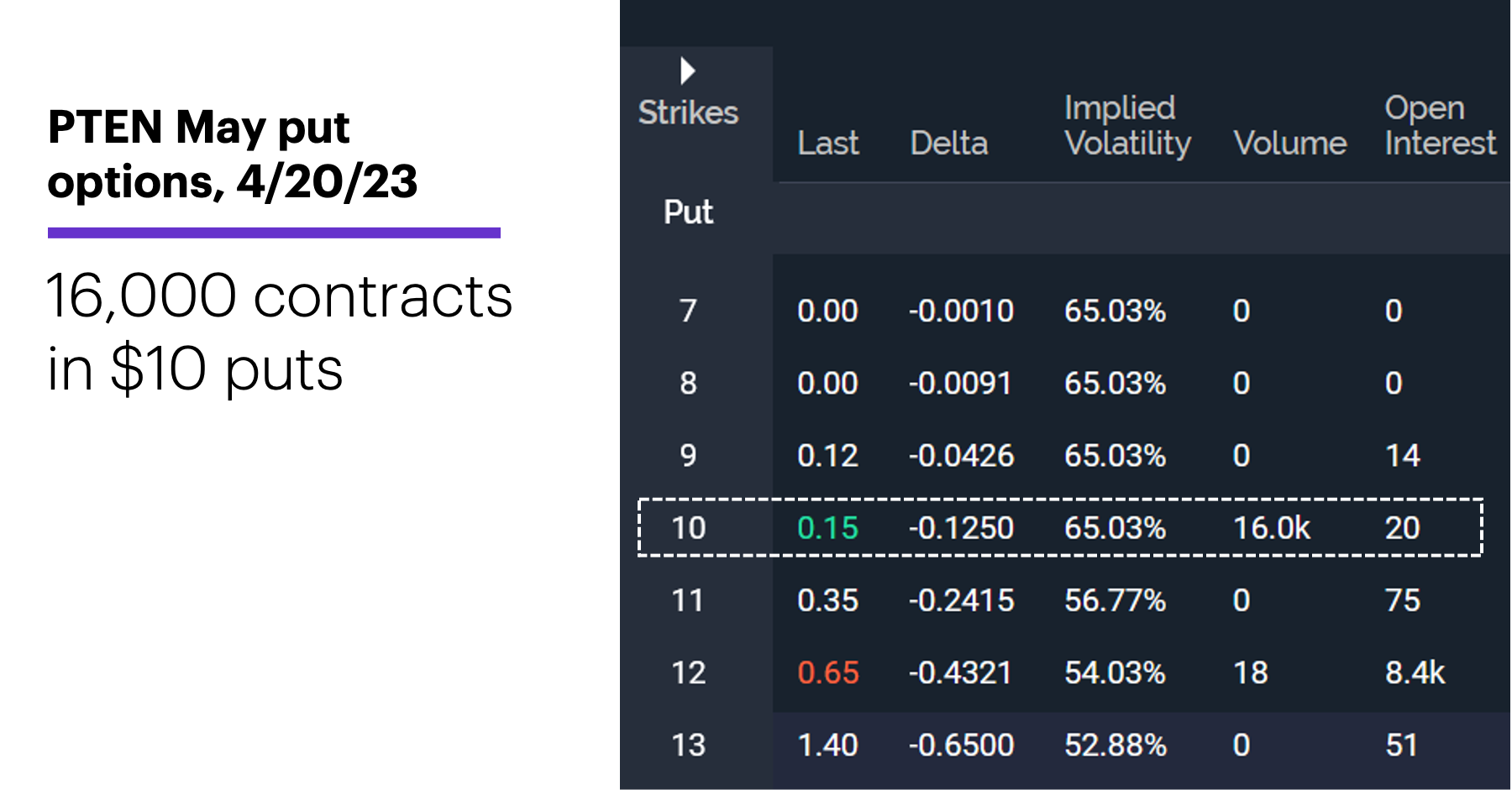 Source: Power E*TRADE. (For illustrative purposes. Not a recommendation.)
---
Two items to note: On Thursday open interest (OI) in the contract was only 24, which suggests traders were opening new positions. Also, PTEN is currently scheduled to announce earnings next Wednesday, April 26.
This trade (15,595 contracts were executed in a single block) may have been the only notable options volume in PTEN, but it's not the only open position of size. In addition to the 8,400 contracts in the May $12 puts shown above (which are matched by 8,400 contracts in May $12 calls in a possible straddle), there are also 33,000 April $10 puts, which expire today. But there are also some sizable open call positions—2,300 in the May $13 calls and 3,500 in the May $14 calls—so the put-call balance isn't quite as skewed toward puts as it may first appear.
Finally, while PTEN shares may appear to have been on a bit of a rollercoaster ride in recent months, a long-term chart puts these moves in a different context:
Source: Power E*TRADE. (For illustrative purposes. Not a recommendation.)
---
The 78% rally off the September lows and 45% correction from the November highs appear here as more modest moves that highlight intermediate-term support and resistance levels: The September 2022 and March 2023 lows occurred around the 50% retracement level of the April 2020–May 2022 rally, which also marked the test of the February 2022 consolidation breakout.
Final note: Since 33,325 of the April $10 puts traded on March 1 for $0.13, daily volume in the contract has been negligible—never more than 470, usually less than 50, and often zero. If those contracts are, in fact, held through today's expiration and PTEN closes above $10, the seller(s) would stand to gain around $433,000, while the buyer(s) would lose that amount. On Thursday, the 16,000 May $10 puts traded for $0.15, which would translate into a roughly $234,000 profit or loss if held until expiration and the stock closes above $10.
Market Mover Update: Energy has been one of the weakest S&P 500 sectors over the past week, tracking a roughly 6% decline in US crude oil prices (see "Tapping into the oil surge").
Today's numbers include (all times ET): S&P Global Manufacturing and Services flash PMIs (9:45 a.m.).
Today's earnings include: Freeport-McMoRan (FCX), HCA Healthcare (HCA), Newmont (NEM), Procter and Gamble (PG), Schlumberger (SLB).
Click here to log on to your account or learn more about E*TRADE's trading platforms, or follow the Company on Twitter, @ETRADE, for useful trading and investing insights.
---
What to read next...
04/19/23
Find out what was happening beneath the surface as a stock pressed to new highs on high call volume.
---
04/18/23
Find out what was happening as the market opened a new week of trading.
---
04/17/23
Stocks notch weekly gain as traders weigh falling inflation against economic slowdown.
---