Behind the earnings curtain
HSY rallied early Tuesday on heavy put volume
Most active options expire four weeks after earnings
Calls still dominate in August monthly options
Making sense of constantly moving markets is always a challenge, but the distortions and head fakes that can occur around earnings sometimes seem tailor-made to throw traders and investors off balance. In the run-up to an earnings announcement, a stock may unexpectedly jerk higher or lower (without any apparent news), options volume can surge (even when the stock is going nowhere), and implied volatility can jump (inflating premiums).
The options component can be especially confusing. Consider Tuesday's activity in Hershey (HSY), which landed on the LiveAction scan for unusual put volume, which was more than nine times average in early trading: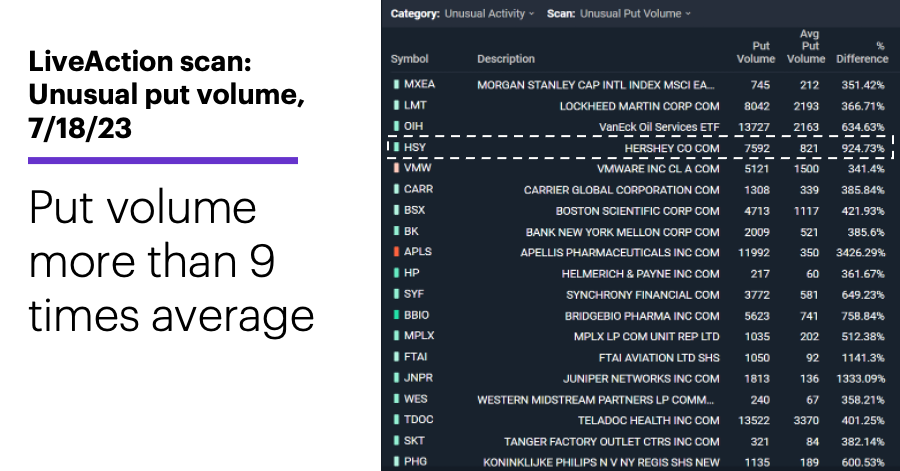 Source: Power E*TRADE. (For illustrative purposes. Not a recommendation.)
---
Traders inclined to assume elevated put volume is inherently bearish may have been caught off guard by the stock's early 1.5% rally, which was much larger than the broad market's relatively quiet gain on Tuesday morning.
Hershey's earning are currently scheduled for July 27. Many traders would naturally think the majority of pre-earnings positioning would occur in options expiring nearest to the announcement date. In this case, though, with HSY trading between $238.24–$243.05 on Tuesday, most of the options activity was concentrated in out-of-the-money (below the current stock price) August 25 options: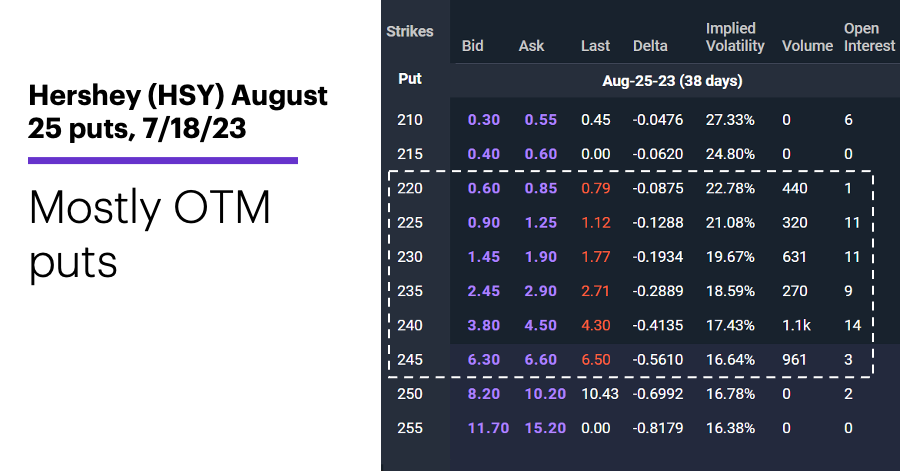 Source: Power E*TRADE. (For illustrative purposes. Not a recommendation.)
---
The volume in the most active August 25 puts was greater than the open interest (OI), which means it could represent new positions instead of trade liquidations (check today's OI to see if it's higher or lower).
But why these options? After all, there were four other expirations (July 28, August 4, August 11, and August 18) closer to the earnings date, all of which offered higher deltas than the August 25 puts highlighted above. In other words, the closer-to-earnings puts were likely to respond more to moves in HSY stock, which would seem to make them more attractive to traders interested in any earnings-related volatility. Further complicating the picture is that while traders appeared to be opening new put positions yesterday, existing positions still tilt toward calls. On Tuesday, the total OI in just two August 18 strikes (the $250 and $260 calls) was 5,700 contracts, more than the total OI for all August 18 puts.
Finally, Hershey's Tuesday rally, which evaporated as the day wore on, was an exception to the stock's mostly bearish trading since early May: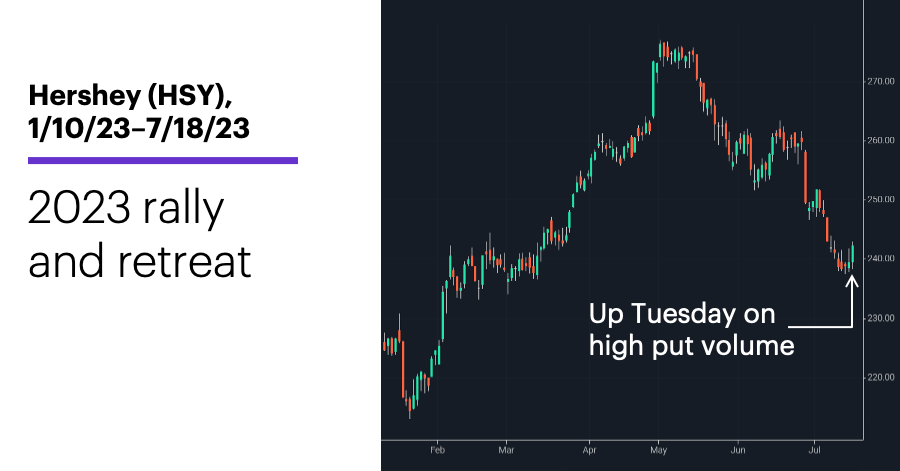 Source: Power E*TRADE. (For illustrative purposes. Not a recommendation.)
---
Tomorrow's data can cast today's data in an entirely different light. There is such a thing as "analysis paralysis"—getting bogged down by too much information—but for most traders, the risks of making snap decisions about real-time market data usually outweigh the potential rewards.
Market Mover Update: After falling on Tuesday, Mattel (MAT) is down around 5% from the 10-month intraday high it hit last Thursday (see "Welcome to the trading dollhouse").
Don't call it a rally yet, but August gold futures (GCQ3) have gained more since June 29 than they have in any upswing since March. The market turned higher not long after Morgan Stanley & Co. analysts outlined the reasons gold could push higher.1
Today's numbers include (all times ET): MBA Mortgage applications (7 a.m.), Housing Starts and Building Permits (8:30 a.m.), EIA Petroleum Status Report (10:30 p.m.).
Today's earnings include: Goldman Sachs (GS), Halliburton (HAL), US Bancorp (USB), Alcoa (AA), Crown Castle (CCI), F5 (FFIV), International Business Machines (IBM), Netflix (NFLX), Tesla (TSLA), United Airlines (UAL).
Click here to log on to your account or learn more about E*TRADE's trading platforms, or follow the Company on Twitter, @ETRADE, for useful trading and investing insights.
---
1 MorganStanley.com. Gold's time to shine. 6/22/23.
What to read next...
07/17/23
Inflation drops, stocks erase pullback as Q2 reporting season begins.
---
07/13/23
Toymaker's recent surge may look different to some traders in light of past rallies.
---
07/11/23
Find out which options were in play after this consumer stock's surprisingly large earnings move.
---