Getting faked by first impressions
PG fell Thursday after releasing earnings
Intraday sell-off followed big down day
Some similar moves followed by "head-fake"
Earnings season is a good time to remember that the markets are fond of misdirection, getting traders to lean one way before taking off in the opposite direction.
Procter & Gamble (PG) shares fell Thursday after the company topped its headline earnings and revenue numbers, but delivered a more complex story below the surface: Sales dropped (pressured by high commodity costs), but the consumer goods company raised its full-year sales estimates and said it would continue to raise prices.1
That mixed picture may have had something to do with the stock's initial price swings. Although PG fell more than 2% in early trading, by mid-morning shares were in the upper half of the day's range and had pushed briefly into positive territory: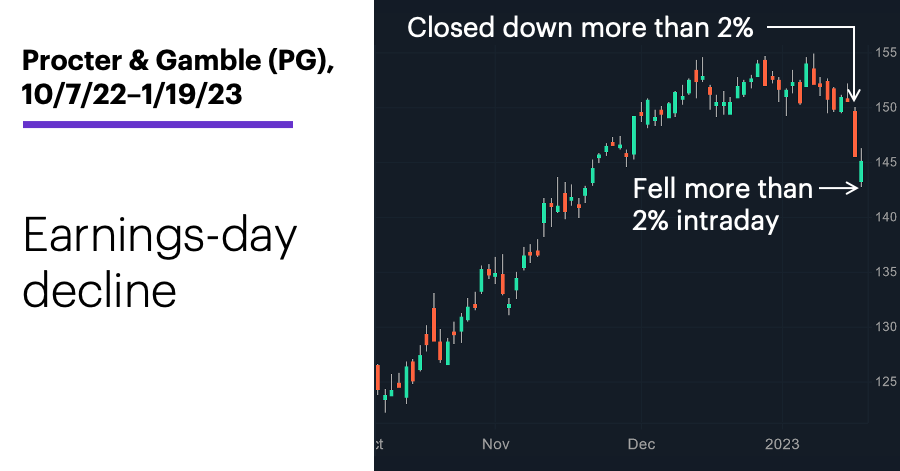 Source: Power E*TRADE. (For illustrative purposes. Not a recommendation.)
---
The fact that PG closed lower the day it released earnings isn't particularly unusual—it's done that 14 out of the past 36 times, and Thursday was also a down day for the broad market. Thursday did, however, follow a day PG closed down more than 2%, and the stock has formed that particular two-day pattern only 159 times since 19701—roughly once every four months, on average.
The stock's intraday rebound may have given the impression that traders and investors had a change of heart about PG's earnings, and viewed the sell-off as a buying opportunity. But the following chart suggests such intraday rebounds (if they hold—PG drifted lower again later in the trading session) aren't necessarily as bullish as they may appear to be in the moment: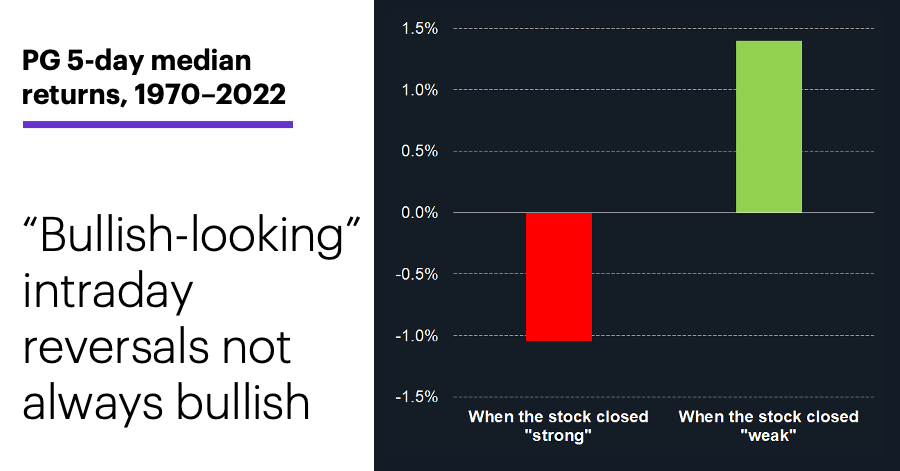 Source (data): Power E*TRADE. (For illustrative purposes. Not a recommendation.)
---
The columns compare PG's five-day median returns after two variations of the type of move it made on Wednesday–Thursday: whether the stock closed "strong" on the second day (above the opening price and in the upper half of the day's range) or "weak" (below the opening price and in the lower half of the day's range). After the strong-closing examples, PG's median five-day return was -1.1% (and the stock lost ground in 64.5% of cases), while its median five-day return after the weak-closing examples was +1.4%, with the stock gaining ground 61.4% of the time.2
In other words, when PG rebounded intraday on the second day of these two-day sell-offs—that is, when things may have "looked" bullish—the stock tended to be weaker over the next five days. But when it closed bearishly on the second day, it was more likely to be trading higher five days later.
Today's numbers include (all times ET): Existing Home Sales (10 a.m.).
Today's earnings include: Schlumberger (SLB).
Click here to log on to your account or learn more about E*TRADE's trading platforms, or follow the Company on Twitter, @ETRADE, for useful trading and investing insights.
---
1 Reuters. P&G raises sales forecast on price hikes, sees volumes fall. 1/19/22.
2 All figures reflect Procter & Gamble (PG) daily price data, 1/2/70–2/19/22. The five-day returns reflect 31 "strong-closing" examples and 101 "weak-closing" examples of the following two-day pattern: a day the stock fell at least 2% intraday the day after it closed at least 2% lower. Supporting document available upon request.
What to read next...
01/18/23
Some of the biggest names in tech will be reporting their numbers in the next two weeks.
---
01/17/23
Biggest weekly gain since November, market hits four-week high.
---
01/13/23
One simple combination can help offset some of the inherent drawbacks in a long options trade.
---