Big trades in "deep" options
BYD up for year, has paused since earnings beat
Options volume exceptionally high on Monday
Large position still open in deep OTM puts
Stocks can push their way into the spotlight for different reasons. For example, many investors may be aware of Boyd Gaming (BYD) because of its strong rally since October and its early-February earnings beat, while traders may have noticed the stock just tested the top of its recent consolidation.
After rallying 7% on February 3 in the wake of its earnings release, BYD has been confined to a less-than-$3 trading range, even though yesterday's intraday peak of $67.28 was as high as the stock has been since April 21, 2022: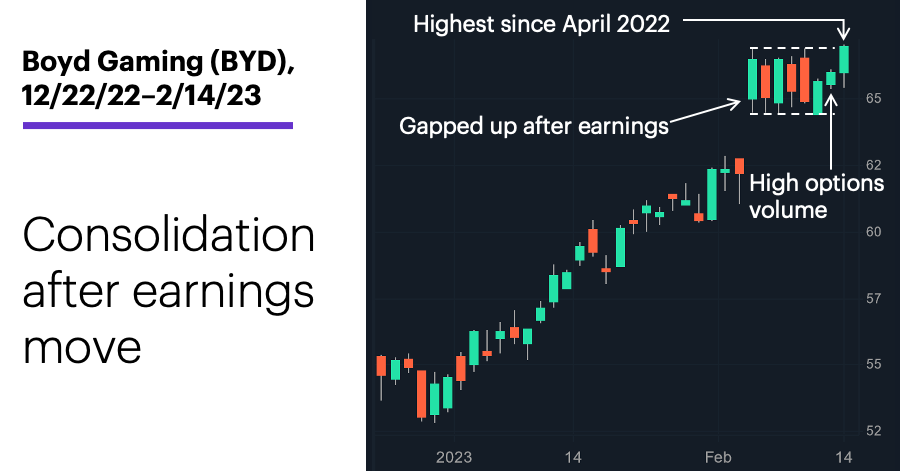 Source: Power E*TRADE. (For illustrative purposes. Not a recommendation.)
---
Then there are options traders, many of whom were likely taking note of BYD a day earlier. Scanning for unusual options activity can sometimes highlight significant activity in stocks that don't seem to be doing much at first glance. In this case, BYD topped Monday's LiveAction scan for unusual options volume (nearly 39 times average), even as its stock was trading quietly: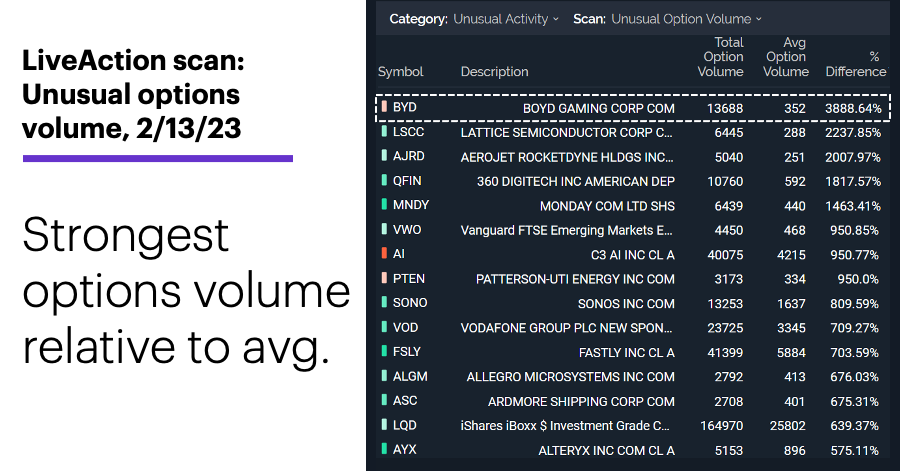 Source: Power E*TRADE. (For illustrative purposes. Not a recommendation.)
---
On a day BYD closed around $66, almost all the day's options volume was in two (deep) out-of-the-money (OTM) put options:
1. 6,750 of the January 2025 $30 puts
2. 6,750 of the December 2025 $35 puts
There's actually quite a bit of information to unpack here. Not only were the strike prices of these options around half the current stock price, their respective expirations were nearly two and three years away. Also, the open interest (OI) in the January 2025 puts was 6,750 while the OI in the December 2025 puts was zero, which means a trader could have been "rolling" a large position from January to December 2025—that is, closing the January position and re-establishing it in December, one strike price higher.
It was significant activity, by any measure: The 6,750-contract position in the January 2025 puts represented $20,250,000 of BYD stock. Also, the option's price chart showed there have been only two days with trading activity over the past five months—September 20, 2022 and Monday: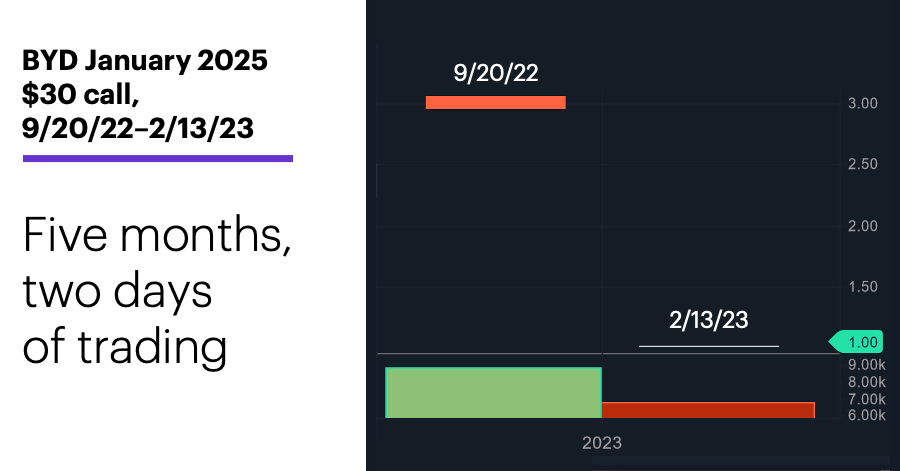 Source: Power E*TRADE. (For illustrative purposes. Not a recommendation.)
---
On September 20, when the stock was a few days from hitting a 19-month low, the put closed at 2.95 ($295), which means a buyer would have spent $1,991,250 for 6,750 of them, while a seller would have collected that much. On Monday, the put closed at 1.00 ($100). That means a trader who shorted 6,750 of them in September and covered them on Monday would have collected a gross profit of more than $1.3 million, while a trader who bought them in September and sold them on Monday would have lost the same amount.
Not all the "important" trading occurs in the options that are closest to expiration. Traders who just scanned the first few BYD options expirations wouldn't have seen this activity. But as this example shows, even distant and deep OTM options can represent significant positions. And as of yesterday, one trader still had a 6,750-contract position in the December $35 puts.
Today's numbers include (all times ET): Mortgage applications (7 a.m.), Retail Sales (8:30 a.m.), Empire State Manufacturing Index (8:30 a.m.), Industrial Production (9:15 a.m.), Business Inventories (10 a.m.), Housing Market Index (10 a.m.), EIA Petroleum Status Report (10:30 a.m.).
Today's earnings include: Albemarle (ALB), Analog Devices (ADI), Barrick Gold (GOLD), Boston Beer Company (SAM), Kraft Heinz (KHC), SunPower (SPWR), Waste Connections (WCN), Roblox (RBLX), Trade Desk (TTD), Zillow (ZG), Shopify (SHOP), Copart (CPRT).
Click here to log on to your account or learn more about E*TRADE's trading platforms, or follow the Company on Twitter, @ETRADE, for useful trading and investing insights.
---
What to read next...
02/13/23
Stocks pull back as traders await latest readings on consumer and producer prices.
---
02/10/23
Software stock's surge highlights key trade factors for options traders.
---
02/09/23
Many traders probably missed it, but the S&P 500 formed a fairly rare pattern on Wednesday.
---