V for Volatility
Stocks fall for second-straight week, second month out of three
VIX jumps to 10-month high, oil slides to three-month low
This week: Consumer Price Index (CPI), LULU and COST earnings, VIX watch
Anyone who thought Friday's early stock rally was a lock to carry into the close probably hadn't been watching the market at all last week.
A steady stream of omicron headlines, interspersed with Fed chatter and a jobs-report miss, resulted in a rollercoaster week—daily S&P 500 (SPX) moves of +1.3%, -1.9%, -1.2% (after being up more than 1% intraday), +1.4%, and -0.8%: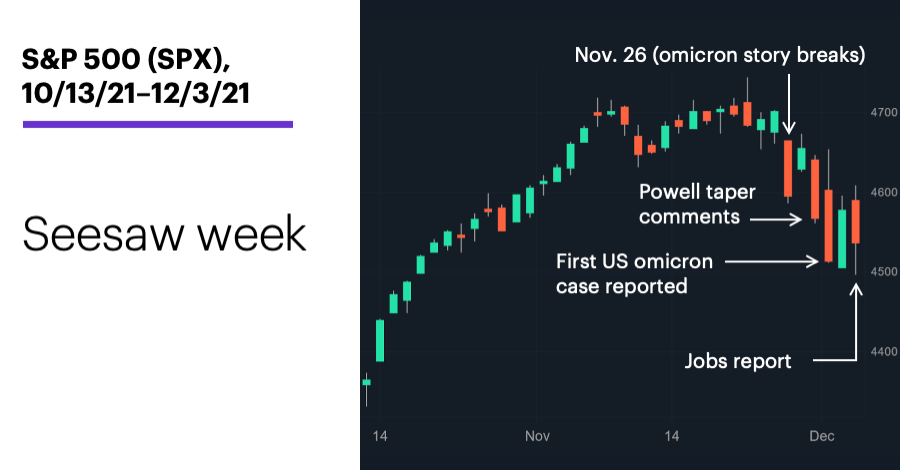 Source: Power E*TRADE. (For illustrative purposes. Not a recommendation.)
---
The headline: Late-November bearishness spills over into December.
The fine print: It wasn't all omicron last week. A mild intraday dip morphed into a larger sell-off on Tuesday after Fed Chair Jerome Powell suggested the central bank may speed up the tapering process, potentially laying the groundwork for sooner-rather-than-later rate hikes.1
The number: 210,000, the number of jobs the US economy added in November—less than half the consensus estimate. But the unemployment rate fell from 4.6% to 4.2%.2
The scorecard: The Dow Jones Industrial Average (DJIA) held up best to the selling pressure despite suffering its fourth-straight down week, while the Russell 2000 (RUT) fell the most and also extended its losing streak to four weeks:
Source (data): Power E*TRADE. (For illustrative purposes. Not a recommendation.)
---
Sector roundup: The strongest S&P 500 sectors last week were utilities (+0.7%), real estate (-0.1%), and consumer staples (-0.6%). The weakest sectors were communication services (-3.1%), consumer discretionary (-2.7%), and financials (-2.1%).
Highlight reel: Krystal Biotech (KRYS) +122% to $88.24 on Monday, Build-A-Bear Workshop (BBW) +27% to $21.66 on Wednesday. On the downside, Olema Pharmaceuticals (OLMA) -60% to $8.75 on Tuesday, BeyondSpring (BYSI) -61% to $4.93 on Wednesday, DocuSign (DOCU) -42% to $98.73 on Friday.
Futures action: January WTI crude oil (CLG2) fell to its lowest low ($62.43/barrel) in more than three months early last Thursday, then reversed to the upside before closing the week at $66.26. Given the volatility in other markets, February gold (GCG2) was surprisingly quiet last week, drifting modestly lower to close at $1,783.90/ounce on Friday. Biggest up moves: January lumber (LBSF2) +18.9%, December VIX (VXZ1) +9.6%. Biggest down moves: January natural gas (NGF2) -25.7%, March cotton (CTH2) -6.8%.
Coming this week
This week's numbers include:
●Tuesday: Trade deficit, Productivity and Labor Costs, Imports and Exports, Consumer Credit
●Wednesday: Job Openings and Labor Turnover Survey (JOLTS)
●Thursday: Wholesale Inventories
●Friday: Consumer Price Index (CPI), Michigan Consumer Sentiment (preliminary), 5-year inflation expectations
This week's earnings include:
●Today: Coupa Software (COUP), Science Applications International (SAIC), MongoDB (MDB), HealthEquity (HQY)
●Tuesday: Designer Brands (DBI), AutoZone (AZO), Toll Brothers (TOL), Casey's General Stores (CASY), Stitch Fix (SFIX)
●Wednesday: United Natural Foods (UNFI), Campbell Soup (CPB), Weber (WEBR), RH (RH)
●Thursday: Lululemon (LULU), Broadcom (AVGO), Chewy (CHWY), Costco (COST)
●Friday: Blade Air Mobility
This week's IPOs include: Austin Gold (AUST), Intensity Therapeutics (INTS), Chicago Atlantic Real Estate Finance (REFI)
Check the Active Trader Commentary each morning for an updated list of earnings announcements, IPOs, economic reports, and other market events.
Eyes on the VIX
The stock market's recent gyrations have resulted in some eye-catching moves in the Cboe Volatility Index (VIX). When the omicron news broke on November 26, the VIX spiked 54%—its biggest one-day jump since January, and its fourth-largest of the past two decades.
When the SPX closed at a six-week low last Wednesday (December 1), the VIX hit its highest level in 10 months—then pushed even higher when the SPX fell to a fresh intraday low on Friday: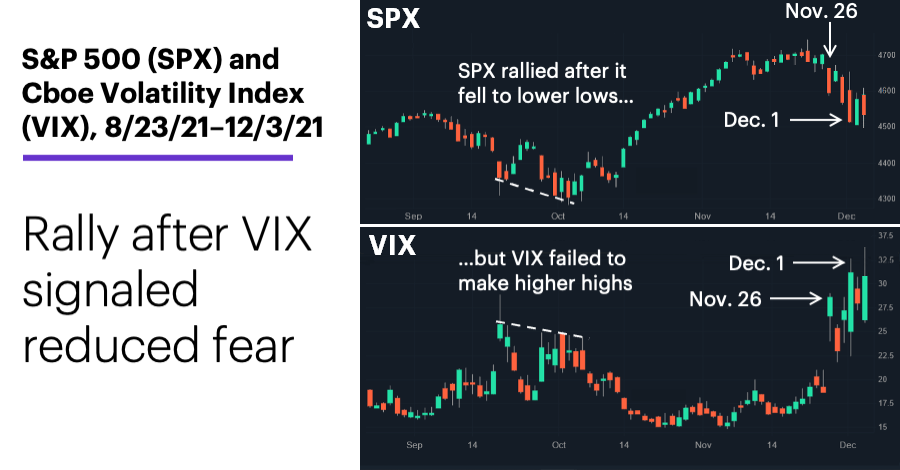 Source (data): Power E*TRADE. (For illustrative purposes. Not a recommendation.)
---
The interaction between the SPX and the VIX during the market's September–October downturn highlights a dynamic many traders may be thinking about this week (and beyond). While the VIX has typically jumped when the market has sold off to new lows (signaling expectations of increased future market volatility), when the SPX dropped below its September 20 low at the end of the month and first few days of October, the VIX failed to match its September 20 highs—suggesting reduced volatility concerns even though the market had fallen to fresh lows. That marked the beginning of what turned out to be the strongest October rally since 2015.
Click here to log on to your account or learn more about E*TRADE's trading platforms, or follow the Company on Twitter, @ETRADE, for useful trading and investing insights.
---
1 Econoday.com. Fed Chair Speech. 11/30/21..
2 Reuters. U.S. job growth slows; unemployment rate plunges to 4.2%. 12/3/21.
What to read next...
12/03/21
This week's choppy price action included an unusual type of day that many people may have overlooked.
---
12/02/21
The recent volatility may make things particularly interesting in certain areas of the market.
---
12/01/21
Find out what the market's recent volatility may signal as we head into year-end.
---