Inflation stirs the pot
Stocks churn as inflation soars, Fed fleshes out 2022 interest-rate path
Defensive sectors lead, tech and energy lag
This week: Latest Fed inflation number, housing data, durable goods orders
The holidays haven't started yet—for the markets, anyway.
US stocks are coming off another volatile week as inflation data continued to surprise to the upside and the Federal Reserve outlined the path for raising interest rates in the New Year to address—you guessed it, rising inflation.
The S&P 500 (SPX) dropped sharply last Tuesday in the wake of the latest Producer Price Index (PPI) reading, then surged on Wednesday after the Fed announced it would accelerate the tapering process, and revealed most members expect three rate hikes in 2022.1 But even though the SPX lost ground for the week, on Wednesday it came up just short of its record close, and on Thursday narrowly missed matching its all-time intraday high:
Source: Power E*TRADE. (For illustrative purposes. Not a recommendation.)
---
The headline: Volatility order of the day as Fed moves on inflation.
The fine print: The Fed bumped up its inflation forecast for 2022 from 2.2% to 2.6%, while projecting a drop in the unemployment rate to 3.5%.2
The number: 9.6%, the year-over-year increase in the PPI reported last Tuesday—the largest annual jump on record.
The scorecard: It was red across the board for the major indexes, but with tech being weaker than most areas of the market, the Nasdaq 100 (NDX) took the biggest hit: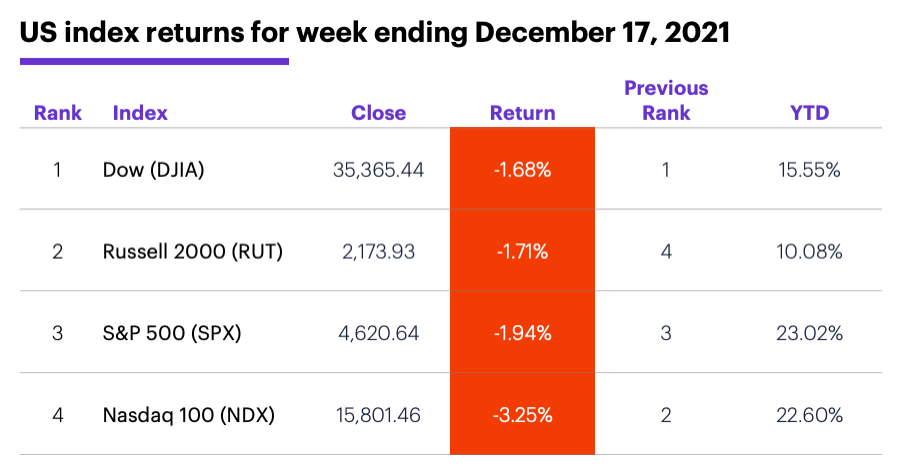 Source (data): Power E*TRADE. (For illustrative purposes. Not a recommendation.)
---
Sector roundup: The strongest S&P 500 sectors last week were health care (+2.8%), real estate (+2.1%), and consumer staples (+1.9%). The weakest sectors were energy (-4.6%), consumer discretionary (-4.1%), and information technology (-3.8%).
Highlight reel: On Monday Arena Pharmaceuticals (ARNA) +80% to $90.08, Foghorn Therapeutics (FHTX) +55% to $18.58, On the downside, IGM Biosciences (IGMS) -41% to $29.25 on Monday, Uniqure (QURE) -30% to $20.24 on Thursday.
Futures action: After Wednesday's Fed announcement, February gold (GCG2) sold off, then surged, breaking out of a short-term consolidation on Thursday. But after pushing to a three-week intraday high of $1,815.70/ounce on Friday, the market reversed to close at $1,804.90. February WTI crude oil (CLG2) chopped up and down most of last week, closing Friday at $70.72 barrel. Biggest up moves: January VIX (VXF2) +5.2%, February nonfat dry milk (DGG2) +3.4%. Biggest down moves: March natural gas (NGH2) -6.9%, December ether (ETHZ1) -4.6%.
Coming this week
Before the markets close on Thursday, traders will be served up housing numbers, durable goods data, and the Fed's preferred inflation gauge, the PCE Price Index:
●Monday: Leading Economic Indicators
●Tuesday: Q3 Current Account
●Wednesday: Mortgage rates, Q3 GDP (final), Chicago Fed National Activity Index, Existing Home Sales, Consumer Confidence
●Thursday: Personal Income and Spending, Durable Goods Orders, PCE Price Index, New Home Sales, Consumer Sentiment
●Friday: Markets closed in observance of Christmas
This week's earnings include:
●Monday: Blade Air Mobility (BLDE), Calavo Growers (CVGW), Micron Technology (MU), Nike (NKE)
●Tuesday: Rite Aid (RAD), General Mills (GIS), FactSet Research (FDS)
●Wednesday: CarMax (KMX), Paychex (PAYX), Cintas (CTAS)
Check the Active Trader Commentary each morning for an updated list of earnings announcements, IPOs, economic reports, and other market events.
December countdown
As noted here a week ago, the stock market has tended to rally in the early portion of December, and this year was no exception.
As of Friday, the market still appeared to be following the broad strokes of its historical performance baseline, with the major difference being this year's early-December rally was larger than average, while its mid-month retreat is (so far) milder than average. This chart compares the SPX's performance this month through Friday (green) with its median December return profile over the past 30 years (blue):3
Source (data): Power E*TRADE. (For illustrative purposes. Not a recommendation.)
---
What remains to be seen is whether the SPX will continue to reflect the 30-year template by staging some sort of late-December rally. Tomorrow's Active Trader Commentary will follow up on that topic by taking a closer look at the market's end-of-year tendencies.
Click here to log on to your account or learn more about E*TRADE's trading platforms, or follow the Company on Twitter, @ETRADE, for useful trading and investing insights.
---
1 Bloomberg.com. Fed Doubles Taper, Signals Three 2022 Hikes in Inflation Pivot. 12/15/21.
2 Reuters. Fed signals three rate hikes in the cards in 2022 as inflation fight begins. 12/15/21.
3 All figures reflects S&P 500 (SPX) daily closing prices, 12/31/90–12/31/20. Supporting document available upon request.
What to read next...
12/17/21
Gold recently showed signs of life, but its longer-term record suggests traders may want to separate it from the inflation issue.
---
12/16/21
Two moves this week highlight key aspects of the so-called "index effect."
---
12/15/21
Tuesday's trading in this sport and entertainment stock showed why experienced traders don't jump to conclusions about big options trades.
---